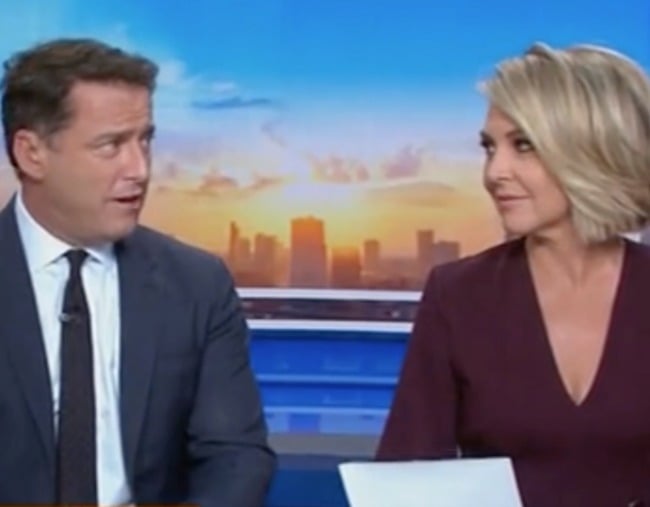 Karl Stefanovic's first morning back on the Today Show has coincided with the release of full details of what was said in his rant to brother Peter about co-host Georgie Gardner while in an Uber.
And while Gardner has not directly commented on the saga, she branded Stefanovic "pathetic" in what appeared to be a thinly veiled nod to the drama during an unrelated segment on this morning's show.
After an entertaining story on a UK sausage dog parade, Stefanovic joked he could not watch the footage due to being "savaged by a sausage dog as a child".
Watch the exchange in the video below.
After being urged to "face his fears" by newsreader Deborah Knight, Gardner said, "Well, that's right. That's coming up, don't you worry about that."
It gave the impression to some viewers that she was not strictly talking about the sausage dog segment.
Hey @thetodayshow someone tell Georgie Gardner that the tension and dislike of Karl is coming off her in waves……

— Mattie (@PrincessMattie1) March 18, 2018
@GeorgieG needling the straw man @karlstefanovic on @TheTodayShow this morning @Lisa_Wilkinson used to cover up for him but Georgie just serves it up, About time ! @InSharpRelief @jmoconfidential pic.twitter.com/xtAOeZvkHp

— #FatalGames (@jonathanfgh) March 18, 2018
After joking about how "menacing" the dogs were, Stefanovic responded saying he sensed "a little sarcasm" in her voice.
"Well, it's probably about now I should call you pathetic."
The tone wasn't entirely jokey and was met with an awkward chuckle from Stefanovic.
Do you have to be friends with your colleagues? We discuss, on Mamamia Out Loud. Post continues after audio.
This morning, New Idea published their exclusive interview with the Uber driver who, after picking up Peter Stefanovic and wife Sylvia Jeffreys, said he overheard the controversial 45-minute conversation between the brothers over loud speaker.
"He called Karl and told him he was in a cab and that he was on speaker phone so they all were aware I was there and could hear everything," he told New Idea.
He said the older Stefanovic complained about Gardner "sitting on the fence" by not having enough opinions and needed to "step up" if she wanted to remain on the show.
Jeffreys apparently did not join in on the conversation.

Mamamia reached out to Channel Nine for comment.
Shout out to all Dads.
Here at Mamamia we are always looking for ways to make Mamamia even better. Dads, we need you to help us do that by filling out this quick 15 min survey for us. Click the button below for your say.

Want to win some skin care goodies? Like to have your opinion heard?
Take our short survey now for your chance to a win a skin care pack.