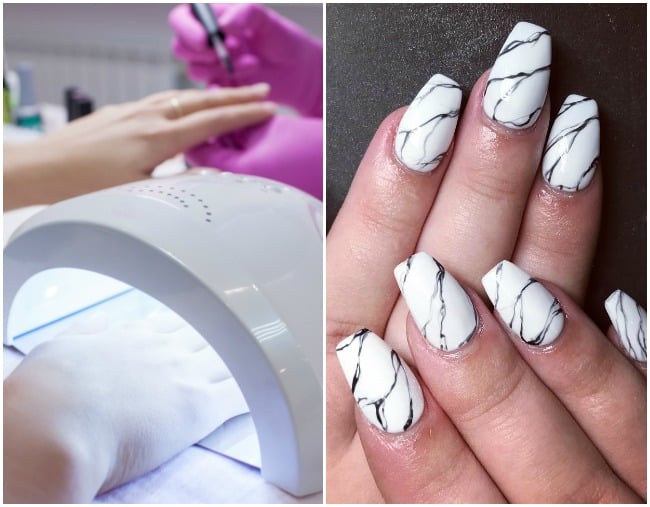 Gel manicures are great and all, but anybody who's had one has probably wondered if sticking your hand under UV nail lamp might be a bad idea.
After all, we now know solariums and tanning beds are a strict no-go.
But does everything that involves UV light inspire more panic than it should? According to a literature review released earlier this year, the research is inconclusive but worrying. Another study in 2014 analysed 17 different UV nail laps and said depending on the make, "DNA damage could be reached between eight and 208 visits to a salon."
But, thanks to the latest innovation in manicure technology, LED nail lamps could be the safer and quicker alternative to the potentially dangerous UV lamp.
Lauren LaRouge, the lady behind Nailed by LaRouge, has highlighted the differences.
The Sydney-based manicurist says she's exclusively used an LED-only light for the past two years, but she doesn't think UV nail lamps are actually strong enough to make a difference.
"I did this mainly to make clients feel more comfortable," she says.
"I don't believe that UV lamps are nearly powerful enough to cause any issues – it's not powerful enough to change the colour of you skin, so it's nothing like a solarium."
"However if it makes my clients feel more at ease and removes any worry that have about it the why not?"
However, LED nail lamps can offer other benefits, like a speedier manicure – which is something we can all get behind.
"LED lights are energy efficient and I believe slightly faster than the older UV lamps," says Lauren.
According to Allure, LED lamps – while pricier to purchase – are more energy and eco-friendly. Their bulbs last a long time and don't decrease in quality throughout their lifespan whereas a UV lamp might take two-minutes to cure, an LED lamp can shorten this process to five to 45 seconds.