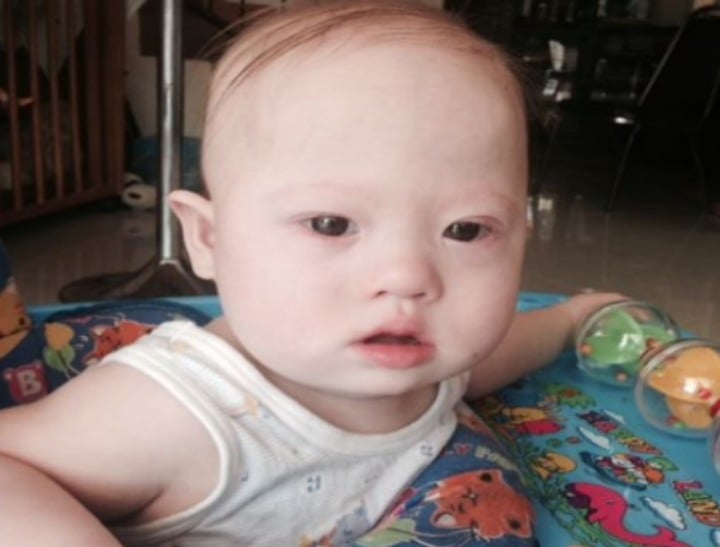 We've rounded up all the latest stories from Australia and around the world – so you don't have to go searching.

1. Gammy' father tries to access donated funds.
David Farnell, the biological father of baby Gammy, the little boy with Down Syndrome who was at the centre of a surrogacy dispute last year has been accused of trying to access donations raised for Gammy.
The ABC reports that David Farnell is trying to access more than  $235,000 which was donated to the foundation Hands Across the Water.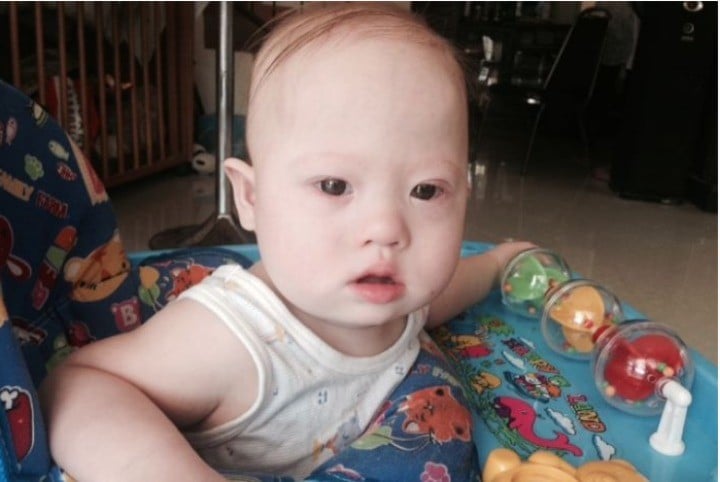 The founder of Hands Across The Water foundation, Peter Baines, told the ABC "It's perplexing. I don't understand it on any level"
"The funds were donated by everyone because of the alleged actions of Mr Farnell, and to think he believes he has some right of claim over it … I find it perplexing."
The case came to light last year after convicted sex offender Farnell took Gammy's twin sister out of Thailand but left Gammy. The babies were born via a surrogate.
Gammy lives with his Thai surrogate mother, Pattaramon Chanbua, who depends on the money donated to charity to cover his medical costs.
"The money was donated through the goodwill of people from not just Australia, but across the world, for the immediate care and for the long-term care of Gammy," Mr Baines said.
"We've taken all steps we can as a charity to ensure that 100 per cent of those funds that we donated go directly to Gammy now and for the future."
The ABC reports that the money donated has been used so far to buy a home for Gammy's family and for his ongoing medical and welfare needs.
"I certainly don't think [the funds] were donated by anyone thinking that Mr Farnell would at some point have access to them, and we'll do all we can to prevent that."

2. Former tennis great gets six years for rape.
Bob Hewitt, the Australian-born doubles tennis champion, has been sentenced overnight to six years in prison in South Africa for rape and sexual assault.
75-year old Hewitt was sentenced to eight years in jail for two counts of rape, with two years suspended and two years in prison for a third charge of sexual assault.
The rapes occurred during the 1980s and 1990s.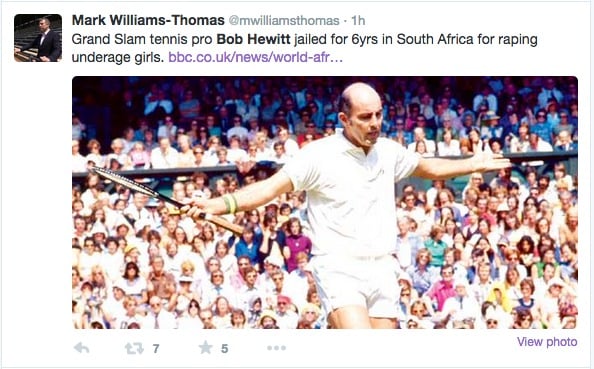 He denied all three charges against the women who were then girls he coached.
3. Details of sexual assaults and squalid conditions in Nauru.
 The Senate committee investigating the Australian-funded detention centre on Nauru will today hold its first public hearing in Canberra.
The inquiry follows the independent Moss Report that detailed sexual and physical assaults on asylum seekers.
Submissions to the Senate inquiry include accounts of sexual assault and squalid living conditions.
Professor David Isaacs, who recently visited Nauru wrote in his submission that one of his patients said she was raped at night when going to the toilet.
"When interviewing the [patient] referred to me, she confided to me that she had been raped," Professor David Isaacs wrote.
"She told me that since the rape, one guard had offered her extra shower time in return for sexual favours.
"And on another occasion a different guard offered marijuana in return for sexual favours."
The ABC reports that a submission from the Asylum Seeker Resource Centre details the living conditions on the island.
"At night, condensation causes the mould to drip onto the faces of people as they sleep on stretchers. This is causing fungal eye and skin infections,"
"The tents are full of mice and cockroaches. Rats loiter outside the tents."
Contractors Transfield Services, Wilson Security and the Immigration Department will appear at today's inquiry, along with charity Save the Children.
The Senate committee is due to hand down findings by the middle of June.
Sexual abuse support: National counselling helpline : 1800 RESPECT 1800 737 732
4. Jon Stevens hits pedestrian in his car.
Jon Stevens is being investigated by police after running down an elderly man in his car yesterday.
In a statement, Stevens he was devastated for the gentleman and that "he couldn't take a trick lately."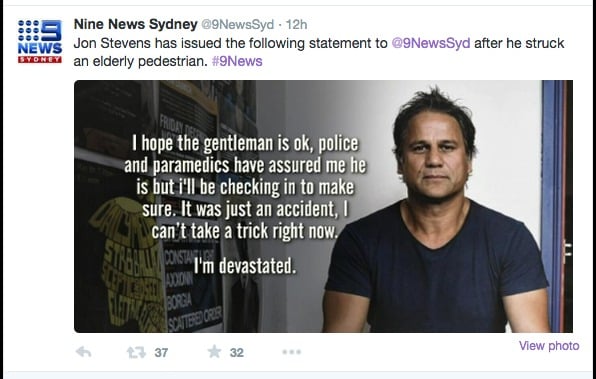 The 69-year-old pedestrian suffered injuries to both legs after being struck near the corner of New South Head Road and Wolseley Road, Point Piper.
Stevens stopped his BMW to assist the injured man before paramedics and police arrived a short time later.
Earlier this year, Stevens skirted more controversy after he was charged with assault and issued an AVO against his then-fiancee Jodhi Meares. The charge was later dropped.

5. Juror says Ivan Milat had an accomplice.
One of the jurors who convicted Ivan Milat has said that they believe he had an accomplice.
"I would have said there was a very strong possibility that someone else was involved,'' the juror told The Daily Telegraph.
When he sentenced Milat to seven life sentences for murdering seven young backpackers in the Belanglo State Forest and kidnapping an eighth tourist judge Justice David Hunt said that it was "inevitable (he) was not alone".
There has been speculation, including from Ivan Milat's lawyer John Marsden, that Milat's sister Shirley Soire was involved with the murders.

6. Federal Government to axe four-year old's health check.
The budget will axe Medicare funding for the comprehensive health check currently on offer for children aged three to five in a move which will save about $144 million over four years.
The "Healthy Kids Check", introduced under Labor, is a medicare funded consultation with a nurse or GP which assesses a child's health and development before they start school. Funding for the program will stop in November.
Fairfax Media reports that only 154,000 children – about half of Australia's four-year-olds – used the program last year at a cost of $20 million.
Health Minister Sussan Ley said taxpayers were paying "premium" prices for GPs to conduct the check.
She told Fairfax Media that they duplicate similar state government-run health programs for children.
Medicare pays between $58 for a healthy kids check consultation with a nurse and $269 for an hour with a GP, depending on the child's needs.
Standard GP consultations that lasts longer than 40 minutes attract a Medicare payment of $105.55.
"The fact that only half of all four-year-olds have used the programme after seven long years underperforming shows this was more about glossy Labor election commitments than filling a service gap in health system," Ms Ley said.
A study published in the Medical Journal of Australia in 2014 found the "Healthy Kids Check" picked up problems in about one in five children.
The most common problems identified related to speech and language, followed by toilet habits, hearing, vision and behavioural issues.

7. Parents of missing Sydney teenager find bashed body in Fairfield.
By Mazoe Ford
The parents of a missing teenager have discovered a brutally bashed body, believed to be that of their son, in a vacant house in Sydney's south-west.
New South Wales Police are appealing for information after the body of a teenage boy was discovered in Fairfield.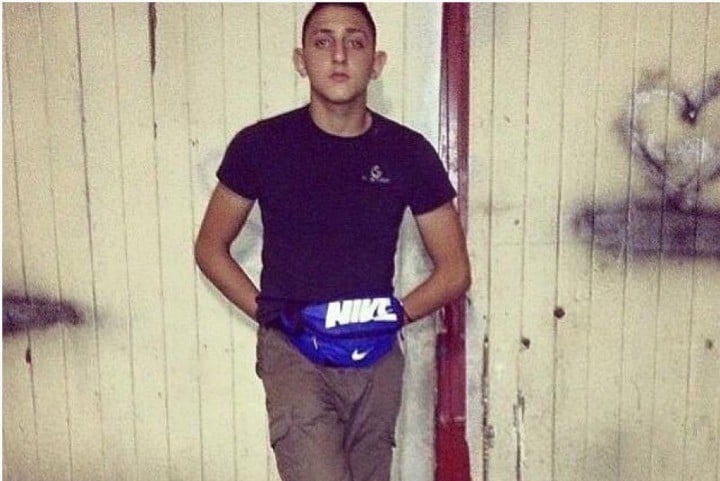 Mahmoud Hrouk, 16, was reported missing by his parents on Saturday night and was last seen at the Villawood McDonald's about 6:30pm.
On Sunday morning, the couple went to an empty house on Belmore Street where they discovered a teenager's body.
"It was his parents who actually attended the address as a result of information they received that he may have frequented that address," Acting Commander Steven Thomas said.
"They went to the address and found, from looking inside a window, what appeared to be a body inside the premises."
The couple then called police who forced their way into the home about 11:00am on Sunday.
Officers are yet to make a formal identification.
Acting Commander Thomas said they believed the body was that of Mahmoud.
"The male person has sustained serious, very brutal head injuries," he said.
"Police are obviously treating this matter very, very seriously and we are seeking assistance from members of the public in relation to the movements of Mahmoud Hrouk during the evening of Saturday May 16."
The teenager was riding a blue and silver mountain bike on Saturday night which police found about 200 metres away from the house where the body was found.
Police said the teenager had never been in trouble with the law and was not believed to be involved with drugs.
They are still working to determine whether the deceased person was killed at the vacant house.
Anyone with information should call Crimestoppers on 1800 333 000.
A version of this story was originally published on ABC.
8. Dean Potter dies in Yosemite base jump.
Dean Potter, one of the world's best climber and base jumpers, has died in a tragic accident in Yosemite National Park.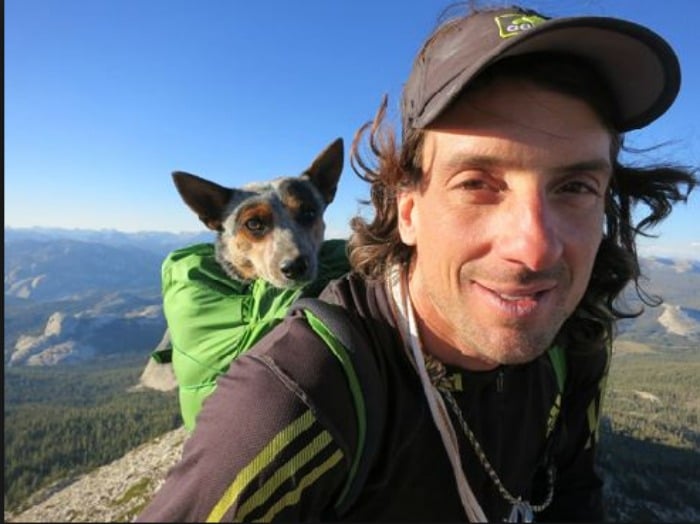 Dean Potter, 43, died along with Graham Hunt, 29, after attempting an illegal wingsuit flight from Taft Point 3,000ft above the valley floor.
Potter held the record for the longest wingsuit flight, covering nearly four miles of ground in 2 minutes, 50 seconds, after jumping from the Eiger in Switzerland.
He had been known to base jump with his dog Whisper, a miniature Australian cattle dog called Whisper, strapped to his back. The dog was not accompanying him on his latest, deadly stunt.

9. Indian nurse raped in 1972 and kept in vegetative state dies.
Warning: This item contains details of a violent sexual assault and may be disturbing for some readers.
In 1973 an India nurse, 25-year old Aruna Shanbaug was sodomised by a hospital cleaner, strangled with metal chains and left to die.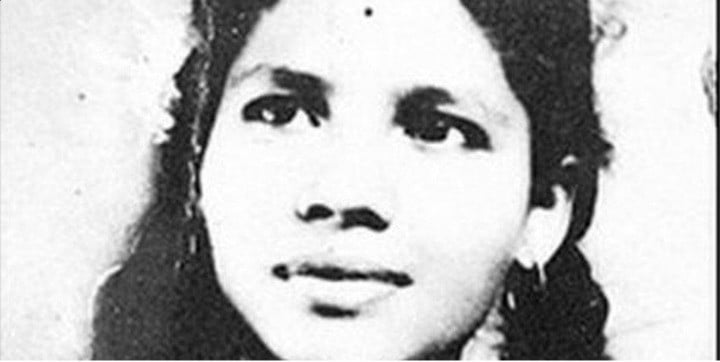 43-years later she has finally found peace.
The nurse, who was left with severe brain damage and in a vegetative state became a test case for India's euthanasia laws. Author, Pinki Virani who wrote a book about Ms Shanbaug applied to the Supreme Court in 2011 to allow her to die but the case was rejected.
"Ms Shanbaug died at 08:30am on Monday. She was admitted to the intensive care unit and put on ventilator support," a spokesman at Mumbai's KEM hospital said.
Ms Shanbaug's attacker, Sohanlal Bharta Walmiki, was never charged for her rape since sodomy was not considered rape under Indian laws at the time.
He was freed after serving a seven-year-sentence for robbery and attempted murder.
For support 24/7, call 1800 RESPECT (1800 737 732).
10. Phone ban improves school results.
The study published by the London School of Economics found exam scores improved by as much as six per cent in schools that imposed strict bans on mobile phones.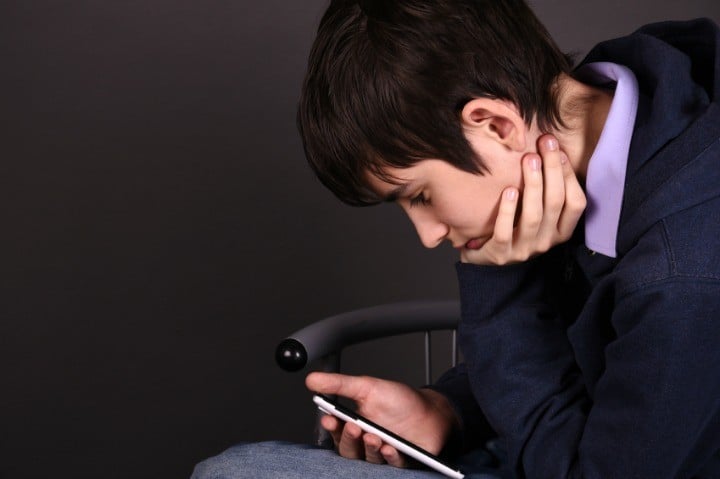 After schools banned phones, test scores of students aged 16 increased by 6.4% of a standard deviation, which means that it added the equivalent of five days to the school year.
Interestingly banning mobile phones had no effect on high achievers, it also had no effect on 14-year-olds.
Test authors wrote: "The results suggest that low achieving students are more likely to be distracted by the presence of mobile phones while high achievers can focus in the classroom regardless of the mobile phone policy," the study says.
"Schools could significantly reduce the education gap by prohibiting mobile phone use."

Watch today's news in 90 seconds:

This video originally appeared on ABC Online.
Do you have a story to share with Mamamia? Email us [email protected]
[post_snippet id=324408]