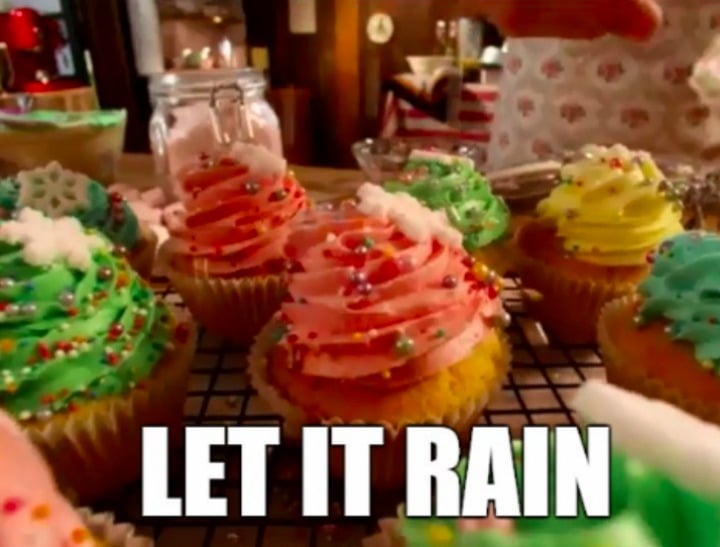 Missed last episode's recap? Get on that. Read it here.
If you are a sugar-free convert, the best thing you can do right now, is run. RUN AWAY NOW. RUN AND DO NOT LOOK BACK! Because this can only do untold damage to your willpower and life as you know it.
It's week two of Bake Off and it's biccies. Which means ungodly amounts of butter, sugar and those silver cachous that look like tiny little ball bearings but are in fact sent from the sugar heavens of fatland. BRING. IT.
It's actually pissing with REAL rain this episode (and not just silver cachous) but that doesn't dampen the spirits of hosts Claire Hooper and Mel Buttle who again, carry this show like a pig with a baby monkey on its back. Awesome.
SIGNATURE BAKE!
The bakers have to make 12 identical filled biscuits. Not even the people at Tim Tam could win this one (there's only 11 in the packet).
Twelve identical filled biscuits in 90 mins is hard enough. But to make the biccie much more tricky is BeerMat (that's Maggie Beer and Matt Moran, our esteemed judges) arguing over what they want.
Should they bend? Should they crunch? Maggie Beer wants nostalgia and Matt Moran wants modernity.  And I sit there watching and thinking for HEAVEN'S SAKE.  Someone just make a wagon wheel and let's call this whole thing off.
Mariana my CWA hero admits from the start she's not big on biccies. But she's pumping out lemon shortbread with lemon butter and royal icing dots, which is SO CWA that you can sense the collective nodding of grandma heads. Her future's so bright she wears transition lenses and I love her.
Angela, the blue ribbon collector, is doing something similar.  She tells the judges that she's, "made hundreds of these" and won "many awards at shows" which gives us an excuse to look at her blue ribbons again and feel a bit crap that we can't be that good.
James is a food historian who decides his biscuit should be an Orange Cream. NO JAMES NO! ARE YOU CRAZY? The orange cream is ALWAYS the one that's left behind in the Arnott's cream multipack. It is the Jolt Cola in the vending machine. It's the green snake in the Allens snake packet. No one wants the orange cream, James.
Even Maggie Beer the queen of food, the essence of everything good and right in this world admits openly she scrapes the cream off and throws away the biscuits. Yes Maggie. YES.
Meg the cool chick is making a biscuit with bourbon in it 'cos she's a badass.
Janice is making something she claims to be a biscuit but seems to belong in the sausage roll ep.
And Ben, who's playing the part of befuddled bloke, is making a biscuit with chocolate and bourbon. Like a beautiful 18th birthday mud cake that's been spiked by your older brother and his gross friends. Despite this, I think Ben might be my actual favourite.