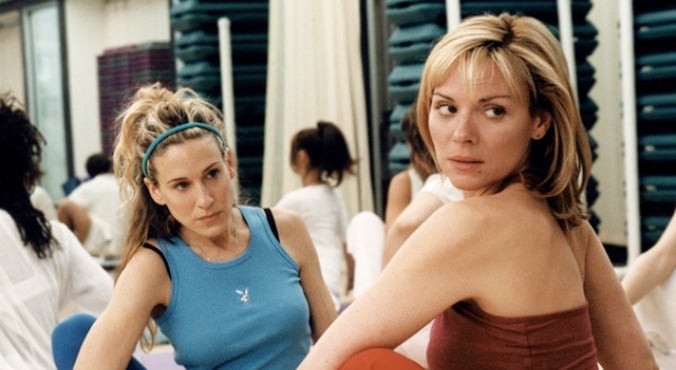 Image via HBO
For many, going to the gym is simply an opportunity to exercise. For me, it's often turned out to be an opportunity to thoroughly embarrass myself in front of a room full of strangers.
However, it seems I'm not alone. When I asked around the office, everyone had a rather awkward and/or majorly embarrassing story to share, and they were all moments others could relate to.
RELATED: "The 5 most embarrassing things that have ever happened to me at the gym"
Behold: the 12 cringe-worthy gym moments we'll all probably suffer through one day.
1. Not knowing how to use the equipment, trying anyway… and getting caught out.
"I smacked my head into the bar above the lat pulldown on the weekend. Everyone saw - it even made a ringing noise! Pretty embarrassing." - Wendy
"I was working out on a machine which lifts your whole body, except I forgot you have to add resistance to the weights. It suddenly pulled me up off the ground and I got stuck. Because it was a 24-hour gym, I was stuck there for 40 minutes before someone else arrived. That was the last time I went" - Molly
2. Suffering from a serious wardrobe malfunction.
"I once did this really hard class. I was so exhausted I didn't notice that mid way through the class my gym top had moved to the side and my left breast (covered in a sports bra thankfully) was all the way out of my top." - Bianca (Post continues after gallery.)
"I treated myself to a pretty funky pair of bright pink workout trousers. Only thing I didn't realise was when I bent over, they went completely see-through, showing off my also brightly patterned undies. Worst part is, I was doing squats right at the front of the workout area!" - Claire
RELATED: Your contoured fancy gym pants are basically bullshit
3.  Bumping into the last person you want to see.
"I once signed up for a free personal training session... and it happened to be a guy I used to hook up with." - Kate
"I was running on the treadmill, mid-workout, when a guy approached and made a sign he wanted to talk (I was listening to music). I was pretty confused because I was sure I wasn't over the time limit on the treadmill and there were plenty that were free. I slowed down and he... asked me out. Mid-run, with sweat flying everywhere. The rest of my workout was so awkward. (I was engaged!)" - Bella
RELATED: How to pick the right personal trainer for you
4. Getting caught out doing what you're not meant to.
"I fell asleep on pile of yoga mats for fifteen minutes in a very public spot. Also, fell asleep in a reformer pilates class on the reformer bed." - Katie