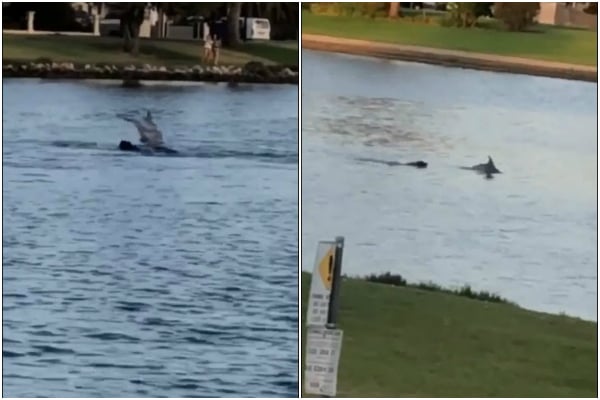 We've seen a dog adopt a flock of ducklings and now we have this.
Adelaide resident Billie-Michelle Eastwood was walking along the Patawalonga Creek in the waterside suburb of Glenelg when she saw a black Labrador swimming with a dolphin.
And thank goodness she captured the moment on camera.
The video begins with the dog and the dolphin swimming together before the dolphin starts to jump out of the water, around the dog.
"Someone's Black Labrador hopped into the Patawalonga Creek in Glenelg SA last night and found himself playing around with one of the dolphins! Was incredible to watch," she wrote in her caption.
Since it was first posted 20 hours ago, the short 24 second clip has been viewed tens of thousands of times. The area of Glenelg is well known for its dolphin watching, with many cruises and dolphin swimming sessions in operation year round.
Watch the heartfelt video here:
We unfortunately don't know the name of the dog or whether this is the first time this adorable, cross-species friendship has happened but we're gunning for another play date between these unlikely pals.
Because….