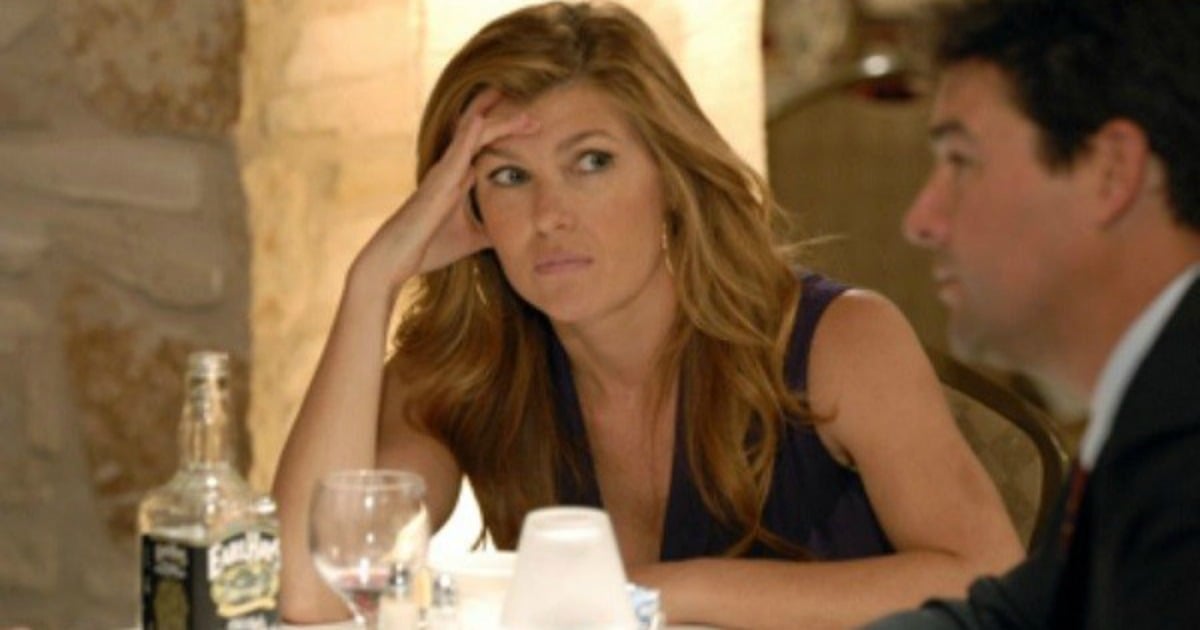 There's nothing wrong with being late to a party.
Not if it's still a bloody great party, you don't have to battle traffic to get to it, and Connie Britton is on the dancefloor, whipping her magical hair back and forth.
Welcome to Friday Night Lights. It's not been in production since 2011, but anyone with access to Netflix can leap in and discover the glory that awaits the Dillon Panthers and all who play for them, work for them, live near them, have maybe been to one of their games once…
Rosie Waterland has just discovered it and is the grip of a full-blown obsession. And she made it her recommendation on The Binge this week.
There will be people who don't want to watch it, or will tell you they will never watch it, because FNL is about football.
Friday Night Lights is not really about football. Yes, high-school football team the Panthers are the central premise, but the whole 'football obsessed small town' thing is just a trojan horse.
Friday Night Lights is a show about life. The good bits. The bad bits. And the bits you just need advice from Connie Britton on.
And it's bloody brilliant.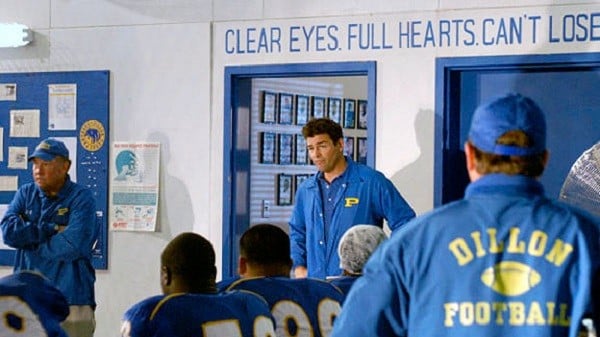 The best advice. 
In this corner of  Texas, life revolves around football (that's gridiron to you, Aussie). The football team, the Dillon Panthers, are basically gods and every member of the community has an opinion on what they should be doing.
The team's Coach, Eric Taylor (Kyle Chandler) is the hero of the show. Coach is the heart of FNL, and he is a solid, solid man. He's a mentor. A father figure, and someone who knows how to get the best out of people.
If he's the heart, Tami Taylor, his wife, is the blood. Yes, yes, she is often called Mrs Coach, but she is actually a glorious feminist goddess who solves the small town's troubles, one giant glass of white wine at a time. They have a teen daughter Julie. Tami is a high school counsellor and all-round wise woman (of course she is, because she is played by Connie Britton/Rayna James - who could possibly be playing herself). She delivers some of the best quotes and is wonderful to watch.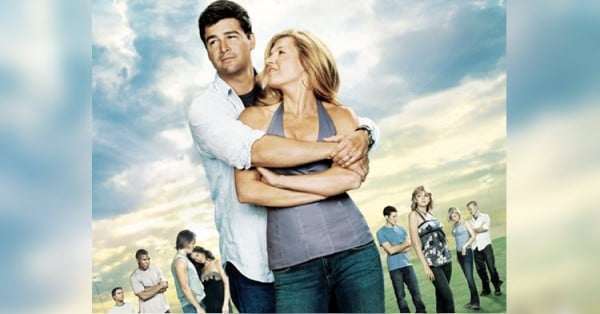 'Call me Mrs Coach again and I'm out'. Connie and Kyle play the perfect not-so-perfect couple on FNL.
Apparently, Connie and Kyle resisted the writers wanting to put their characters in some of the more predictable marriage plotlines we see on TV shows - affairs, for example. They wanted to portray a real marriage, and one where the couples solved problems, rather than letting them blow everything up. And truly, Mr and Mrs Coach the definition of #goals - long before that annoying hashtag ever existed.
Then there's the coach's team.
The Panthers. Small-town heroes. 
Bad boy Tim Riggins. Awkward Geeky QB1 Matt Sarancen. Jason Street, the star quarter back who has a horrendous accident in Episode 1. Smash Williams. Landry Clarke. The list goes on.
Although there's a fair smattering of cheerleader stereotypes among the females characters, the leads are all fully fleshed-out, complex characters. There's Tyra, who will do anything not to end up tipsy and knocked-up, like her mum and sister, and Lila, who is the perfect cheerleader with the perfect family until everything goes to hell.
They're relatable. In a world full of TV gore and soap operas, there's comfort in a show about real people's small dramas. It's like coming home.
"I became obsessed with it in the last seven days. It was never on my radar because sport," says Rosie. But it's on Netflix. And I thought you know what? I'm going to give this a try. And now I am so invested in this show. It's epic and amazing." Rosie told Monique.
All together now: Clear eyes. Full hearts. Can't lose.
Thank you - just by clicking on this and other content on Mamamia, you are helping to fund education for some of the world's most disadvantaged girls.
Together with our commercial clients and charity partner Room to Read, Mamamia's goal is to be funding 1,000 girls in school each and every day, by June 2020.
Learn more here about our ongoing mission to make the world a better place for women and girls.