It's one of the tennis world's longest-running feuds – and now, it has been reignited once again.
As Serena Williams and Maria Sharapova prepare to take the court at the French Open tomorrow, Williams has claimed that Sharapova's comments about her in 2017 memoir Unstoppable: My Life So Far are "hearsay".
"I think the book was 100 per cent hearsay… which was a little bit disappointing," Williams said.
Williams is undoubtedly a prominent figure in Sharapova's memoir Unstoppable, which details how their rivalry began.
"Serena Williams has marked the heights and the limits of my career – our stories are intertwined," Sharapova writes.
"It was Serena whom I beat in the Wimbledon final to emerge on the international stage at seventeen, and it's Serena who's given me the hardest time since."
The feud, which has hung over Women's Tennis for over a decade, began when Sharapova first beat the American in the 2004 Wimbledon final at 17 years old.
Although things remained civil on the court after the match, according to Sharapova, the mood quickly changed behind the scenes in the locker room.
"When the match was over, Serena hugged me. She said something like 'good job' and smiled. But she could not have been smiling on the inside," the Russian tennis player wrote.
But when Sharapova later entered the locker room, she was met with the sound of Williams' "guttural sobs".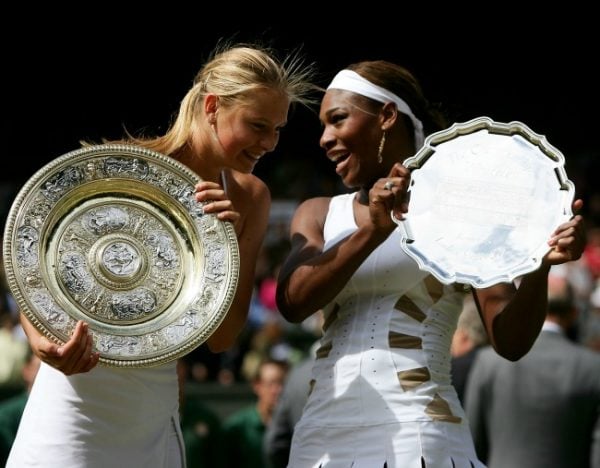 "I got out as quickly as I could, but she knew I was there," Sharapova writes.
"Not long after the tournament, I heard Serena told a friend – who then told me – 'I will never lose to that little bitch again', Sharapova added.
Speaking after her French Open win against Julie Goerges today, Williams defended her reaction to the 2004 Wimbledon loss: "I have cried in the locker room many times after a loss, and that's what I have seen a lot of people do. I think it's normal."
After her famous Wimbledon win, Sharapova beat Williams one more time at the 2004 WTA Championships.
But since then, Sharapova has lost to Williams 18 times straight.
In Unstoppable, Sharapova explained why she believes she hasn't been able to beat Williams for so long.
"In analysing this, people talk about Serena's strength, her serve and confidence, how her particular game matches up to my particular game, and, sure there is truth to all of that," Sharapova writes.
"But, to me, the real answer was there, in this locker room, where I was changing and she was bawling. I think Serena hated me for being the skinny kid who beat her, against all odds, at Wimbledon."
"But mostly I think she hated me for hearing her cry."
It's clear from Unstoppable that Sharapova sees Williams as an idol and a personal benchmark for her career, but she's also a 'frenemy'.
Speaking yesterday, Williams said she was surprised to read how much she affected Sharapova's career and life over the years.
She was also shocked that she was portrayed as "hating" Sharapova, as she claims this isn't the truth.
"I don't have any negative feelings towards her, which again, was a little disappointing to see in that hearsay book," Williams said.
"Especially having a daughter, I feel like negativity is taught. One of the things I always say, I feel like women, especially, should bring each other up," she added.
"A lot of people always assume that I feel a different way and it's not true."
Writing in her memoir, Sharapova revealed that she believes that despite the feud, the pair could still be friends someday.
"Serena and I should be friends; we have the same passion. But we are not. I think, to some extent, we have driven each other. Maybe that's what it takes," she wrote.
"Only when you have that intense antagonism can you find the strength to finish her off. Who knows? Someday, when all this is in our past, maybe we'll become friends."
The pair's fourth-round French Open match tomorrow will be the first time they have played against each other since the 2016 Australian Open, which was Sharapova's final match before she served a 15 month doping ban.