It's official – being a ball boy is not for the faint-hearted.
One young ball boy found out the hard way just how dangerous the job really is when he collided with Bosnian tennis player Damir Dzumhur during a match at the French Open on Friday.
Both Dzumhur, 26, and the boy were seen running to catch a stray ball mid-game, and with both fixated on the fly-away ball, neither saw the other one coming.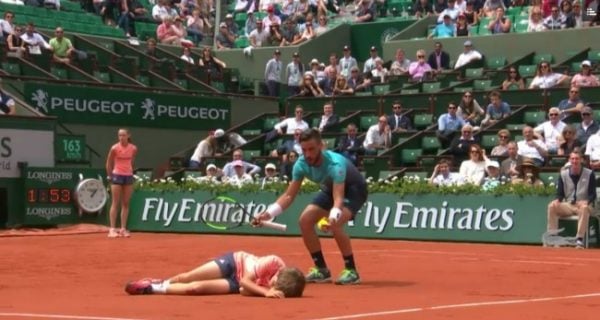 After running head-on into Dzumhur's sculpted torso, the ball boy immediately dropped to the ground in the fetal position, using both of his arms to shield his head, because that's what they teach you to do in ball boy school, presumably.
A stunned Dzumhur froze on the court, before his initial shock turned to concern, and he then bent down to check the boy was okay, before helping him to his feet.
After giving the young boy a couple of consoling hugs, the ball boy - who appeared to have scraped both his knees during the incident - gave Dzumhur a half-hearted thumbs up signal, before sheepishly walking off the court, probably to have a good cry somewhere quiet.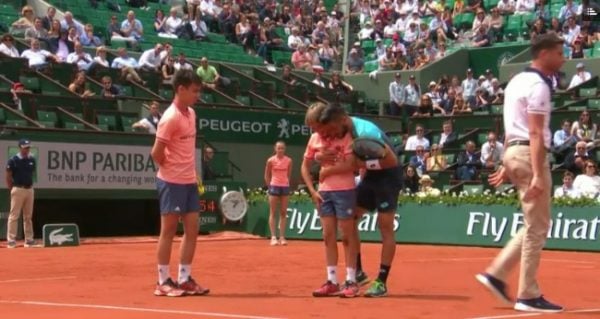 To make matters even worse, Dzumhur later lost the match to German tennis champ Alexander Zverev, 21.
Clearly feeling bad about about the whole incident, Dzumhur went on Twitter after the game to give his "new friend" a shout-out.
Thank you @rolandgarros & the #Chatrier crowd, thank you to the great people at home for my support. Thank to my team. Good luck to #Zverev
And also sorry to my new friend but I'm glad you're okay ???????? ????????❤️ #BallBoyBuddy pic.twitter.com/D868vS7ZGY

— Damir Dzumhur (@DzumhurDamir) June 1, 2018
He even included the hashtag "BallBoyBuddy", so they're pretty much best friends now.
The next time you take in a tennis match, spare a thought for the boys who put their lives on the line every time a ball comes flying in their direction.