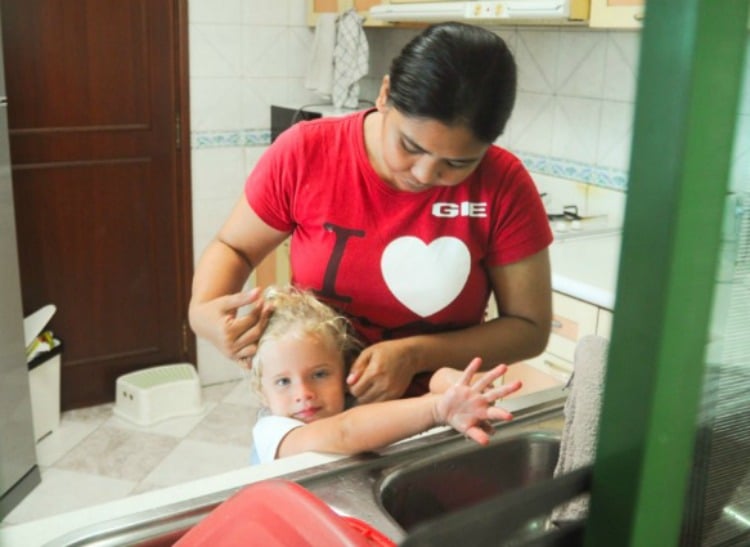 The bravery and the sacrifice.
Through the glass of the Philippines' Kalibo Airport departure lounge I can see a domestic worker and her husband sitting silently on a bench, going through the ritual of another painful goodbye.
Marifel is on her way back to work in Singapore after a trip home to see her family. She is one of 220,000 women who work in the city as domestic workers, cleaning, looking after children, the elderly and disabled and performing countless other domestic chores. They get called many things — helpers, nannies, maids, FDWs (foreign domestic workers); they are also known as the silent army helping Singapore become a powerful regional business hub.
Read more: How does a mother say a final goodbye to her son?
Marifel's goodbyes are now very well-drilled — before she leaves home she kisses her three children goodbye outside her small house in the Barangay of Patria on Pandan Island, on the northern tip of Antique. She hugs her dad, brother, nieces, nephews, and jumps on the back of her husband's motorbike, placing her bag between them.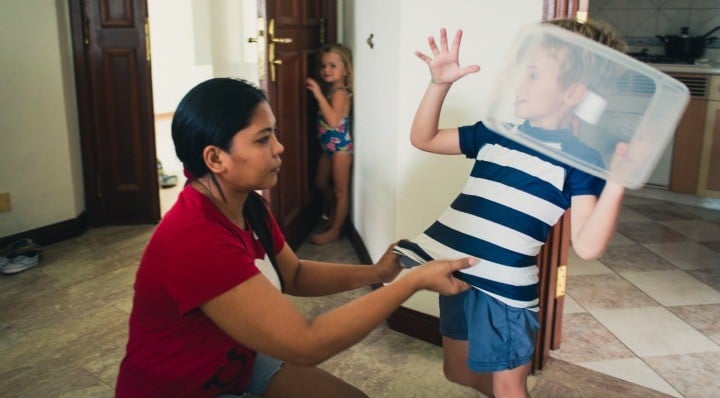 Her husband will drive some 50–60kms on the Aklan West Road through the towns of Ibajay and Tangalan, past rolling green hills and along blissful coastal roads all the way to the airport. Tourists travel the same route in reverse to get to the Philippines' island paradise of Borocay. Marifel and her husband get to the airport early enough to ensure she is the first person on the flight —but there they sit and wait until the last person has checked in for the Tiger Airways flight to Singapore. As today is the weekend before Chinese New Year — Kalibo is packed with holiday makers.
When all the passengers have checked in, Marifel calmly kisses her husband goodbye, walks into the airport, presents her booking details and coasts through immigration. She might look like a late boarder — the person who got her timings wrong — but she's not: all of this is the meticulous habit of someone who has done this journey many times before as a foreign worker in Singapore.
I hired her back in 2010 when I moved to Singapore with my wife and baby to work as a journalist. She first started working in Singapore 11 years ago. The decision to leave her family and move overseas wasn't made by choice, but necessity. Daily life had become a struggle for her family: on occasion they ran out of milk and food for their children; sometimes they couldn't pay their electricity bill. In the end, something — or rather someone — had to give.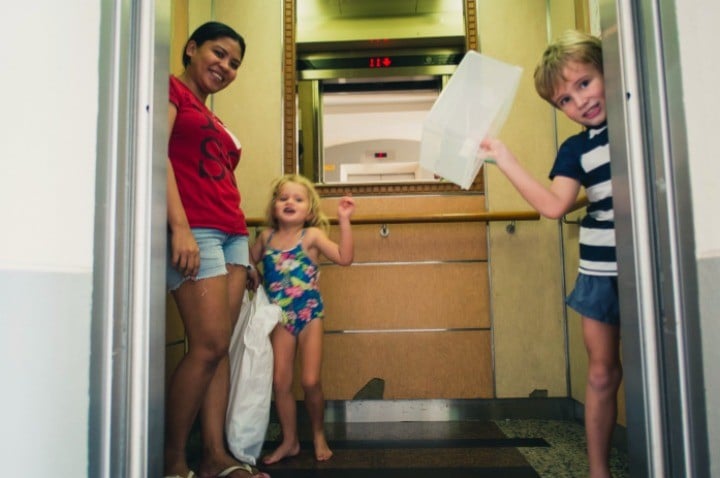 When she and her husband decided to look for work overseas, it broke their hearts. In the frantic days after Typhoon Haiyan in 2013 she wrote this piece for the New York Times about her decision to move: "We couldn't afford basic things like food or electricity. I knew that it would be me who moved; I knew it was the best thing for me to find a job overseas. In my mind, this is all for the sake of giving my children a good life, and I am happy to have made that sacrifice," she wrote.
To make her leaving home easier on the children, amid the sobbing and wailing, Marifel told them that she was heading off to buy them some toys. She didn't return. Her youngest son was just 6 months old when she left. The next time she laid eyes on him he was nearly three years old.
Her first week in Singapore was incredibly difficult. She stayed with her employment agent in a dorm full of other women and was paralysed with homesickness. "Sometimes the tears rolled down my cheeks without me even noticing," she wrote in this blog post for the migrant charity Transient Workers Count Too (TWC2). "My breasts were swollen because I was still breastfeeding, so every night I pumped them. It was so painful. I was crying in pain, but I could do nothing about it; I needed to be strong and face my new life with confidence, knowing that all my suffering was for my beloved family."
In those last few moments before take off she looks nervously at her phone and is on the brink of tears. When they make this trip, many domestic workers don't know when their next visit home will be —that very much depends on who they are working for, sometimes it is months, but more often it is at least a year. I have interviewed many women who haven't seen their families for as long as five or six years.
Read more: Is there a tougher thing you'll do than stand up and say goodbye to your best friend.
I had a conflict about hiring a domestic worker when I moved to Singapore. I didn't want to be complicit in a system that I thought deliberately subjugated women who had made unbearable life choices to find work. My (and my wife's) attitude was to make sure we were the best employers we could be.
We weren't perfect — no employer is — but we promised to support Marifel in any way we could, to give her every chance of one day going home or, at least, going on somewhere better. Some people said that made me "soft" — susceptible to exploitation — or that I was a typical guilt-ridden expat. I was neither of those. I was simply grateful.