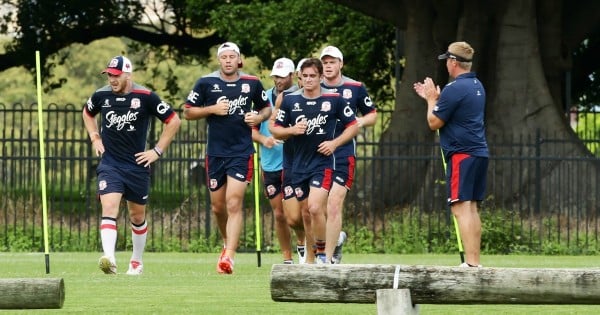 This week, the Sydney Roosters visited Holly Wainwright's daughter's school. They spoke to students about "well-being and a healthy lifestyle".
Mamamia's Holly Wainwright says that with players up on assault charges and other players deeply disgraced, the Roosters have no place talking to kids about health – but Editor, Kate de Brito disagrees. She thinks that a few bad eggs is marring the reputation of a good group of men.
Here, they have it out over whether footy players should be in schools…
HOLLY WAINWRIGHT
"This week, the school was delighted to have players from the Sydney Roosters on campus… the purpose of the visit was to discuss well-being and tips on maintaining a healthy lifestyle."
These are the words that splattered my laptop with tea this morning, as I rushed through a pre-work reading of my child's school newsletter.
Healthy lifestyle?
Excuse me while I recall some of the Roosters' most recent headline-grabbing incidents.
Just two days ago, this report on one of the club's stars, Shaun Kenny-Dowall, who's in court on charges of alleged domestic violence. An ABC report reads:
"Documents filed with the court show Kenny-Dowall allegedly assaulted Ms Peris on seven separate occasions at Coogee and Maroubra between October 2014 and June 2015.

He also allegedly destroyed her mobile phone, used his phone to menace or harass her in May last year and stalked or intimidated her in June."
The week before, the Roosters were famously in damage control over their co-captain, Mitchell Pearce – no wet-behind-the-ears youth, at 26 – when a video of him drunk out of his mind appeared to show him manhandling an unwilling woman, sexually harrassing a dog (yes, I know) and allegedly pissing all over someone's lounge.
Watch the video of Mitchell Pearce's indiscretion here:
#ACA9's EXCLUSIVE vision of Mitchell Pearce's disgraceful behaviour caught on camera. https://t.co/oDDVWXrEZq

— A Current Affair (@ACurrentAffair9) January 27, 2016
Before that? One of the team's former players, John Touma, was under investigation as the ring-leader in the cocaine-supply scandal that disrupted the NRL's pre-season in 2015, when several members of other teams were allegedly filmed buying drugs from him.
Sydney Roosters players – perhaps rugby league players in general – as role-models for healthy living in primary schools? Please. Over the past 10 years, millions and millions of dollars have been spent by the NRL on education and support programs to help talented young men, trained to "kill" on the field, learn not to be animals off it.
"Respectful treatment of women" courses, "Responsible alcohol use" programs, random drug tests to discourage the use of "liney lineys" during training and seasons. And yet, a week doesn't go by without another domestic violence allegation, sexual harassment incident or tedious tale of public debauchery. Yes, I know, boys will be boys, young men will be young men, and gee, aren't we all lucky that cameras weren't following us around when we were 21. The excuses for these exceptionally privileged, highly-paid, high-status icons go on and on and on. They get the best representation money can buy, and their talent allows them impunity.