We drove home in complete silence. It wasn't usually like this. Normally my son and I looked forward to his allergy appointments in the city. We'd make a day of it.
But not today.
Every year since he was a baby my son Philip, 12, has been dealing with deadly food allergies. We'd become used to good news. As he got older he was able to tolerate increased amounts of egg and some nuts. We felt certain that he would soon grow out of his allergies completely.
That's not what happened. Instead that day at the doctors we were told that his remaining allergies – egg, cashews, pistachios, walnuts, pecan nuts – were most likely lifetime allergies. We were told that we didn't need to come back for another appointment for two years.
It was really hard to hear.
As Philip has gotten older I have become more and more afraid for him because he is with me less and less. He's needed to start taking more responsibility for his food allergies and I've had no choice but to trust that he is ready for that.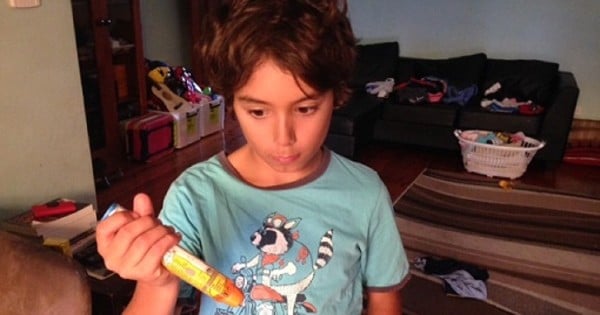 It all came crashing down last week when he came home with a letter from the school that I had been dreading. It was a consent form for the upcoming school camp. Last year he'd gone on a short school camp close to home and I'd been able to prepare all of his meals for him.
This time he'd be going further away and would have to make his own food choices, with the help of school staff.
"You can't go," was the first thing I said to which he threw a huge tantrum and stomped out of the room. I knew I was over-reacting. I knew I was being silly. He has every right to live a normal life and I had no right to restrict his life with my fear and paranoia.
I was just so scared.
When he goes away and is in the care of people who don't have a lot of experience with food allergies I assume he is dead until he comes home. Sounds pretty silly, huh? It's just my fear. I can't stop my brain from going to that horrible, dark place.
We were at his best friend's house recently, a boy whose mother just so happens to be my best friend as well. Philip feels pretty at home there and helped himself to a snack from their pantry. His best friend walked up to him, snatched the snack out of his hands, read the ingredients and then declared it to be "okay for you to eat".
That's the moment I knew Philip would be okay.