Roll up, roll up, mere muggles!
Come see what is quite possibly the world's most sought after little black dress. Comprising 92 per cent viscose and eight percent elastane (and maybe a fistful of Tinkerbell's magic glitter) this MM.LaFleur number has a waiting list of 1400 people.
Yep, you read that right… 1400 PEOPLE.
"The Casey", with its full-length sleeves and beautiful wrap-style waist, seems to be the perfect number to go from day to night.
Retailing for US$240, the stylish number will set you back AUD$321.10, but devoted customers seem to agree: splashing cash on MM.LaFleur frocks is well and truly worth it.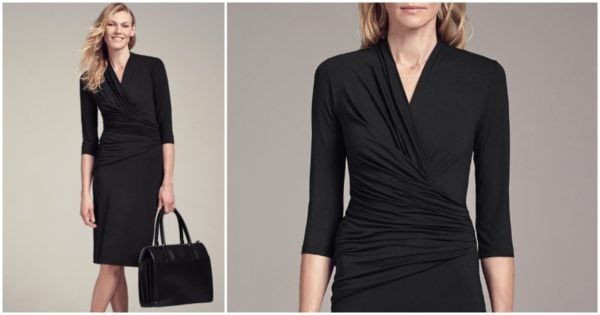 Just last year, the company experienced similar success with its first style, "The Tory", which was noticeably less fitted. Within weeks, over 1000 people had handed over their personal details, all in the hopes of snagging one for themselves.
Seemingly, the company's secret to creating the perfect LBD is artistic flair.
"Our designer is a master at the Japanese art of wrapping, and this dress is meticulously designed to complement your shape without feeling too tight," the up-market boutique boasts on their website.
Yep! Japanese wrapping is where it's at, you guys.
Click through to see some of our favourite night-time LBDs. (Post continues...)