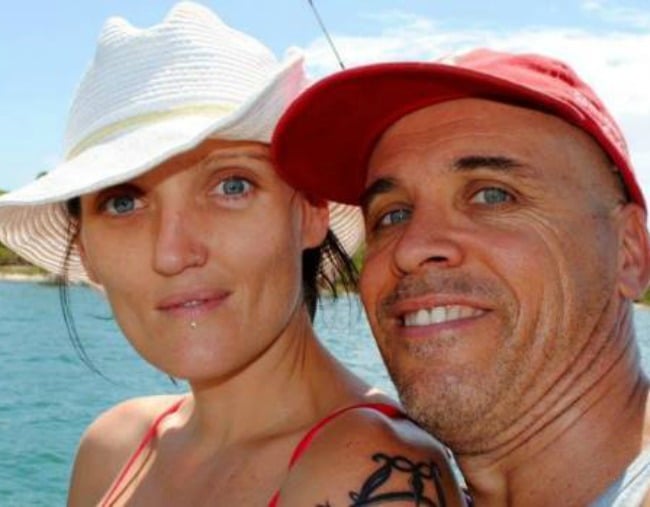 1. The cause of Brisbane woman's "strange" death in 2015 has been revealed.
The partner of a Brisbane woman who died in mysterious circumstances in New Zealand cannot be held responsible for her death, a coroner has ruled.
Tamara Schmidt, 37, was struck by a car at roughly 12.45am on October 26, 2015, while laying on a highway near Bluff, a town at the southern tip of the country's South Island.
According to The Press, the mother-of-four's partner, Richard Konarski, told police at the time that he had been arguing with her while driving that evening, and had pulled their van over in a rural area. After disappearing for five minutes, Schmidt returned, collected her bag and walked off into the darkness.
That was the last time Konarski saw her.
After Schmidt's death, local police worked to determine how she ended up on the road; "It's extremely strange," a spokesperson said at the time. "We are trying to piece together exactly what happened."
In inquest findings reported by Stuff, Coroner Marcus Elliott determined that Konarski could not be held responsible. According to the outlet, "Mr Elliot said there was no law that said an adult who walked off of their own accord had to be searched for."
The driver who struck Schmidt was also cleared, given the undulating nature of the road and the darkness of the area.
Instead, toxicology tests had discovered Schmidt had a blood alcohol concentration more than twice the legal driving limit, and had a dangerous level of temazepam in her system. According to Stuff, the pathologist concluded the levels of alcohol and drugs could have killed her, even without the injuries caused when she was struck by the vehicle.
Konarski had previously confessed to assaulting Schmidt the evening of her death, but escaped conviction after a judge ruled he was responding to the woman's rage with excessive self-defence.
2. At least 74 people have died as wildfires tear through Greece.
???? In pictures: Greece's deadly wildfires https://t.co/FKMjTBkXWu

✍ @euronews_chris pic.twitter.com/ABQtGxf0AR

— euronews (@euronews) July 24, 2018

Wildfires sweeping through a Greek resort town have killed at least 74 people including families with children found clasped in a last embrace as they tried to flee the flames.
The inferno was by far Greece's worst since fires devastated the southern Peloponnese peninsula in August 2007, killing dozens. Officials said it broke out in Mati, east of Athens, late on Monday afternoon and was broadly contained by Tuesday afternoon though still burning in some areas, with the risk of reigniting in scrubland parched by Greece's searing summer heat.
"Greece is going through an unspeakable tragedy," Prime Minister Alexis Tsipras said as he appeared on television to declare three days of national mourning.
Emergency crews found the bodies of 26 victims, some of them youngsters, lying close together near the top of a cliff overlooking a beach. They had ended up there after apparently searching for an escape route.
"Instinctively, seeing the end nearing, they embraced," Nikos Economopoulos, head of Greece's Red Cross, told Skai TV.
No Australians are believed to be among the dead.
"The Australian Embassy in Athens has confirmed with local authorities that no Australians are known to be affected by forest fires near Athens at this time," a spokesperson for DFAT said. "The Embassy continues to monitor the situation closely."
Many hours after the blaze broke out, the strong smell of charred buildings and trees lingered in the air in parts of Mati on Tuesday. White smoke rose from smouldering fires.
Residents, their faces blackened by smoke, wandered the streets, some searching for their burned-out cars, others for their pets. The eerie silence was punctured by fire-fighting helicopters and the chatter of rescue crews.
Many in the area were unable to escape the fast pace of the blaze even though they were a few metres from the Aegean Sea or in their homes, the fire service said.
"We went into the sea because the flames were chasing us all the way to the water. It burned our backs and we dove into the water," said Kostas Laganos, a survivor.
He compared the ordeal to the destruction of the city of Pompeii, where thousands were incinerated by the volcano of Mount Vesuvius in 79 AD: "I said my God, we must run to save ourselves and nothing else."
Working through the night, coastguard vessels and other boats rescued almost 700 people who had managed to get to the shoreline and pulled another 19 survivors and six dead bodies from the sea, the coastguard said.
It was not clear how many people remained unaccounted for as boats combed beaches for any remaining survivors, with military hospitals on full alert, the Greek government spokesman said.
One of the youngest victims was believed to be a six-month-old baby who died of smoke inhalation, officials said. At least 187 people were injured, among those 23 children.
3. MP Emma Husar takes personal leave after receiving violent threats.
Embattled Labor MP Emma Husar has taken personal leave, effective immediately, saying she has received threats of violence which have been referred to police.
Ms Husar is facing an internal investigation into allegations of workplace bullying and harassment of staff.
The western Sydney MP has been accused of using staff to mind her children and clean up after her dog.
Footage aired by the Seven Network on Tuesday night showed one of Ms Husar's staffers walking her dog through Penrith earlier in the day.
Ms Husar said the past few days had been incredibly difficult for her family.
"I'm a single mum and my first priority is the safety and wellbeing of my children," she said in a statement on Tuesday night.
"The best thing for me and my family right now is for us to be out of the spotlight so I can access support."
Her electorate office will continue to operate as normal.
"I look forward to returning to my duties as the Member for Lindsay very soon," Ms Husar said.
Complaints against the Labor rising star are an unwanted headache for Opposition Leader Bill Shorten, who said he first heard of the allegations against Ms Husar on Wednesday of last week.
"I think she has been a hard-working member in her electorate and I'm going to let the investigation by the NSW Labor Party run its course," Mr Shorten told reporters in Tasmania.
Federal Labor colleague Mike Kelly leapt to Ms Husar's defence, saying he had no problem with using staff on taxpayer-funded salaries to help the single mother-of-three juggle life as a federal politician.
"It's a small price to pay for having a truly representative democracy and facilitating the ability of women to participate in our parliament," Mr Kelly told Sky News.
4. Teenage boy charged after stabbing 17-year-old girl at a South Australian high school.
A female student from Renmark High School has been taken to hospital in a SERIOUS condition after being stabbed. Another female student has been arrested. #TenNews

— Chloe Bouras (@ChloeBouras) July 24, 2018
A high school student has been charged with serious assault, accused of stabbing a classmate at their campus in the South Australian Riverland.
The 18-year-old woman allegedly attacked the 17-year-old girl with a knife at Renmark High School on Tuesday afternoon, sparking a lockdown.
The alleged victim was taken to Berri Hospital in a serious condition and the 18-year-old arrested at the scene.
She has been charged with aggravated assault causing serious harm and will be flown to the Royal Adelaide Hospital because of a medical condition.
A bedside hearing is expected for Wednesday.
The state's education department said a dispute between the two students was thought to be behind the incident, which "did not represent a specific threat to the wider school community".
The lockdown was lifted later on Tuesday, with students allowed to go home.
Renmark High School is looking at whether it needs stricter security measures.
"We share your shock at the event, which we are treating with the utmost seriousness," Principal Mat Evans said in a letter to parents.
Counselling will be available for staff and students.
5. A rare disease is slowly turning a 12-year-old boy's skin to 'stone'.
A Russian-born US boy is experiencing the terrifying effects of a rare disease that is slowly turning his skin stone-like.
Six years ago, Jaiden's adoptive parents Tim and Natalie Rogers noticed a lump on his thigh. When they took him to see a dermatologist they were told only to keep an eye on it - which they did, noticing it soon began to grow.
In a GoFundMe page for the 12-year-old Colorado boy, touching the growth is described as like "tapping on a countertop".
As the growth spread on his leg, Jaiden lost his ability to walk. Then, doctors diagnosed him with Stiff Skin Syndrome. The incredibly rare disease causes hard, thick skin to spread over the entire body, causing pain, weakening muscles and making the boy unable to move. Once the skin has calcified, it cannot be returned to normal.
To stop further spread of the disease, Jaiden's treatment involves chemotherapy and physical therapy. However, a friend writes on his GoFundMe page, the boy's lungs have been restricted.
To give their son the best chance of survival, the Rogers have spent more than  $675,000 (US$500,000). They are now pleading for extra funds to they can afford for Jaiden to undergo stem cell treatment therapy in Europe at a cost of more than $1 million a year.
You can donate at GoFundMe.
6. Ivanka Trump closes fashion line to focus on government.
US President Donald Trump's oldest daughter, Ivanka Trump, is closing her fashion line to focus her energies on advising her father's White House.
Trump, whose fortune comes from real estate development, came into office carrying a broad family business portfolio that trades heavily on the family name.
The president has made regular visits to Trump-branded properties during his time in office, prompting some critics to complain that he is using the profile of his office to promote his private businesses.
"After 17 months in Washington, I do not know when or if I will ever return to the business, but I do know that my focus for the foreseeable future will be the work I am doing here in Washington," Ivanka Trump said in a statement.
Her company said licensing contracts would not be renewed and those in place will be allowed to run their course. Mid-priced women's clothing, shoes and accessories were sold under the label.
Trump's combative style on the campaign trail and as president have drawn the family's brands into political fights, with some supporters hosting events at the luxury Trump International Hotel blocks from the White House while opponents have called for boycotts of the family's businesses.
Retailers including Nordstrom Inc, Sears Holdings Corp and Kmart dropped or sharply scaled back their assortment of Trump-branded products, though they typically attributed those decisions to poor sales rather than political messages.
The most organised boycott of Trump-related businesses, Grab Your Wallet, began in the final weeks of the 2016 presidential campaign, following the release of a recording of Trump discussing grabbing women by their genitals.
"This is the biggest possible win for Grab Your Wallet," said the group's co-founder, Shannon Coulter, a San Francisco marketing executive, in a phone interview.
In office, President Trump has been a loud advocate for domestic manufacturing, prompting criticism that much of the Ivanka Trump line was made overseas, as is the vast majority of clothing and footwear sold in the United States.