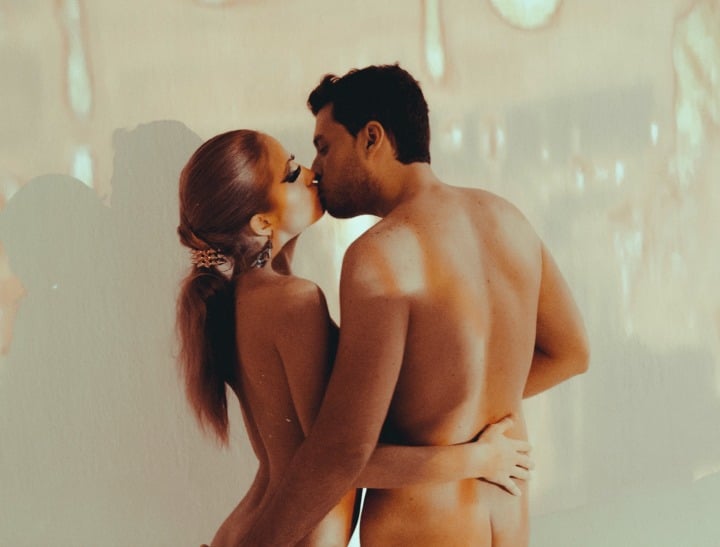 "I don't want to get women out of porn. I want to get them into porn."
Sex isn't always pretty. It can be clumsy, sloppy and filled with awkward, giggly moments as you struggle to kick off your shoes and untangle yourself from your bra.
This is what real sex looks like, but it's not what we're used to seeing — and adult filmmaker Erika Lust wants to change that.
Self-described feminist Lust is working on revolutionising the way we look at porn. Lust wants to be a force for sex-positive thinking; her aim is to add more realistic, fun sex to erotic film making, taking porn away from the dark, seedy corners of the internet and showcasing a shared experience for both men and women.
Lust, 37,  first decided to start making female-friendly porn as a Gender Studies student back in Sweden, when her then-boyfriend suggested they watch a porno together.
"[T]he feminist me felt cheated, the activist me felt mad, the sexual me felt aroused," Erika says of that initial experience.
But while she was turned on by what she saw, she didn't really like that fact — and her unease prompted her interest in studying the links between feminism and porn.
"When I started making erotic films a decade ago, female voices were pretty much nonexistent in porn," she tells me in an email exchange (she's previously decried the limitation of those roles as "fuck bunnies, horny housewives, secretaries.")
"[W]omen are still vastly under-represented when it comes to our fantasies, pleasures and desires in erotic films. That's why female driven erotica is important: our narratives need to have a voice as well. We need more diversity, more real pleasure," Lust adds.
Related content: How they make the sound effects in porn. Oh my.
Another thing Lust wants to change about porn: "It's never really about our experience".
Think about it: How can we tell when a porno is over? When the man finishes, of course. It's not often that we will see a female orgasm in pornography, that is unless it's used as a sexual stimulus for the male gaze (you know, the 'squirter'.)
Some of Erika's work (post continues after gallery):