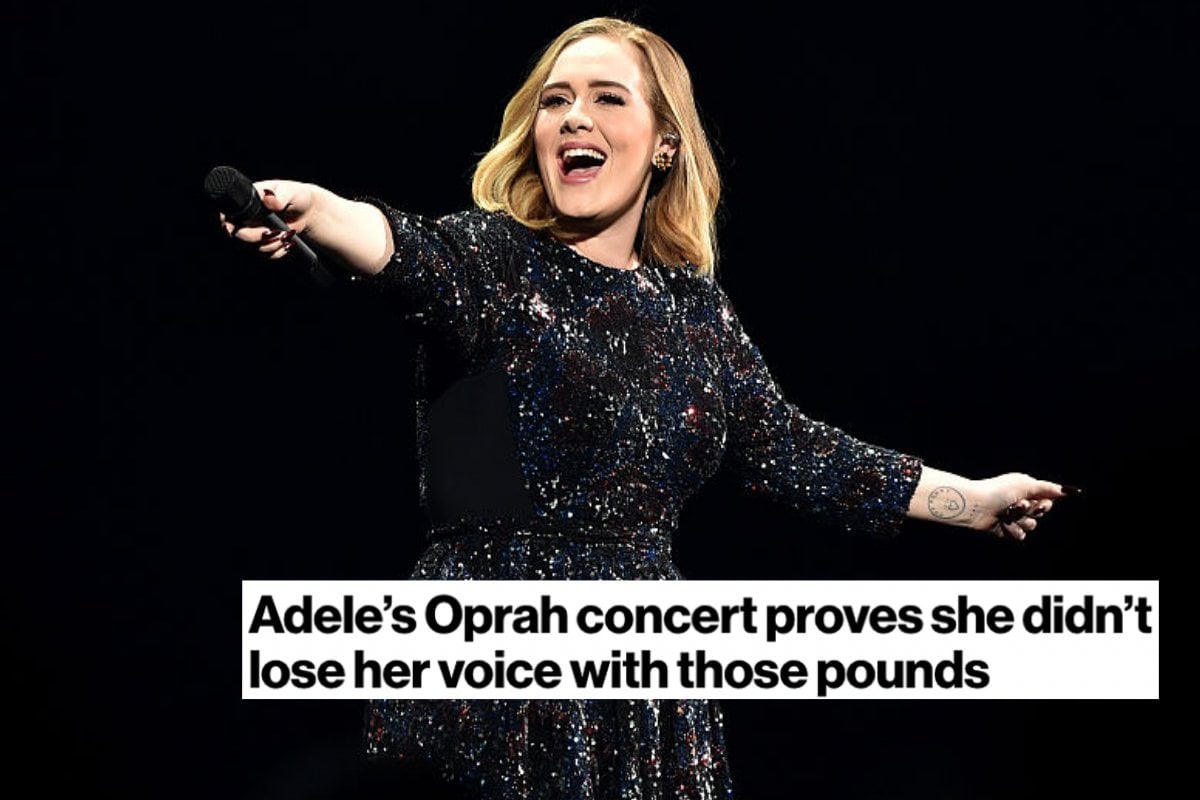 Earlier this week, a headline by The New York Post went viral. It read: "Adele's Oprah concert proves she didn't lose her voice with those pounds." 
It was clearly written as clickbait, and it was playing into the stereotype that a woman's ability is tied to her looks.
As a plus-size woman I know what that is like, people constantly assuming because I'm not small, I must be sad, lazy or insecure. Of course, usually these opinions are made clear to me through micro aggressions not via headlines.
Watch: How to improve your daughter's body image. Post continues below.
Stereotyping women based on their physical appearance is a tale as old as time. 
Remember when Kelly Osbourne was seen as a quirky party girl at best and at worst as a joke? 
Then she lost weight and was suddenly a respected style icon? (Btw she'd always had the same distinct style, she was just thin now.) 
Of course, it's a trope thrust on women that extends beyond weight. 
If she's blonde, she's not smart, if she wears glasses, she's nerdy, if she wears a low-cut top, she's promiscuous, if she's thin, she's attractive. 
The list goes on and on, and I'd say pretty much every woman I know has at one point in their lives been pigeon holed because of these outdated and completely baseless stereotypes.
However, the 'fat' stereotype seems to bring out a particular amount of venom. 
Society really does seem to believe that if fat people want to exist and not be ridiculed - they need to be incredibly talented in one area, they have to earn the right to be treated decently. 
Otherwise they are just treated like an endless running joke. Don't believe me? You only have to look at the jokes made at the expense of Monica Lewinsky during the Bill Clinton scandal to understand. 
According to Bustle, David Letterman once joked, "President Bush has authorised the drop of 15,000-pound bombs on Afghanistan. I believe that is the heaviest ordered drop by a president since ... well, Monica."