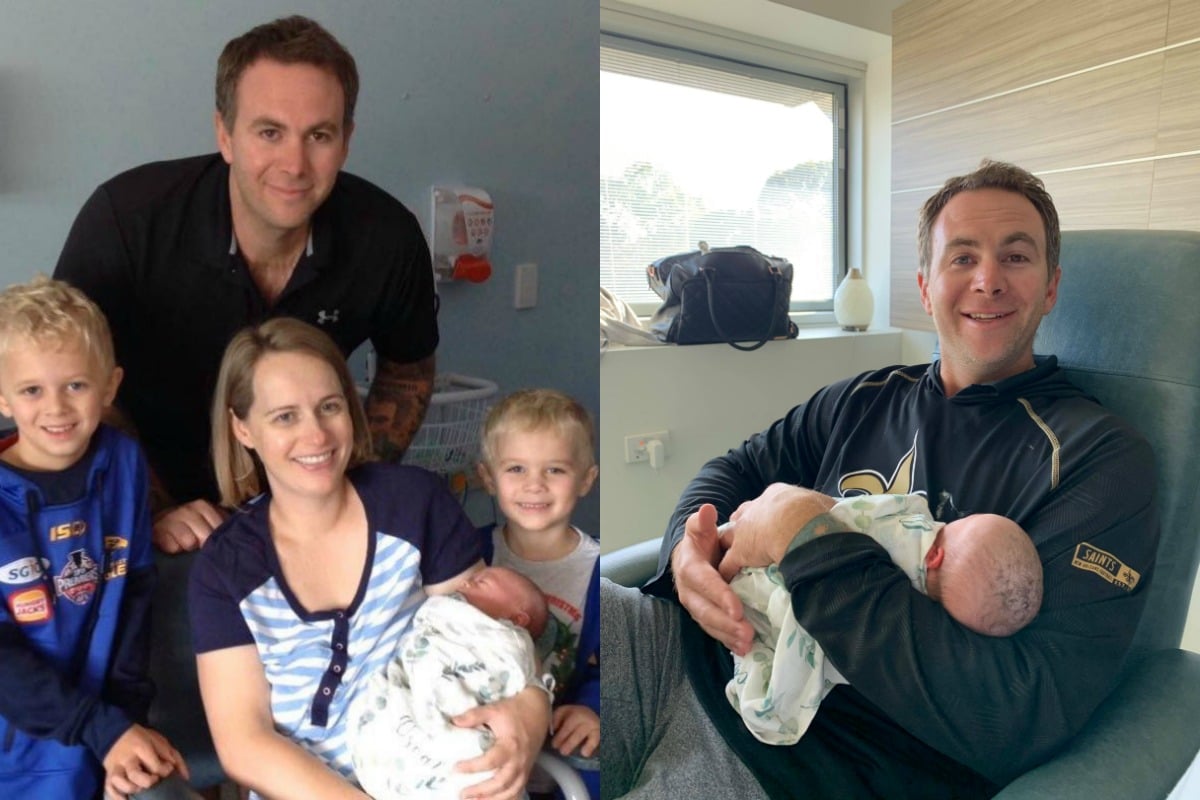 Ten years ago, Nathan McClymont proposed to Amanda Ecker in the season finale of Farmer Wants A Wife. They've now welcomed baby number three together.
Oscar McClymont came into the world just under two weeks ago, and he was in a hurry.
"We got to the hospital and about an hour later he was born," Amanda tells Mamamia. "It was very quick. I'm so glad I got there when I did."
Listen to Mamamia Out Loud, Mamamia's podcast with what women are talking about this week. Post continues below.

Oscar's big brothers Mason, who's almost eight, and Benjamin, nearly five, are "so in love" with their baby brother.
"They just want to look at him and hold him all day. They're obsessed with him."
And yet, if Amanda hadn't been at a loose end when an ad for Farmer Wants A Wife appeared on her computer all those years ago, she would never have met Nathan. At the time, Amanda was 23 and living in Rockingham, on the outskirts of Perth. She'd just had a falling-out with one of her closest friends.
"I just was feeling a bit down and a bit lonely," she remembers. "I thought, 'Whatever, I've got time.' Nathan was the first one that popped up and I saw 'WA' and I said, 'He'll do.' I didn't read his bio – I didn't even know that they had a bio.
"When I got the phone call, I cried. I thought, 'What have I done?'"
What Amanda didn't know was that Nathan, who was at the time working on a cattle station 350km from the nearest town, already felt there was something special about her.
"Apparently I was his favourite from the applications," she says.
Nathan had applied to go on Farmer Wants A Wife on the same day that his grandmother passed away – a day that also happened to be Amanda's birthday.
"He and his nanna were very, very close," she explains. "We feel like she had a little hand in everything."
When Nathan and Amanda met on the show, the connection was instant. Amanda's reservations disappeared.
"We just clicked and I felt really comfortable. It felt right from there."
Amanda went to the cattle station with two other girls, Tessa and Jemma, who she's stayed in touch with since.
"I still speak to them occasionally," she says. "They've had babies now."
But it was always obvious that Nathan only had eyes for Amanda. They were both "a little bit shy", but Nathan's friend gave them a push.
"Once we got that first kiss out of the way, that was it," Amanda remembers.
The couple married in 2011. They left the remote cattle station to set up a home in Perth and start a family, and Nathan became a fly-in-fly-out worker. Five years ago they moved again – this time to Busselton, south of Perth.
"We love it," Amanda says. "It's still considered country but we're still close enough to family and things like that, so we're not isolated like we were out on the station."