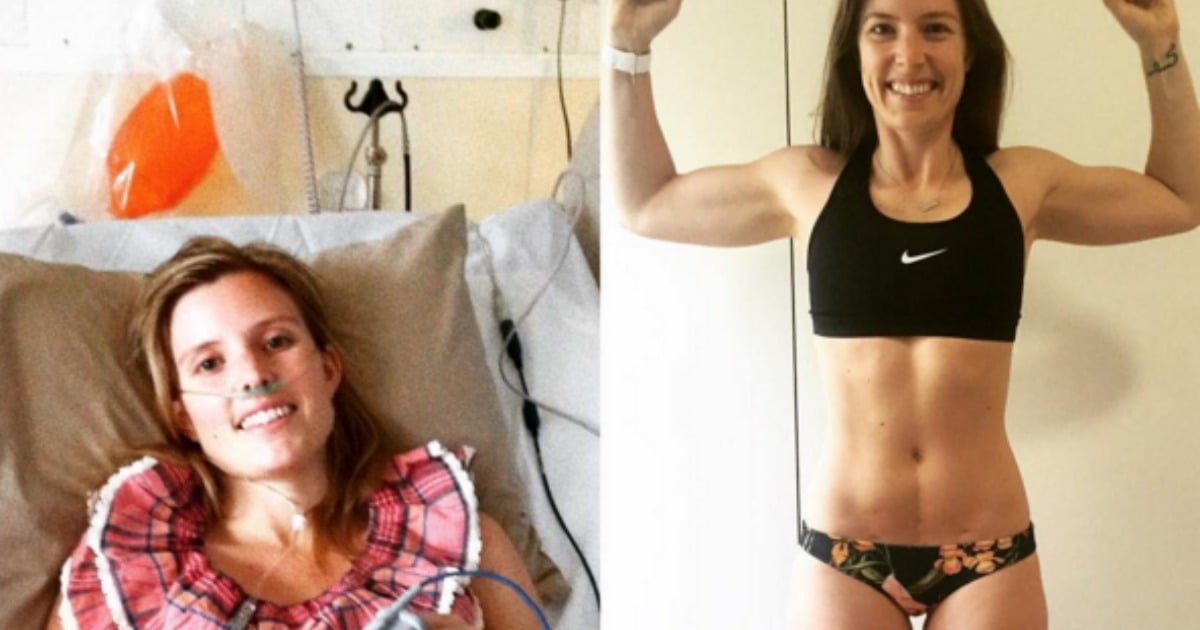 Almost six years ago, Sophie Allen went into hospital for a minor procedure to look for endometriosis.
During the investigatory laparoscopy, doctors found some scar tissue in the then-21 year old, removed it, stitched her up and sent her home for recovery.
Days passed and Allen wasn't getting any better, unable to eat, walk or move properly. After seven days, she was rushed to emergency surgery where doctors cut into her abdominal cavity to determine the problem.
They discovered that during the initial surgery a perforation had occurred in her bowel.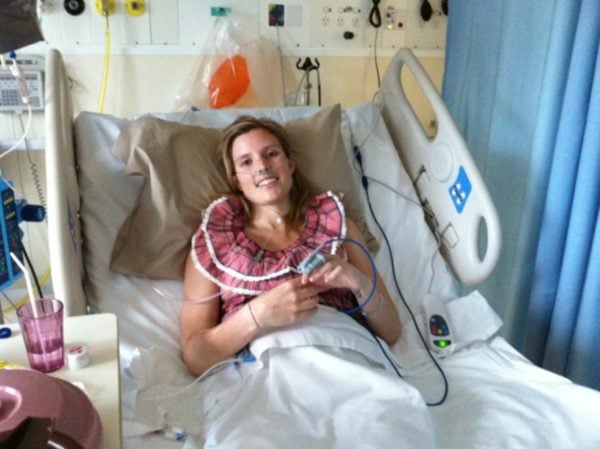 Allen in hospital. Image: Supplied.
"They later told me that they had to remove my intestine from my body and submerge it in water like a bike tyre to find the bubbling air coming out of the hole," Allen told Mamamia.
Once stitched, she spent a month in hospital in intensive care over Christmas and New Year. Further surgery was required to remove the infection that had spread to her lungs and for two weeks, she relied on three tubes to drain the fluid.
The effect on her body after such massive surgery was enormous.
"Having spent so much time in a bed I lost almost all of what little muscle mass I had. I couldn't walk - I was wheeled around in a wheel chair at the park for fresh air, I had so many drugs pumping through my body, morphine, ketamine (yes, horse tranquilliser) you name it! A grown man would have been flat on his back,' the 26 year old from Melbourne says.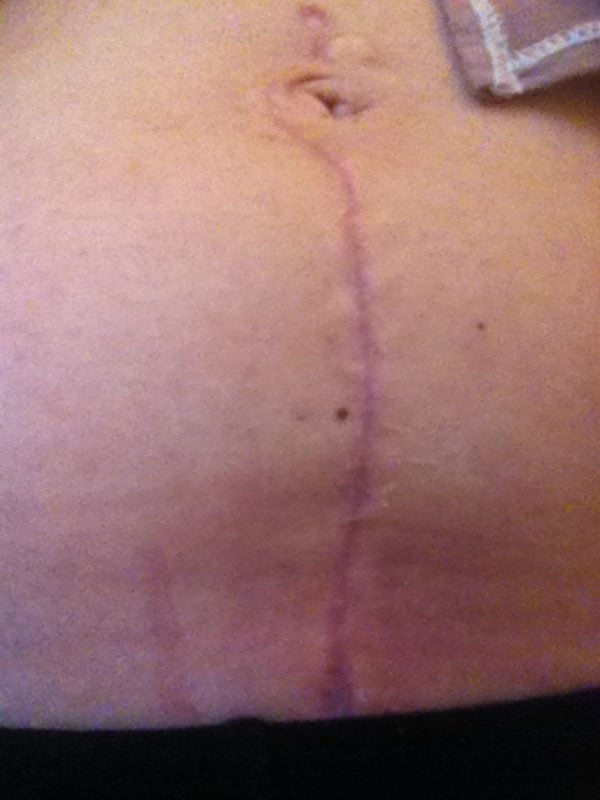 Allen's scar. Image: Supplied
"The scar tissue was painful and felt sticky and stiff causing frequent pain. Chronic pain was mentioned and the doctors said an exercise routine would dramatically help to reduce that. Not only muscular but my whole digestive system was in shock.
"I was on antibiotics for months and pain killers and morphine as well for so so long, my poor body had no idea what was up. I have spent ages with the help of a naturopath getting my body back on track again."
She says discovering a passion for exercise after the surgery quite literally "saved her life".
"I so easily could have fallen into the depths of PTSD and gone the other way with everything. I could have easily sat with the 'why me' mentality I admit I had at times, but instead I focussed on what was ahead, what I needed to do to never be in that situation again and what I really yearned for and felt beyond jealous about when friends and family came to visit was their health," she says.
Watch: Sam Wood on why you don't need hours to work out. Post continues after video.
"It was summer so everyone was tanned, happy, healthy looking and strong. I was pale, ghostly, a bag of bones with a weird pregnant looking belly and tubes hanging out of me.
"Working out gave me an incredible purpose, knowing where I came from to where I am now has given me an incredible focus that has seeped into my everyday life - my job, relationships and friendships, my attitude and awareness. Pushing myself past my limits helped me overcome a depression I felt was imminent."
Describing her fitness routine prior to surgery as "non-existent", Allen was careful to start off slowly.
"I was really really cautious of pushing my body beyond its capabilities. It had just been through so much, yet it was yearning to be treated the way it deserved. I knew that working out and moving that scar tissue was the best thing for it, I just wasn't sure what to do exactly," she says.
"They told me recovery time for the stomach surgery is about one to two years and same for the lungs... so I knew to take it easy."
She started off running, gradually building up pace and distance and trained for a 15 kilometre race with some friends. As she got stronger, she started mixing in circuit work and took up hot yoga.
However it wasn't without its frustrations.
"I'd get five minutes in and be absolutely wrecked. I'm quite hard on myself and like to push myself so I'd walk, run, walk, run but by the end of the day or the next day I'd be in so much pain from the scar tissue being moved around," she says.
"So it was really important to slow it down, take my time and be patient with my body and its healing process. This was a big lesson for me, despite feeling like I could go harder, I really needed to stay in tune with by body to prevent any pain or damage from occurring."
(Post continues after gallery.)