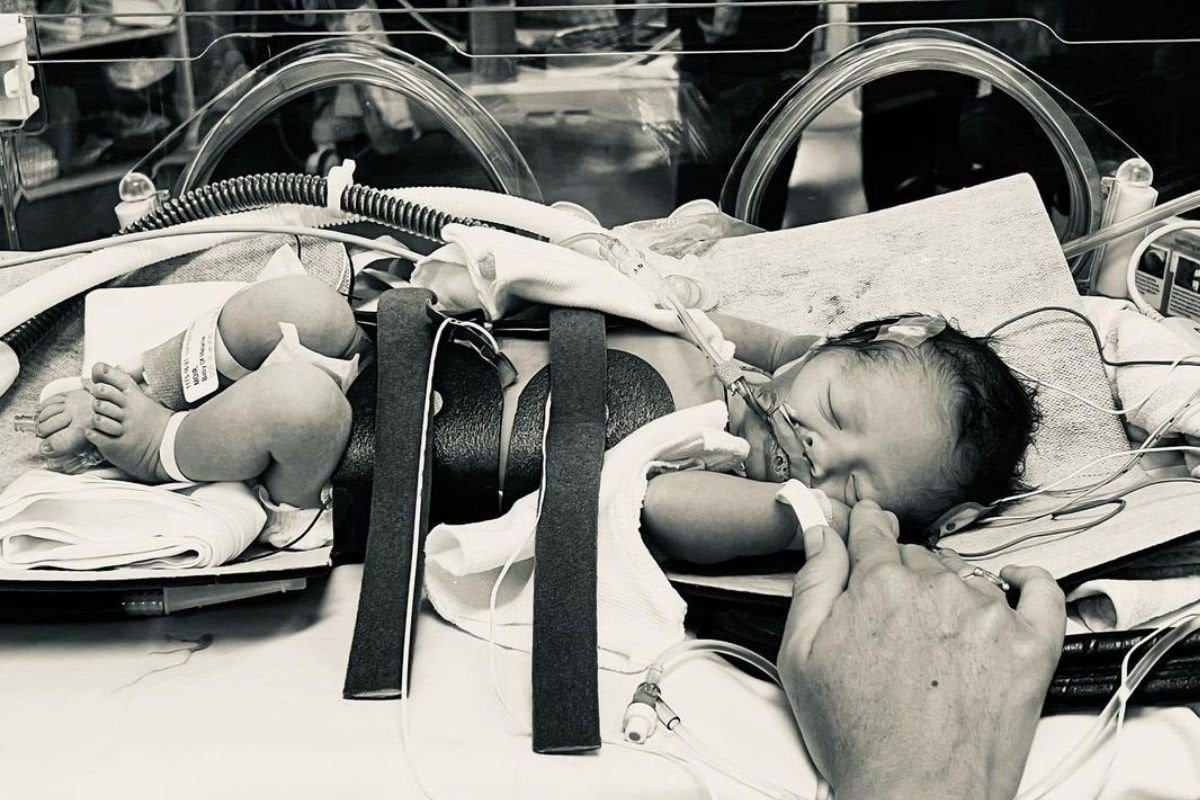 Ethan Moir was born on his parent's bathroom floor on a Sunday morning in early January.
His mum, a midwife, hadn't expected him to come quite so quickly. 
Melanie Moir's water broke at 5am on January 2. By around 6.15am, she was delivering her own son while on all fours, after realising mid-shower there was no way they were going to make it to hospital.
It didn't take her long to realise something was wrong.
"I started using the towels and drying the baby and stimulating him. He was just very floppy, and he wasn't sort of responding to any of my stimulation. He was literally white as a sheet," Melanie told Mamamia's daily news podcast The Quicky. 
Listen to Melanie on The Quicky. Post continues after podcast.
"Normally, babies come out a bit blue, and then you give them a rub, and they turn nice and pink. His colour wasn't changing. He wasn't really making any effort to breathe, he was just kind of lying there floppy in my arms," she said.
Panic set in. Melanie's husband Alex was already on the phone to 000, and she could hear him giving over their details after being connected to NSW Ambulance.
"How long till they get here?" she yelled at him. "He's not responsive!" 
"I started giving him breaths, and then I told Alex to get me a stethoscope... thankfully he did have a heartbeat. It just wasn't very strong, and it wasn't beating as fast as it should be. But I knew he was at least getting blood flow... and the placenta was still connected," Melanie told The Quicky.
She breathed a small sigh of relief; she knew she had time. Not much of it - but enough if the ambulance was on their way. 
An unknown wait time.
"How long until you get here?"
"How long until you get here?"
Alex Moir was desperate. He'd been told by the NSW Ambulance call centre that there were no vehicles available to help them. But he kept asking.
They'd been told an ambulance could "probably" be dispatched from Mascot "soon."
Mascot was 10 minutes from the Moir's house, and then they were a 10 minute drive to the hospital. 
"I think it was only maybe seven or eight minutes that he was on the phone to the ambulance. But it was after the third or fourth time that she had sort of said, 'I can't do an ETA' that he said [to her], 'Is it going to be quicker for us to drive?'" Melanie said.