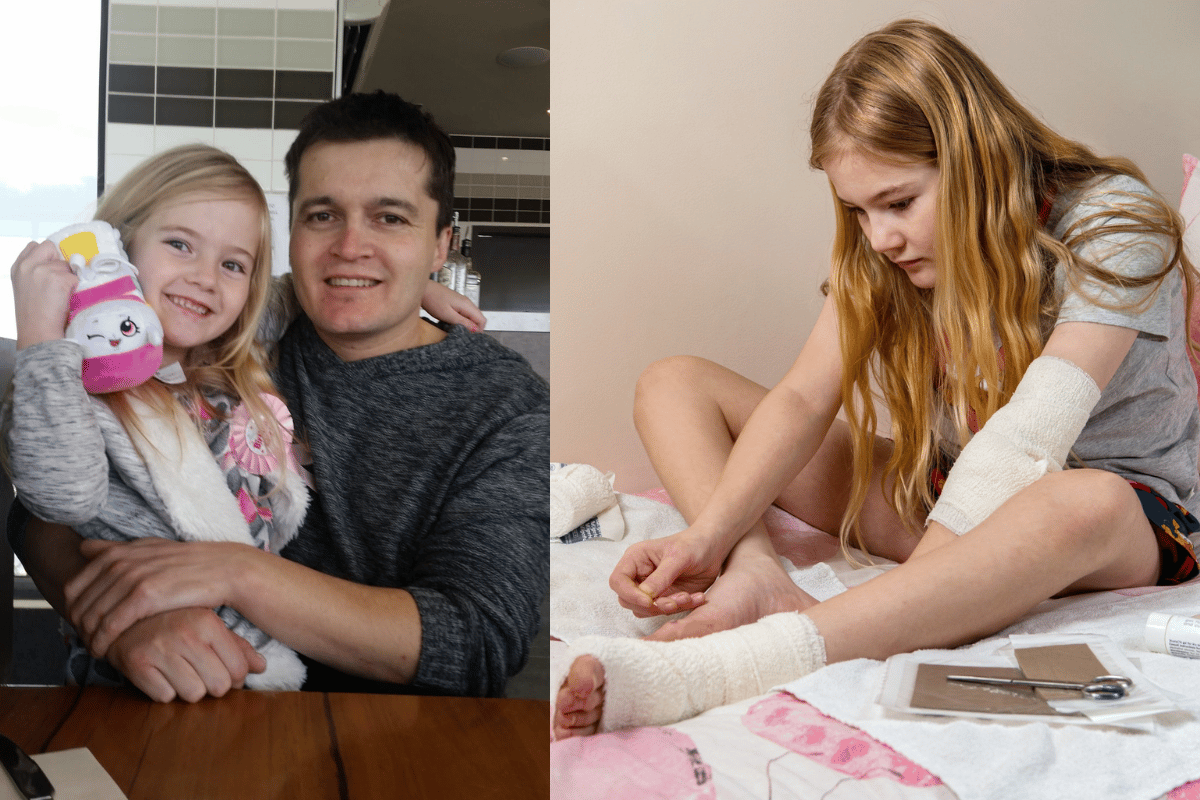 When Melanie first saw a blister form on her daughter Zoe's ankle, she fainted. Because she knew straight away what that meant for her little girl's future.
Zoe has Epidermolysis Bullosa, often known by its abbreviation EB. It's one of the worst diseases that you have probably never heard of - a rare genetic skin condition that results in very fragile skin. The skin is so fragile that it can be injured easily, resulting in blisters and wounds - often occurring across the body, and sometimes in the mouth.
Kids like Zoe are often known as 'butterfly children' - because their skin is as fragile as a butterfly's wings.
The reason Melanie knew almost instantly her daughter had EB was because her husband David has it too.
"In the early days of our relationship, David and I went bowling with a group of friends and I noticed something on his hands. He told me he had eczema. Only later he felt comfortable to tell me about what it really was," Melanie said to Mamamia.
When David was born, his EB was very severe - his skin was almost red raw. And throughout his life, his EB has gone through stages from manageable to really painful. 
Watch: Tilly Wilkes and her Epidermolysis bullosa journey. Post continues below.
"He suffers from a combination of internal and external wounds," Melanie explained. "David is someone who puts up with a lot, but recently as he's getting older he has noticed that his skin is starting to break down. It's sad to see - he can't do the gardening much anymore, but he still pushes himself to play golf because he loves it. He'll pay for it afterwards though."
Every person diagnosed with EB experiences a different severity - it's therefore often left up to the person to manage what they can and can't do to avoid a serious breakout.
The couple had always known there was a chance their children could have EB - doctors had told them they had a one in two chance of passing the condition on. But it was a fact Melanie had never properly grasped when she was younger.
"When I fell pregnant with [our eldest son] Josh, it wasn't planned. We were really excited, but as the pregnancy went on, I started to worry. It was when we started preparing to buy baby clothes and I realised the work it would take. For example, the material of some clothes would be too scratchy and rough on the skin for a baby who had EB," Melanie said.