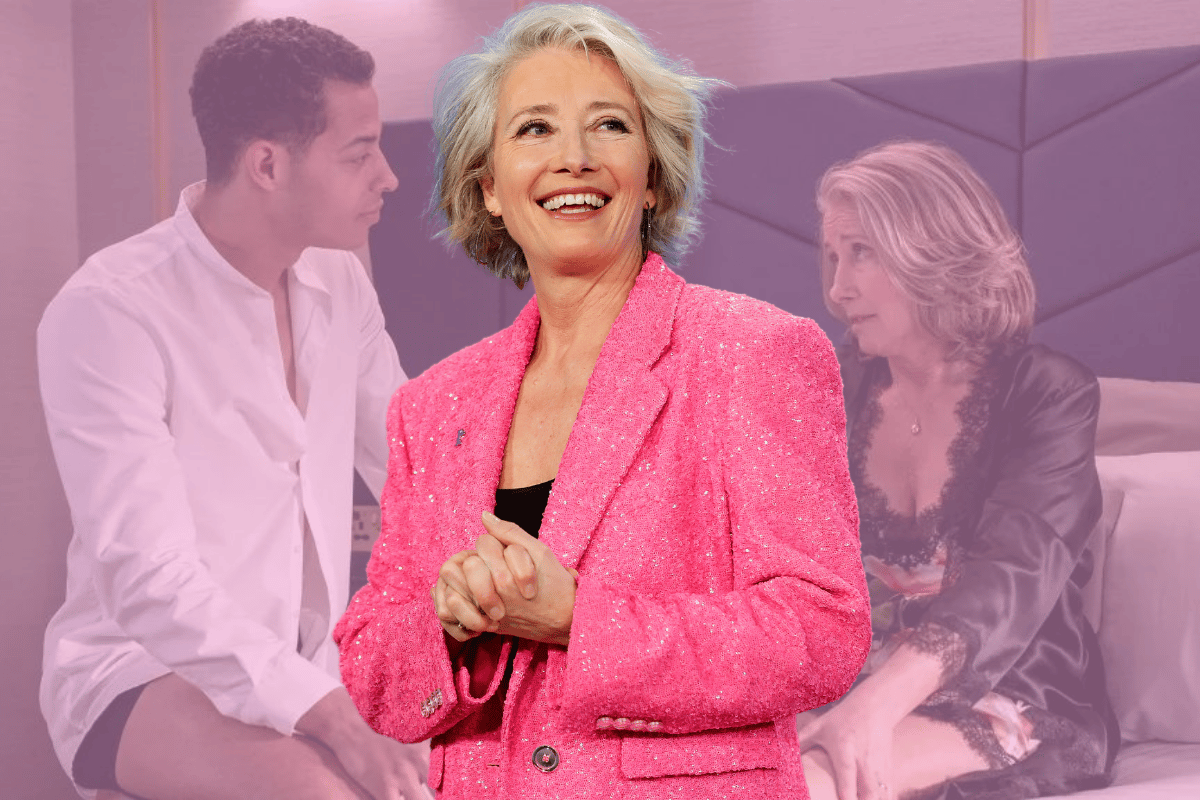 Dame Emma Thompson is quite the icon. She is an incredibly successful actor, screenwriter, activist, comedian and more. 
And throughout her time in the entertainment industry, Thompson has had a myriad of well-known roles. She's done family-friendly movies like Nanny McPhee, Harry Potter and Beauty and the Beast. Period dramas like Sense and Sensibility, and plenty of comedies too. Also, who could forget Love Actually?
But a genre that Thompson isn't as familiar with is romance and its sex scenes. This wasn't something that Thompson chose to negate, but rather something that was decided for her by men in power. 
And at the age of 63, Thompson feels this is the right time for her to talk about the story behind this decision, and why she's chosen to change the narrative.
In a new British film Good Luck To You, Leo Grande, Thompson plays a middle-aged widow Nancy who has never had an orgasm - until she decides to book a young male escort.
Watch the Good Luck To You, Leo Grande trailer. Post continues below.
In a new interview with The Times, Thompson spoke about the influence male movie executives had in choosing what roles were 'best suited' to her.
"I've never really been offered sex scenes. As my mother said, I've basically played a series of 'good' women. I do 'cerebral.' And I have also never conformed to the shape or look of someone they might want to see naked," she said.
"And by 'they,' I mean male executives. I'm too mouthy, not pretty enough, not the right kind of body. And, crikey, you are constantly told what kind of body you have."
Thompson went on to explain that it's men from across the industry that have fuelled this body shaming. 
"In one interview I did, the male journalist wrote that I'd put on a lot of weight since I appeared in Fortunes of War, and that my legs were 'now like tree trunks,' and that I'd 'let myself down'. I was 31 and, quite frankly, no longer starving myself. I don't think anyone knows quite how thin most actresses are in real life. They look quite… unreal."
This is not the first time Thompson has taken a stand. 
In 2019, her decision to quit a role in animated movie Luck was called "one of the most significant decisions in post-#MeToo Hollywood". The departure was in protest of Skydance Media's decision to hire Pixar co-founder John Lasseter as its animation head despite sexual misconduct accusations against him.