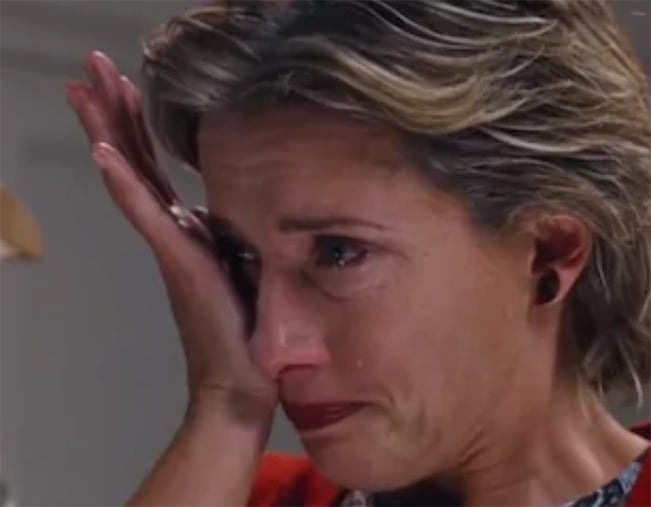 You know the scene. It hits you right in the guts.
Emma Thompson, as 'Karen' in Love Actually, bent over with one hand clutching her stomach, the other white-knuckling the wooden dresser in the bedroom she shares with her husband in the film, Alan Rickman's Harry.
Karen has just discovered Harry is cheating on her and she's there, trying to stop the tears and ease her nausea, so as not to ruin her child's big night starring in the school's Christmas play (as a 'nativity octopus', no less).
Karen (or Thompson, it's hard to know where one ends and the other begins) brushes the bedspread smooth in a heartbreaking act of keeping up domestic appearances, despite the pain within.
Almost every woman recognises her struggle and it's a 15 second scene that stays with you long after it's over.
Thompson herself has spoken about the pain she felt while doubled over in front of that dresser.
Watch the scene here in full. Post continues below.
"That scene where my character is standing by the bed crying is so well known because it's something everyone's been through," Thompson, 58, told a fundraiser at the Tricycle Theatre in London, The Sun reports.