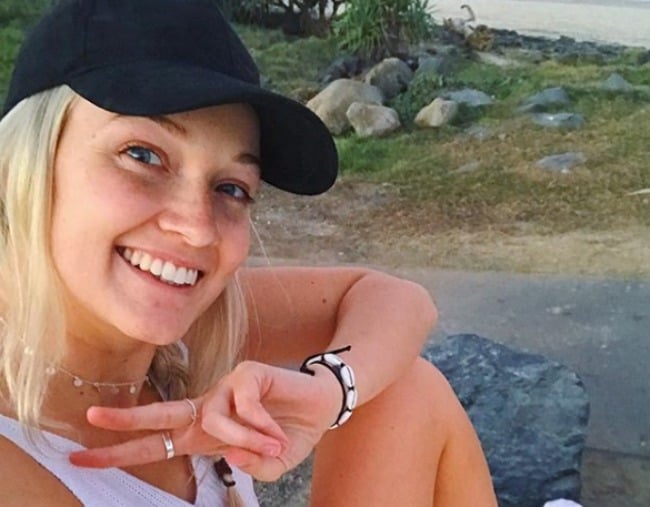 In 2013, Emma Carey embarked on a European holiday.
She would return a paraplegic.
Carey, then 20 years old, was five days into her three month trip when she decided to go skydiving in the Swiss alps.
"I'd been looking forward to it for so long, I'm such an adrenaline junkie," Carey told Mamamia earlier this year.
"And then we jumped out, and it was just the most incredible feeling ever."
The fall from 14,000ft lasted less than a minute before the instructor released their parachute. But, even to an inexperienced skydiver like Carey, something didn't feel right.
The tangled parachute did not open fully, and they were both rapidly descending from the sky. The chutes became wrapped around the neck of Carey's instructor, rendering him unconscious.
Carey landed on her stomach, and miraculously survived. She broke her jaw, pelvis and spine, and was told emphatically by doctors that she would never walk again.
Four months after her accident, however, she would take her first steps.
This week, five years since the traumatic accident, Carey returned to Switzerland.
In an Instagram caption posted on Wednesday, the 25-year-old wrote: "We were in a car on the way to our hostel today when I saw the spot. We didn't even mean to drive past it and I had no idea where it was, but when I looked out the window it was right there… the place my life changed forever.
"My whole body went cold and I instantly wanted to vomit…
"I honestly thought I would get here and feel nothing. I thought I would see the place where I crashed and just think 'wow this is really beautiful'. I thought enough time had passed that I wouldn't really remember how it felt. But man, when we were driving through the alps today, the smells, the sounds, the freshness of the air… it was all so familiar to me and it came flooding back."
Carey only booked the flight to Switzerland a few weeks ago. She wrote on Instagram: "The thought of going back to Europe makes me feel sick. It's like everything in my body is screaming at me to not go back there, to the place where it got so hurt. But everything else is me is begging me to go, to create new memories, to stop thinking about it so much and to finally enjoy a European summer for what it should have always been… fun."
When Carey returned to Australia after her accident, back in 2013, she couldn't work anymore, her relationship ended, her family had changed and she was confronted with an identity crisis.
"The life I came home to resembled absolutely nothing of the life I left," she wrote on Instagram.
But now Carey is bravely exploring the most traumatic moment of her life in the hopes of, step by step, coming to terms with it.