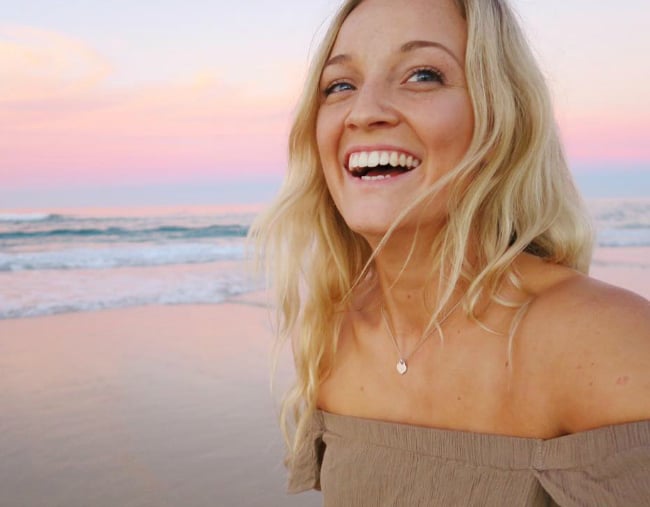 June 9, 2013. Emma Carey still finds it strange just how normal she felt that day. She'd always assumed there would be a feeling or a sensation, something in the mind or gut that would ping before a life-altering event.
But as she climbed aboard the skydiving helicopter in the Swiss alps, five days into her European backpacking holiday, the buzz in her stomach was familiar – excitement.
"I'd been looking forward to it for so long, I'm such an adrenaline junkie," the 25-year-old Sydney woman told Mamamia. "And then we jumped out, and it was just the most incredible feeling ever."
The free-fall from 14,000ft lasted seconds, maybe less than a minute, before the instructor released their parachute. They slowed a little, but even as a novice Emma could tell it was not enough – the tangled parachute hadn't opened fully.
By then the instructor had stopped talking to her, and Emma's concerned questions hung in the air as they rushed closer and closer toward the ground.
"It's so weird, because it would have happened really fast, but it was almost like time wasn't real in that situation. I had so much time to think about everything," she said. "I remember feeling absolutely certain that we were about to die. The ground was coming so fast. You know, no one is going to survive something like that."
Emma landed on her stomach, fully conscious. Her instructor, though alive, lay limp and heavy, still strapped to her back.
"I tried to roll him off me so I could go and get help. And that's when I realised I couldn't move my legs, I couldn't get up, I couldn't even wriggle my toes at all. And that was terrifying," Emma said. "I was just so confused. I was doing the same movement I had been doing my whole life. For it all of a sudden to not work is just the most bizarre feeling.
"I knew nothing about spinal cord injuries and – even though I don't feel this way now – at the time I thought, 'If I'm in a wheelchair, no way do I want to live.' I didn't want to go through that. I wasn't an emotionally strong person back then, so I didn't think I'd be able to cope with that at all."