Warning: This article contains information about pregnancy loss, which may be distressing for some readers.
On November 3, Ellie Day – the wife of Australian golf professional Jason Day – shared the happy news that her family was about to welcome another member.
"I've been a little quiet lately and apparently cats outta the bag now… so here goes!" she wrote to her 20,000 followers.
"Number three is on the way!"
In the accompanying post, the couple's two children – Dash, 5, and two-year-old Lucy – wear shirts announcing they are about to welcome a little sibling.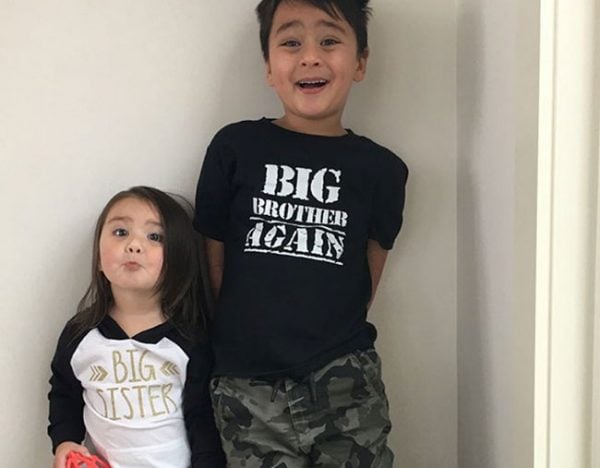 But yesterday, 31-year-old Ellie shared the heartbreaking news that just days after sharing she was pregnant on Instagram, the doctor informed her the baby no longer had a heartbeat.
It was the first time she had posted to her social media account in over two weeks.
"It's taken me some time to get up the courage to post this," she wrote.
"I think it matters and I don't take it lightly that I have a platform, albeit small, to share my heart."
LISTEN: Monique Bowley talks about her miscarriage on Mamamia Out Loud.
Ellie admitted that she had shared her pregnancy news "earlier than she planned" but that she "probably would have told you if I saw you anyway", describing herself as "an open book".
"Shortly after I posted that photo, I found out the baby had no heartbeat anymore," she shared.
"I was devastated. I snuck out the back door of my doctor, a hot, sobbing, mascara-covered mess.
"Two and a half weeks went by with me battling my heart and brain about what was happening in my body, wondering why this wouldn't just be over.