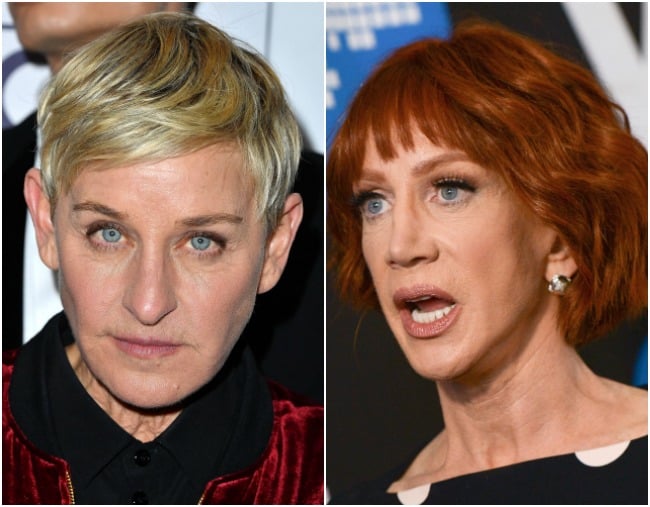 It turns out Kathy Griffin and Ellen DeGeneres are not the best of friends.
The comedian and talk show host have been feuding on and off for years.
According to 57-year-old Griffin, who has spoken about their relationship during her Laugh Your Head Off world tour, their biggest disagreement was about fellow comedian, Joan Rivers, who died in 2014.
"One of the things that really hurt Joan, and we talked about it at our last meal together, was that Ellen always shunned her and Ellen thought she was vulgar and not funny," Griffin said during the show, according to Page Six.
"I just called her [Ellen] and I just said, 'Look, woman to woman, comic to comic, I think you need to let go of your hatred for Joan Rivers. She's passed away, just do a f***ing tribute, be cool'."
Griffin then told the crowd 60-year-old DeGeneres replied, "There's a difference between mean and funny".
"That f***ing set me off," Griffin said.
"So we had a fight in which I used inflammatory words like, 'Look you f***ing untalented hack'. You know when you're fighting with someone and you can kind of laugh at a point? Yeah, not that day."
A few days later, after she had cooled down, Griffin sent Ellen a text but she never heard back.
In her 2016 book, Kathy Griffin's Celebrity Run-Ins: My A-Z Index, Griffin shared a story about a "daytime talk show host" that once kicked her out of a backstage dressing room at the Emmy Awards.
"I can't prove it… I heard she got me kicked out," she wrote.
The comedian – who once starred in her own reality TV show, My Life On The D-List – also claimed that DeGeneres had her "banned" from her popular talk show.
Griffin said her issue with Ellen was "simple", she wishes there was more support between female comics.
"The guys in comedy are so good about sticking together. I feel sad that women don't support each other the way the guys do," she said.
"Joan [Rivers] and I would talk about this all the time. Patriarchy pits us against each other."