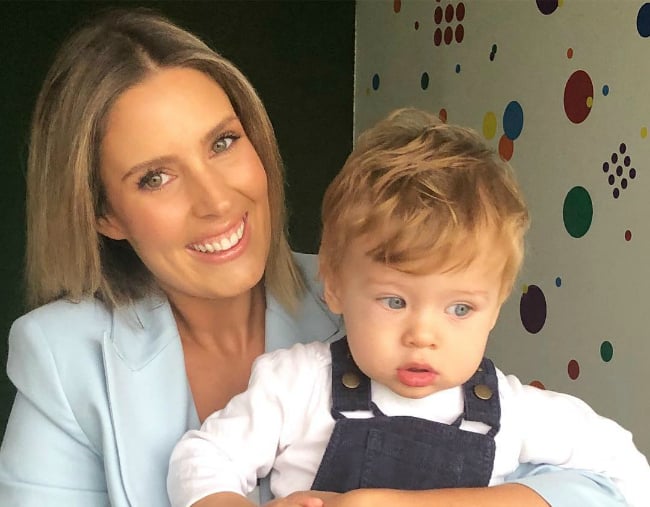 A note from the editor: This post details disordered eating behaviour, and may be triggering for some readers.
Forty-eight hours after fashion and entertainment journalist Elle Halliwell heard the words, "You've got leukaemia", she received more life-changing news: she was four weeks pregnant with her first child. In the weeks that followed, The Daily Telegraph reporter made a choice that attracted national headlines. She chose to delay life-saving cancer treatment in order to continue the pregnancy and give birth to her unborn son.
Tor Felix Biasotto was born in December 2016, at a healthy 3.1kg.
Eighteen months on Elle, too, is doing well – the treatment has put her on the road to recovery. But as the Sydney woman told Mia Freedman on Mamamia's No Filter podcast, after her diagnosis, the anxiety she had lived with for years had a new target: her health.
"The Prof had assured me my illness had not been caused by my lifestyle, and was simply an unfortunate cellular fuck up — but it didn't stop me questioning my past and present choices, and wondering if there was something I'd done that had triggered my sickness." – Elle Halliwell, A Mother's Choice.
***
MIA: You write in your book [A Mother's Choice] about almost developing borderline orthorexia, in terms of how you became quickly really obsessed with what you were putting into your body. How did that sort of develop and play out for you?
ELLE: Well, I think if I wasn't pregnant I probably wouldn't have had that so much. But all I could think of was, 'Oh my God. If I'm going to have a baby, I want him to be healthy.' Like I said, 'It's too late for me to learn from any mistakes that I've made, so I'm going to give this kid the best start in life.' And so I just became quite obsessive with what what I cooked, with things that I even touched.
MIA: You talked about how you became fearful of non-stick pans and in restaurants you wouldn't want anything put in a plastic container, and you went into you wanted to go and inspect the saucepans in some restaurants you went into. When I was reading that I thought, firstly, that makes a lot of sense and, secondly, it's about control, surely? It's like, 'So many things out of control are happening in my body, I can control something.'