WARNING: Mild spoilers ahead for Game of Throne Season Seven, Episode One, 'Dragonstone'.
We've known for a few months now that Ed Sheeran was going to make an appearance in the seventh season of Game of Thrones, but it was still a surprise to see the musician appear in the first episode.
It was no blink-and-you'll-miss-it appearance either – the pop icon performed a song and had several lines of dialogue with none other than Arya Stark.
In fact, some fans have said his cameo was a little too obvious for their liking.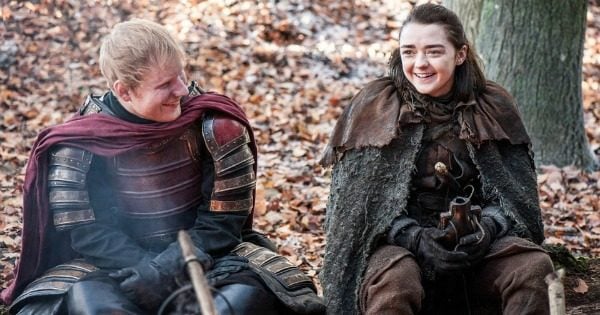 The youngest Stark girl was travelling on horseback through woods when she came upon a group of Lannister soldiers (one of whom was Sheeran singing a song), who ask her to join them.
The 26-year-old joins in the banter with Maisie Williams' character, who compliments him on the song. The lyrics of said song are straight from the George RR Martin books.
And while some viewers have criticised the overtness of Sheeran's appearance on the show, they shouldn't have been surprised that it was in a scene with with Arya Stark.