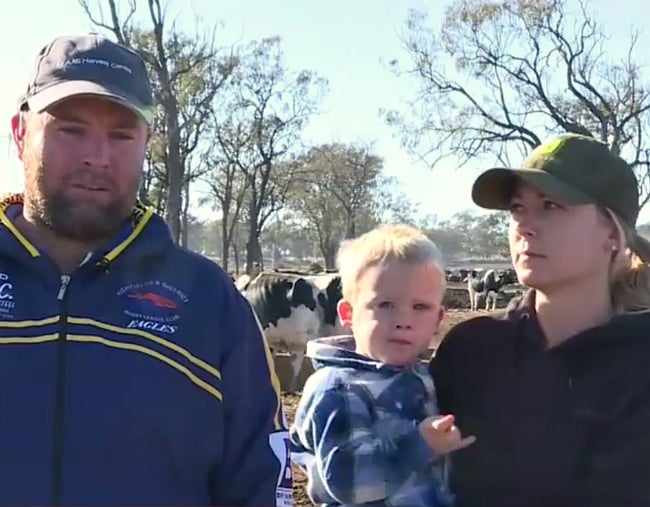 With AAP.
Roughly 99 per cent of NSW and more than 58 per cent of Queensland are officially in drought; one of the worst endured in the last 100 years. As the earth cracks and water tanks run dry, the Federal Government answered calls for help by announcing a $190 million relief package on Sunday.
The funding includes two additional payments of up to $12,000 made to those eligible for the existing Farm Household Allowance welfare scheme, as well as an extra $5 million to the Rural Financial Counselling Service. The latter aims to provide more mental health support for farmers, particularly those applying for the allowance for the first time.
"You put the food on our tables, the fibre that goes on our backs and we have your back — we're supporting you," Prime Minister Malcolm Turnbull said.
But some farmers say the package is simply too little, too late.
"To be honest, that's absolutely nothing," Queensland farmer Ashley Gamble told 9 News. "$12,000 doesn't even buy a load of grain."
The Toowoomba man's dairy farm has halved production – and his income – and he's been forced to kill hundreds of stock due to the lack of feed.
"We ring two to three hundred people every day [seeking feed] and we get the same answers. They don't have any or have sold it all," the father-of-three said.
He told the network he's spent $400,000 on buying feed and is losing approximately $3000 every day. He has set up a GoFundMe page to help ease the burden.
"I wouldn't wish this on anyone," he said. "It's like you're in jail, you turn up because you gotta turn up. It's just depressing."
The new payments, which will be made on 1 September 2018 and 1 March 2019, will see couples in an eligible household receive up to an additional $12,000 and single households up to $7,200.
The assets test to determine eligibility has also been widened from $2.6 million to $5 million, which the government believes will make about 8000 more households eligible.
Yet critics pointed to the difficult application process, arguing that arduous forms and requirements are putting some farmers off seeking support.
As Rockhampton farmer Neal Johansen told ABC Radio, "It gets to the point when you've been knocked back a couple of times that you just don't bother anymore, and I think that's going to be a big issue, that there'll be so many people that have been knocked back that they won't even bother to apply."
And it seems that's already the case.
Mamamia Out Loud is about to head off and do two live shows in the bush. Hear why:

After announcing the extra payments on Sunday, Prime Minister Malcolm Turnbull revealed that approximately 19,000 eligible farmers are yet to claim the existing Farm Household Allowance.
Prime Minister Turnbull urged them to contact the Federal Government's Rural Financial Counselling Service to check whether they were entitled to the payments.
"Don't get half-baked advice from someone over the fence or from an accountant that might not know about it," he told reporters in central NSW.
"Talk to people that know. They have the expertise and can tell you swiftly whether you qualify and guide you through the process."
Fiona Simson, President of the National Farmers Federation, echoed the Prime Ministers appeal.
"Sourcing fodder is becoming more difficult, farmers are having to make more tough decisions about whether to feed or sell livestock, including breeding stock. Water supplies are also running out," Simson said in a statement.
"I urge all farmers doing it tough to check their eligibility for the support available - both at a Federal and State level."
For 24-hour crisis support, please call Lifeline on 13 11 14.
Farmers are doing it tough so we're taking Mamamia Out Loud on the road with a series of live shows for drought relief. We'll be in Tamworth on Friday 17th August and Dubbo on the 20th of September and all profits raised go back into local communities, thanks to our partner charity, DroughtAngels. Grab your tickets and support our farmers here, and if you'd like to sponsor someone to attend email [email protected]