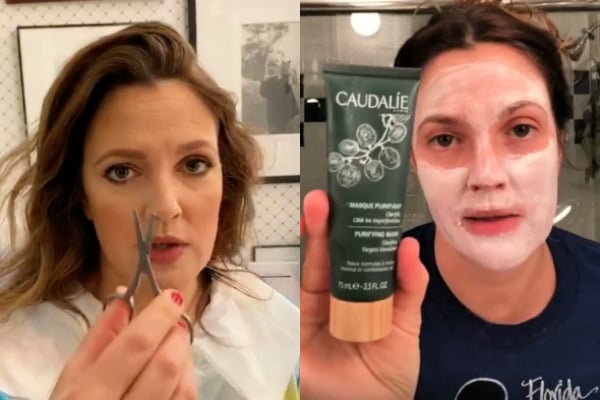 In a world full of intimidating YouTube makeup tutorials, Drew Barrymore's Instagram is the relatable source of beauty tips we deserve.
The actress and founder of cult budget beauty brand Flower (which you can buy in Australia at Chemist Warehouse) has always been a delight, but in case you didn't know, her social media video content will make you feel lighter, well-informed and better about the world.
But today, we want to focus on her beauty tutorial videos that are 100 per cent worth a watch.
WATCH: We show you how to use bronzer with your fingers in this easy beauty tutorial below. Post continues after video.
Sharing a bunch of quick beauty videos on IGTV as a part of her #BeautyJunkieWeek series this week, Drew tackles the big dilemmas from how to get rid of nose hairs to the best way to make a pimple you shouldn't have squeezed not look like it's infected.
The movie star's beauty advice is genuinely helpful, funny and always candid — you won't see any hectic contouring, baking or 12-step skincare routines here.
Below, we've recapped the top six makeup and skincare hacks in Drew's beauty routine that are worth adopting into your own. You're welcome.
1. The solution to nose hairs that stick out.