First of all, this is a judgment-free zone. If you love wrestling, that's fine. You do you.
Donald Trump however, really loves wrestling.
So much so that, as a rosy-cheeked-CEO-billionaire back in 1988 and 1989, he made a cameo at Wrestlemania, wrestling's 'night of nights'.
He made another appearance at Wrestlemania in 2007, where he 'fought' and shaved the head of long-time friend and WWE (World Wrestling Entertainment) CEO, Vince McMahon.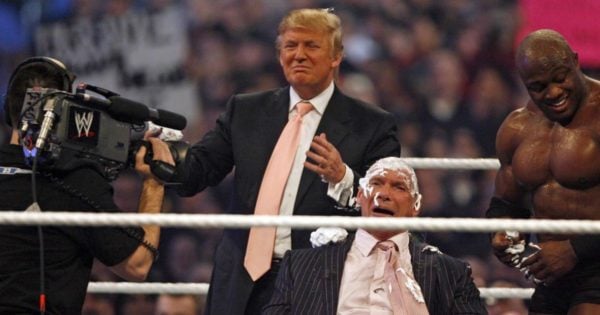 The wrestling 'match' between the two billionaires took place by proxy: two 'pro' wrestlers - one representing Trump, one representing McMahon - fought in the ring, while the billionaires stood ringside, in suits of course.
While the fight-by-proxy was taking place in the ring, Trump spear-tackled McMahon to the ground ringside and began punching him in the head.
Only a few days ago, this footage resurfaced - not because media outlets or whistle-blowing individuals wanted to highlight Trump's buffoonery - but because Trump himself wanted to plop his dick on the table in his ongoing fight against the so-called 'fraudulent media'.
#FraudNewsCNN #FNN pic.twitter.com/WYUnHjjUjg

— Donald J. Trump (@realDonaldTrump) July 2, 2017