First of all, this is a judgment-free zone. If you love wrestling, that's fine. You do you.
Donald Trump however, really loves wrestling.
So much so that, as a rosy-cheeked-CEO-billionaire back in 1988 and 1989, he made a cameo at Wrestlemania, wrestling's 'night of nights'.
He made another appearance at Wrestlemania in 2007, where he 'fought' and shaved the head of long-time friend and WWE (World Wrestling Entertainment) CEO, Vince McMahon.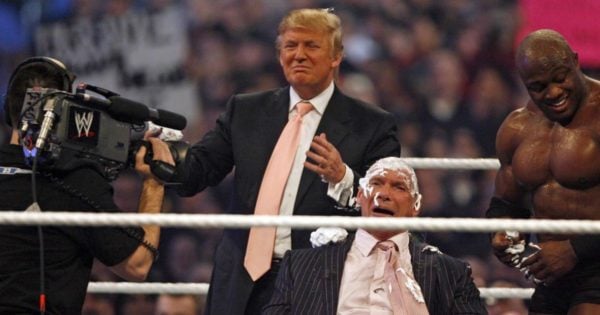 The wrestling 'match' between the two billionaires took place by proxy: two 'pro' wrestlers - one representing Trump, one representing McMahon - fought in the ring, while the billionaires stood ringside, in suits of course.
While the fight-by-proxy was taking place in the ring, Trump spear-tackled McMahon to the ground ringside and began punching him in the head.
Only a few days ago, this footage resurfaced - not because media outlets or whistle-blowing individuals wanted to highlight Trump's buffoonery - but because Trump himself wanted to plop his dick on the table in his ongoing fight against the so-called 'fraudulent media'.
#FraudNewsCNN #FNN pic.twitter.com/WYUnHjjUjg

— Donald J. Trump (@realDonaldTrump) July 2, 2017
He super-imposed the CNN logo over the old footage of him beating up McMahon, so it now looks like a slightly-younger Trump is crash-tackling the media.
In the latest episode of Tell Me It's Going To Be Okay, Mamamia's new podcast for navigating the world of Trump, Mia Freedman asks Trump-supporter, wrestling fan and political commentator Paul Murray for his opinion on the infantile video Trump posted to Twitter. And his thoughts on Trump's link to the world of wrestling.
"I think [the video] is a very ugly metaphor," says Murray. "In all the psychoanalysis of Trump, the connection to wrestling is probably the most important one people need to understand."
Listen to political commentator and wrestling fan Paul Murray talk Mia Freedman through why Trump's connection to wrestling is so important, on the latest episode of Tell Me It's Going To Be Okay. Post continues after audio.
"Trump built his profile as a swaggering bloke who loved bedding very attractive women... it's all glamorous, all pizazz, all bullsh*t."
He moulded his wrestling profile into 'the ultimate good guy'; a crowd favourite for wrestling fans, taking down 'bad guys' and bringing the people what they wanted.
And with that, he became a man of the people.
"People who probably wouldn't vote looked to him for the first time," Murray says. "It's the forgotten people... the 'deplorables'... he gave them a bit of attention."
"It's the demographic who voted for him."
I should point out, at this point, that Paul Murray is a hardcore wrestling fan himself. It's his guilty pleasure. Like eating an entire block of cooking chocolate. Or watching Real Housewives.
Murray goes on, "The lessons he learnt from wrestling, absolutely he used in the campaign.
"The language, the smugness... the self-imposed valour and petty one-upmanship are all features of his presidential attitude.
The FAKE & FRAUDULENT NEWS MEDIA is working hard to convince Republicans and others I should not use social media - but remember, I won....

— Donald J. Trump (@realDonaldTrump) July 1, 2017

Case in point: the tweet above.
He's a 'winner'. He won. It's that simple. Every time anyone questions him it turns into, 'But I won. The election. Remember? I'm the winner. Plain and simple. I won bigly. 'Uge. 'Uge win. Winners are winners I can do what I like.'
Like wrestling, he thinks he's the good guy. He thinks he's taken down the 'evil' Hillary and fighting for the people against the 'fraudulent' media.
He's convinced he's representing the disenfranchised he always has except it's not in the ring anymore.
It's in the oval office.
You can follow Tell Me It's Going To Be Okay on Facebook here for more hilarious Trump news, updates, and the best pop culture distractions.