There are only a few days left until Christmas. Once again December has flown by without our permission and suddenly we're running around last minute in shopping centres, hearing the same Christmas jingles over and over.
But some people are putting their time to ~better~ use.
Whilst we're aimlessly roaming stores, a husband and wife pet grooming team from the UK are already out there creating Christmas miracles.
Listen: And we really don't know how to feel about this. (Post continues.)

The business, Wags to Riches Pet Services, posted a photo of their nativity scene to social media which quickly turned seven doggos into viral sensations.
Why? The canine clientele were transformed into Mary, Joseph, the wise men, and EVEN A PUPPY JESUS.
I'm about to say something controversial here, but this is even better than the photos of dogs perched on Santa's lap.
Behold: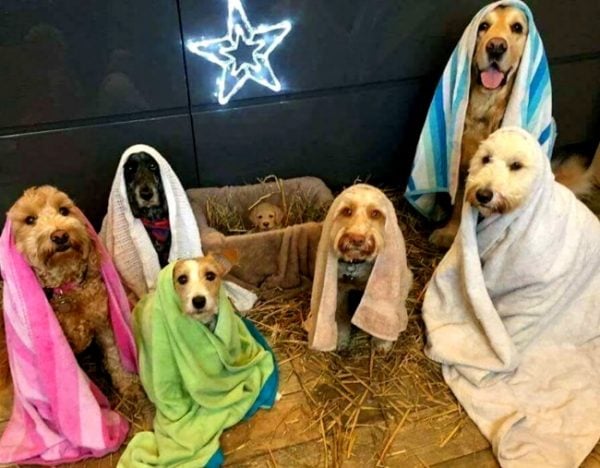 I mean, DID YOU SEE THE LITTLE ONE IN THE MANGER?! My. Heart. Has. Melted.
Even worse - or better, you decide - is that the golden retriever seems to be the only dog having the absolute time of his life as a wise man.
Pulling the photo apart on Reddit, one user said, "He is the wisest of the three."
Another added that "puppy baby Jesus wins Christmas", but we already knew that.
So how on earth did the pet groomers get all these dogs to pose? Apparently, it was "easily done with treats and praise".
None of my Christmas presents have barked yet so... this scene is a (very) happy alternative.