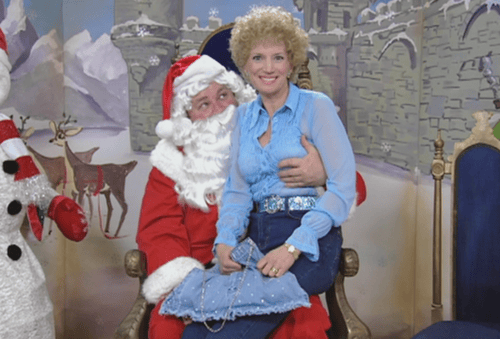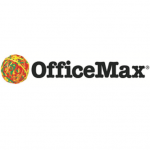 Comedian and Mamamia writer Mandy Nolan makes the best Christmas cards with her family (like the one above) – months before Christmas. She also does a few other things in advance…
There's two things I'm sure of. My pants have got tighter and the years have got shorter. If I had more time I reckon I could drop the 5kg required to get that top button up without losing a kidney in the process. But I'm running out of time.
The Christmas and the New Year break is here, and this year I decided I'd be ready for the silly season. I don't want to lose any glorious feasting time with my loved ones. Christmas isn't going to kill me this year. I won't be the woman slumped over a half-stuffed turkey at 4am in a dark kitchen clutching a glass of champagne with a knife through a Bing Crosby record. Exhaustion won't have me looking like the ghost of Christmas past in every group photo.
I love Christmas. I remember as a kid how much I loved the build-up. The delicious waiting. The preparing. The planning. Counting down the days. I realise now that was because I didn't have the responsibility of making Christmas happen. Mum did. Now I'm the mum and the end of year dinner and show are my gig and I have to say, it can really take it out of you. Santa better put a massage voucher in my stocking!
It's always so stressful. Which seems crazy. Isn't Christmas supposed to be fun? Relaxing ? Isn't it a time to kick back instead of kicking things up?
This year I have decided to take the stress out of Christmas (or Christstress) with my five-point plan for what I'll get done beforehand:
1. The Christmas lights are up early.
I never took them down from last year so they are already up. Once I de-cobweb them they're basically ready to go! I'm just one on switch away from fairy light magic.
2. The homemade Christmas cards are done.
Mine are all printed and ready to post. Every year we hand make our Chrissie cards. We take a family photo that reflects the chaos and calamity of our blended brood and it hits the mail boxes around Australia the first week of December. While most cards hit the bin come Boxing Day, I'm proud to say our cards have become collectors' items and there is much excitement and speculation as to what theme we are going to go with. All the kids are sworn to secrecy. And everyone wants to be on our Christmas list.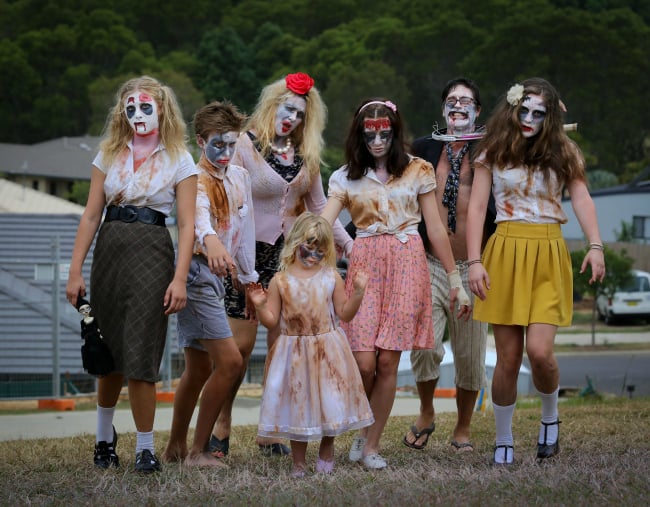 3. The back-to-school book lists are sorted.
This has always caught me by surprise. I've sent the kids to school and then been informed they were supposed to have books. Oh books. Of course! Then I go to the supplier and they're out of stock. Another stamp in the "bad mum" ledger.
This year I've put my orders in with OfficeMax on their website, so I'll be one of those smug mums who gets the 2018 book pack done way before 2018. It's so easy. I just searched to see if my kids' school book list had been uploaded to the website, which it was. I just selected the class and up came the full list, just like that.
I placed the order and selected when I wanted them to deliver - which is any old time of my choosing. Like Santa hurtling down the chimney (free delivery, too!). It took around a minute for me to get this done.
Of course, I will make sure to tell the kids how I suffered. How I took HOURS to select every single item. And how good is Mummy for getting it exactly right! They're not to know I was kicking back at the coffee shop with the girls and did it in a few minutes on my phone, sometime in October.
4. The Christmas shopping is in the bag.
I told the kids that this year was about developing empathy and learning the true meaning of Christmas. Basically, I've sponsored them all wells in third world countries. I don't even have to wrap them.
5. The Christmas tree is up.
We had a bunch of eight year olds over for a sleep over and they woke up super early. Like 5am. So I told them their challenge was to be elves and get the tree up. Sure, it's got too many red balls on one side, but I got to sleep until nine.
So open the Sav Blanc, bring on the foot massage and crank up the Christmas movies on Netflix, this mummy has herself sorted. Cheers to that.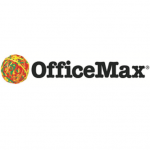 Whether your child is a budding Picasso, a mini maestro or Einstein, OfficeMax have the tools to help young minds grow and blossom.
With an easy to navigate online store, if your child's school has signed up to OfficeMax you can shop everything back to school from stationery to lunchboxes and textbooks.
OfficeMax is here to help you get 2018 back to school sorted, so you can enjoy the holidays without their booklist hanging over your head.
Click here to find your child's school booklist for 2018