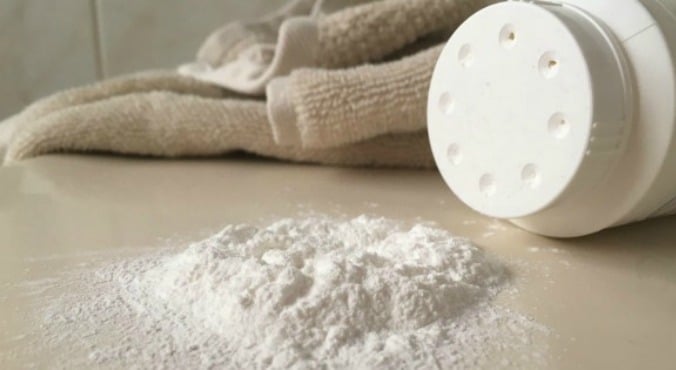 Image: Supplied.
An American jury has awarded almost $100 million in damages to the family of a woman who died from ovarian cancer after she argued it was the result of using talcum powder.
Jacqueline Fox had used Johnson & Johnson products containing talc for 35 years. Three years ago she was diagnosed with ovarian cancer, which she blamed on talc, and she died at age 62 in October of 2015.
It's the first time damages have been awarded in a case like this, and there are reportedly a further 1,200 cases pending against the company on similar grounds in the US.
The finding against J&J is likely to be appealed.
A company spokesperson provided this statement to Mamamia:
"The talc used in all our global products is carefully selected and meets the highest quality, purity and compliance standards.  The recent jury outcome goes against decades of sound science proving the safety of talc as a cosmetic ingredient in multiple products, and while we sympathize with the family of the plaintiff, we strongly disagree with the outcome."
Despite the findings of the US court, the link between talcum powder and cancer remains inconclusive.
The ovarian cancer symptoms every woman should know about. (Post continues after video.)
Mamamia spoke to scientific advisor of The Australian Cancer Council to ask: does talcum powder cause cancer?
His answer? Based on the scientific evidence available, no.
"A jury might be outraged if a single case of cancer could be avoided," Professor Stewart explained. "But a court of law, in this context, involving damages is the last place one expects to find objectivity concerning medico-scientific matters."
In his view, the answer to whether talcum powder causes cancer is no.
"The positive evidence is very weak when taken as a whole. Some studies show no effect and some studies show an association which is inverse – which means those with the lightest use of powder has the greatest increase in risk – which isn't what you'd expect," he says.
"There may be an association between powder use and cancer – but it's not causal."
What does that mean? Professor Stewart says there might be a confounding factor involved and he cites a particularly memorable situation to illustrate.
"A few years ago some research showed an increased risk of lung cancer in women who had breast implants in Norway and Scandinavia. But it turned out that women who have breast implants are 4 times more likely to smoke," he said.
So there was a relationship between breast implants and lung cancer – but it wasn't causal.
The most recent study in 2014 was negative; it showed no association between talc use and an increased risk ovarian cancer.
Professor Stewart says public health authorities have to provide appropriate advice and "the current advice has to be: the evidence doesn't justify telling the community to change practice".
This is consistent with the advice the Cancer Council of NSW provides:
In its natural form, some talc may contain asbestos, which is known to cause cancer. However, modern domestic talcum powder does not contain asbestos.

Asbestos free talc, such as that found in modern talcum powder has been suggested to increase the risk of ovarian cancer in women who apply talcum powder regularly in the genital area. Several studies in women have looked at the possible link between talcum powder and ovarian cancer, with mixed findings. Some studies report a slightly increased risk, while others have found no increase. The evidence is insufficient to conclude that use of talcum powder leads to an increased risk of ovarian cancer. It is also unclear how talcum powder might influence the development of ovarian cancer.
So while a huge damages payout in America makes world headlines, it doesn't change the fact there doesn't appear to be any scientific link between talc use and cancer.
This article was originally published on Mamamia. Read the original article here.