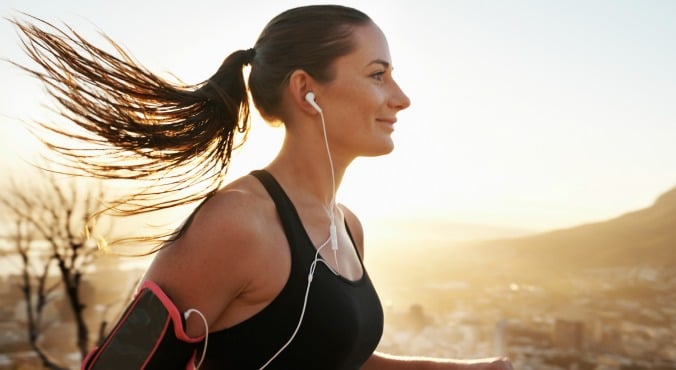 Image: iStock.
If you're not a Running Person — you know, the type who loves to talk endlessly about how great running is and how far they run every day and how much faster they ran today… — you probably need some incentive to pull on your joggers and hit the pavement.
There are many good reasons to take up running; for instance, it clears your mind, improves your fitness, and gives you bragging rights — within reason, of course. It also gives you an excuse to invest in some fun workout gear and listen to boppy music.
RELATED: 11 easy ways to make yourself fall in love with running. Yes, we are serious.
If none of those reasons flick your switch, here's something that absolutely will: running can do wonders for your sex life. Wonders. In a survey of 1000 runners, conducted by sportswear company Brooks Running, 41 per cent of respondents reported feeling "frisky" after pounding the pavement. (Post continues after gallery.)
Our favourite Running Duds printed shorts
Interesting; in our experience, "Like I'm drowning in my own sweat" is a more accurate answer to the question "How do you feel after a run?"
Although the findings of running 'research' by a running company is obviously going to be very positive, this particular finding is legit. There are a number of factors why pounding the pavement can make you feel like… well, a different kind of pounding.
RELATED: The 14 kinds of runners you see at the park
For one, running gets your blood pumping throughout your body — and by that, we mean your entire body. This not only heightens your arousal, but in theory it should also make the whole experience more pleasurable. After all, blood flow to your genital reason is precisely why sex feels so damn good. And hey, if you're already a bit sweaty, getting even sweatier isn't going to be a big deal.
Running is also known to raise your energy levels and combat fatigue. Know what requires rather a lot of energy, and not desperately needing to sleep? Sex. In the long term, running will also help to build your stamina and fitness, which will be very useful in bed. Sex is kind of like a marathon, really.
It's not just the physical benefits of running that can amp up your 'business time'. Being active helps you de-stress, which is crucial because nothing kills your desire for sex like feeling frustrated or anxious about something going on in your life. Being stressed only serves to distract you during sex, if you even get to that stage, so anything that makes you feel more relaxed and clear-headed is going to help.