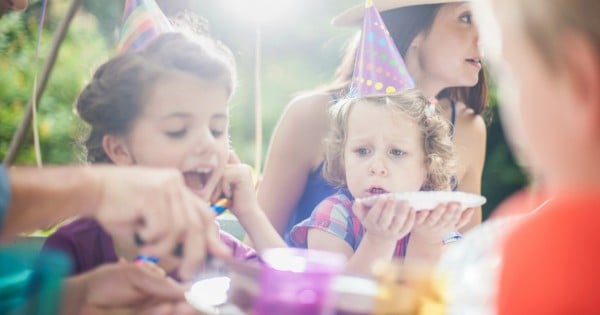 "Kids get so many presents."
"They don't need another piece of crap to throw in the toy box and forget about."
"Trust me parents don't want more rubbish to have to sift through."
These are all true sentiments.
Listen to Holly Wainwright and Andrew Daddo talk about whether it's a non-negotiable to take a present to a kids' party, no matter how much stuff they already have. (Post continues after audio.)
We don't really want our child to be showered in unnecessary gifts do we?
We don't really want more toys to put together, more cardboard to throw out, more teeny tiny Lego heads to step on in the middle of the night.
But sometimes the old clichés really do have merit and this time it is the thought that counts.
The thought your child is invited to a birthday party – a party another parent has put days worth of effort (mentally or literally) into organising – that your child will show their appreciation by bringing a gift.
The thought that the birthday party celebratee is just a child –  a child excitedly anticipating, dreaming of a shining iced cake, smiling friends and a table piled high with brightly wrapped gifts.
With that invitation comes an unwritten rule, and expectation. Via IStock.
The thought that your child has been invited to the party because the birthday kid likes them and respects them – or just happens to be in the same class – but nonetheless went to the effort to invite YOUR child.
So with that invitation comes an unwritten rule, and expectation – and it is this:
I will feed your child too much sugar and entertain them for two-hours straight and you bring my child a gift.
It doesn't haven to be a big gift, it doesn't have to be an elaborate gift, it doesn't even have to be store bought – but there needs to be a present.