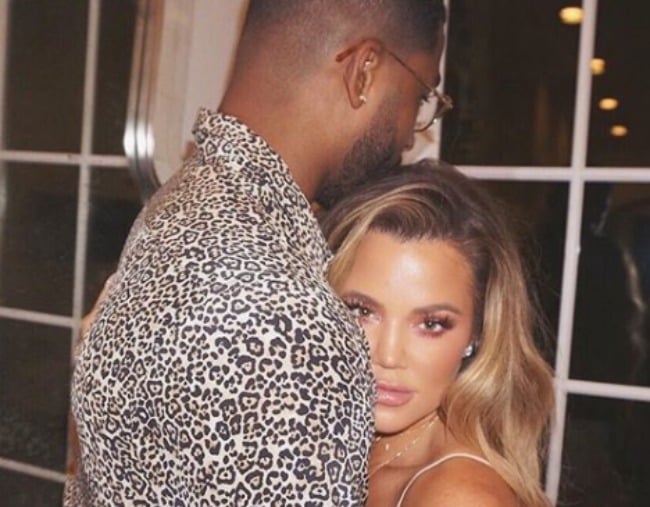 Shortly after reports emerged yesterday that Khloe Kardashian, 33, was close to giving birth to her first child, far more crushing news broke: her partner, and the father of her baby, had allegedly been caught cheating on her.
Three videos were published, the first two apparently filmed on Saturday night. In one, the 27-year-old Cleveland Cavaliers basketballer is reportedly seen talking closely to a woman at a New York City club before leaning in for a kiss. The next video is claimed to show Tristan later that night, with the same woman, walking to a hotel. She has since been named as Instagram model Lani Blair.
That very night, Khloe was reportedly at home in Cleveland, Ohio, just days away from going into labour.
Then, a third video was released. This time, filmed at a bar near Washington in October when Khloe was three months pregnant. The video appears to show Tristan with two women, kissing one of them and putting his head to the other's chest as she puts her hand to his crotch.
A source told People magazine that reports of Tristan's cheating on Khloe were a "long time coming".
"He's a serial cheater. And there will be more women to come out of the woodwork," they said.
The timing of these reports is devastating for Khloe. A moment that should be her happiest has been tainted by rumours of the most salacious kind.
And in normal circumstances, the public would be expressing nothing but heartache for her. But there's a problem: Tristan's uncomfortable past.
You see, if the reports are true, this is not new behaviour for Tristan.
Almost as soon as soon as the cheating headlines spread, the name of Tristan's ex-girlfriend, Jordan Craig, sprung up.
Popular sayings were thrown around. "If they cheat with you, they'll cheat on you." "Once a cheater, always a cheater."
Tristan Thompson left his PREGNANT fiancé Jordan Craig for Khloe Kardashian. Now Tristan was recently caught cheating on Khloe while she is far along her pregnancy. Once a cheater, always a cheater…

— Sky???? (@honey_skysky) April 11, 2018