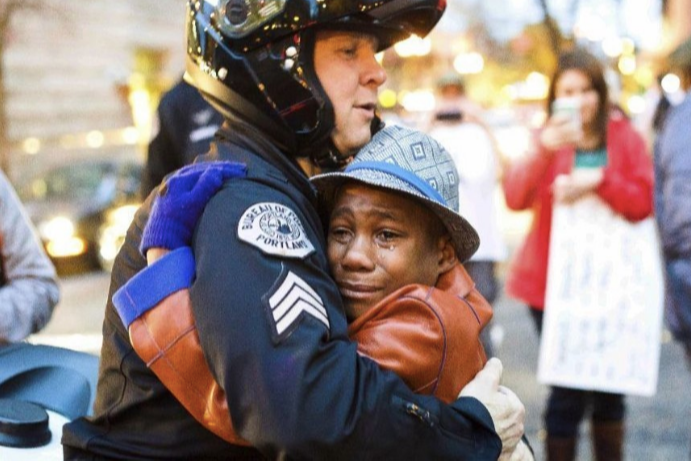 In photos, Devonte Hart often sported a smile as wide as his face. But when he wore a 'Free Hugs' sign and got a hug from a police officer in Ferguson, Missouri, in 2014, his face was a flood of tears.
The then-12-year-old's adoptive mother, Jennifer Hart, 38, posted a photo of the hug on her social media, with the comment: "He trembled holding a Free Hugs sign as he bravely stood alone in front of the police barricade."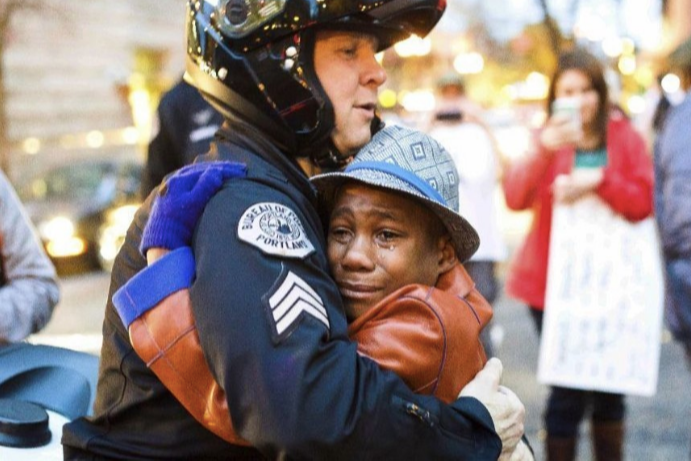 The viral photo of Devonte Hart and a police officer in 2014. Image: Facebook. 
The photo went viral around the world as a symbol of hope and unity between the black community of Ferguson (protesting the fatal shooting of Michael Brown), and police. Quickly becoming known as 'the hug seen around the world', it's currently experiencing a resurgence in online sharing because of the recent George Floyd and #BlackLivesMatter protests. 
Watch: Indigenous Lives Matter. Post continues below.
But Devonte's tears were misinterpreted by everyone. He, and his five other adopted siblings (two of them biological), were being starved and physically abused by Jennifer and their other adoptive mother, Sarah Hart. 
The world didn't know at the time that years earlier in Minnesota, in 2011, after several complaints were made to Child Protective Services (CPS), Sarah, 38, was arrested for withholding food and physical abuse of the children, and sentenced to probation.