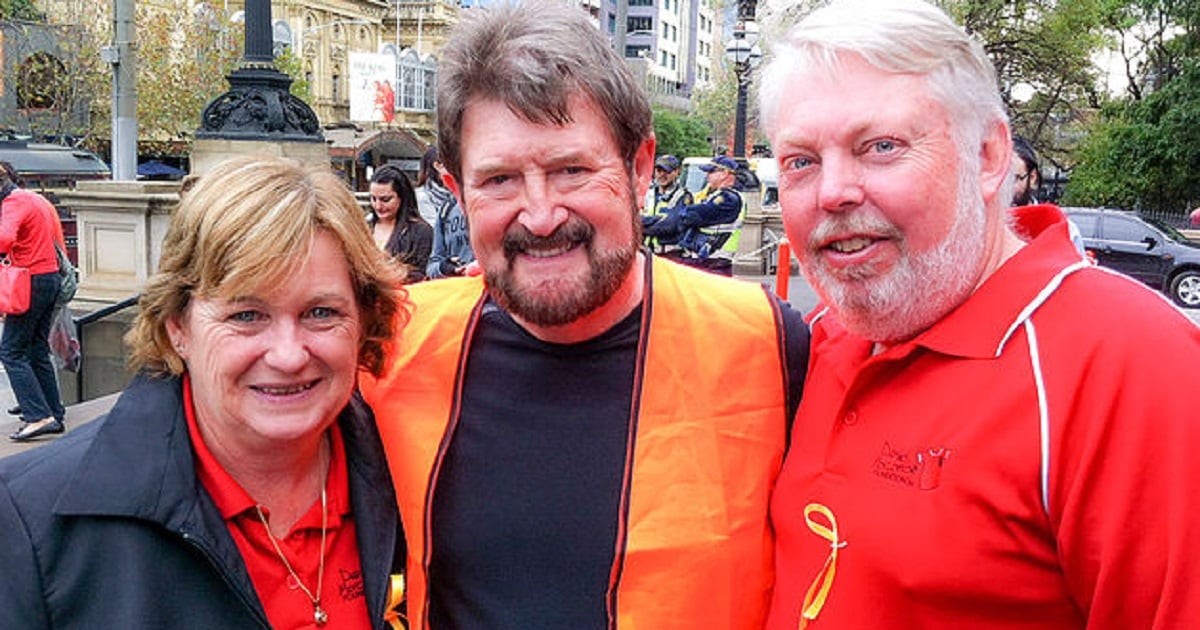 My first reaction to the news that Victorian senator Derryn Hinch used his maiden speech to "name and shame" sex offenders was to stand up and cheer. I've been a longtime admirer of his work to make Australia a safer place, in particular for children who deserve better than to fall into the hands of some vile individual.
The thought of something happening to my children keeps me up at night. Last night I was carrying my seven year old daughter  to bed and I kissed her forehead as she giggled, before tucking her in. Having been moved by the reward offered for information on poor little William Tyrell I found myself thinking of something like that happening to her.
What would she do?
What would she say?
Would she cry?
Would she call out for me?
Sometimes it can feel as though parents have the weight of the world on their shoulders trying to ensure their children are safe and happy. Knowing people like Derryn Hinch are out there trying to make things better makes me feel as though it doesn't all rest on my shoulders.
So what's so wrong with what Hinch tried to do during his maiden speech?
He promised to use his maiden speech to fire off some bullets in the direction of those he feels most deserve it most, choosing to name mostly sex offenders currently serving jail time. He's obviously keen not to face jail or prison again, having served time in 1987, 2011 and 2014 for naming paedophiles and their victims.
During his maiden speech this week in parliament he mentioned Brett Peter Cowan – who murdered Daniel Morcombe – and Adrian Bayley – who killed Jill Meagher – both of whom are currently serving lengthy prison terms. His reason for mentioning these two grubs in particular is because both Cowan and Bayley shouldn't have been free to commit these crimes in the first place owing to their previous convictions.
Hinch feels a public sex offender registry will allow us to better protect ourselves and our loved ones from such people. In fact there is already a sex offender registry in Australia, accessible only by the highest levels of law enforcement. Someone just has to hit the button that gives us access not only to dots on a map, but names and addresses.
Bruce and Denise Morcombe launch the Amego app. Article continues after this video.
Except a public sex offender registry probably wouldn't have helped Daniel and Jill. What was reviewed after these two terrible crimes was the pathetic punishments handed down to Cowan for previous crimes and lightweight parole laws that led to the release of Bayley.
Hinch also named a man  who received only three years and three months in prison for offending against a two-year-old girl. A pathetic sentence, on that we can all agree, but not surprising considering the current state of legislation that allows criminals like this to get off lightly.
However what has highlighted the complexity of Hinch's calls for a public sex offender registry is the time he took to "out" a convicted paedophile, questioning how he came to be working in McDonalds. The man was convicted of sexually abusing a boy during his time running a canteen at a baseball club. When the mother of the abused boy found out where this man was working she told his employers about his history.
Hinch said,  "How could a convicted paedophile get to work with teenagers at one of our most famous fast food outlets at a famous football club? How could a young victim turn up to play baseball and discover his attacker was the umpire?" Hinch says he spoke with McDonalds management and they told him they will begin running criminal records checks on all employees aged over 18 years "within weeks" which is an excellent outcome, right?
And once again, I find myself wanting to cheer. What if some of the teenagers working alongside this guy accepted a ride home from him? What if he looked at my children while we were dining in the restaurant and felt sexually attracted to them?
What if, what if, what if…
But once again, it's complicated. There are multiple comments on a variety of social media sites including the Mamamia Facebook page calling for this man to be located and "lynched" for his past crimes. Apparently he needs to pay for them forever.
When it comes to those convicted of sex crimes the feeling still seems to be that they should not get to rebuild any semblance of a life upon release.
The above Mamamia reader was an example of someone who felt Hinch has gone way too far, fearing a public sex offender registry will lead to similar incidents to the US, where innocent people have been, "attacked, beaten, and hand their homes set on fire", after being confused with someone on the sex offender registry.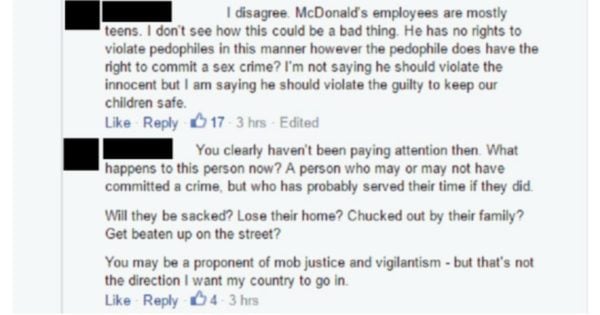 Another Mamamia reader feels we need to do whatever it takes to stop the guilty from committing further crimes and I can't help but agree with her. Once convicted, all bets are off and criminals should lose their right to come anywhere near children.
But how can we prevent this if we don't know who they are?
While I, and many others, aren't always comfortable with how Hinch goes about his advocacy work, isn't it worth it if the ultimate goal of making the country a safer place is achieved? Making the world a safer place for our children is the ultimate goal for us all. The only problem is we don't agree how best to achieve this.
The conversation continued on our Facebook page with one Mamamia reader saying, "I don't necessarily agree with Hinch's tactics but I do like the result," in reference to the paedophile found to be working at McDonalds and another reader adding that she feels potential victims "should always come first".
Paedophiles lose all their rights once we find out they are paedophiles.
But there are cases where people are convicted of sex offenders for much less serious reasons, such as teens who stupidly share nude photos (could our children be convicted of such an offence sometime in the future?) or this example from the U.S. This is the fatal flaw of the whole concept of a public sex offender registry.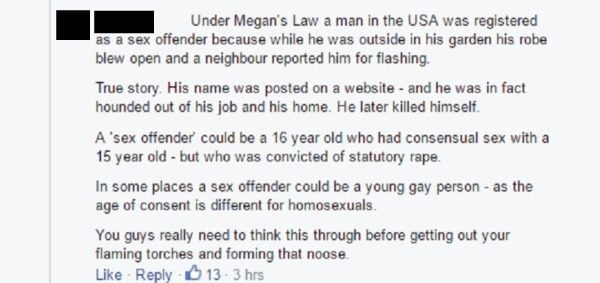 This Mamamia reader mentioned a man in the US who was placed on the registry after his robe blew open while he was outside in his garden. His neighbours reported him for flashing and before he knew it, he was a convicted sex offender. He later took his own life.
Cases like this are in the minority and while unfortunate still don't convince me a public sex offender registry won't work to make us safer. What does make me question the effectiveness of a public sex offender registry is research from the US showing that convicted paedophiles who are know to be convicted paedophiles are more likely to reoffend.
Convicted paedophiles who are able to get a job and resume their lives, it is claimed, have lower rates of reoffending. Does this mean a public sex offender registry will lead to more offences? Will it have the exact opposite effect to the one Hinch and the worried parents of Australia hope it will have?
Because what is more dangerous than a convicted child sex offender who has nothing to lose?
Plus, it doesn't protect us from those who are yet to be convicted.
It's also a sad fact that most child sexual abuse victims will be targeted by someone they already know, as opposed to a stranger, so a public sex offender registry will probably not protect them from a family member or friend.
These and so many other thoughts have put an abrupt stop to all of my Hinch-inspired internal cheering, although I still admire him greatly for what he is trying to achieve.
We don't have to agree on how to make the world a safer place, because it's clearly more complicated than most of us realise, but at least we are fighting for the same thing.
Hey Dad! star Sarah Monahan spoke with Mia Freedman on the No Filter podcast about her fight to bring her abuser to justice.