Since being diagnosed with postnatal depression and anxiety a few months ago, my eyes have been opened to the day to day reality for many mums. So many feel like a giant dark cloud is over them no matter what they do.
There is a stigma associated with postnatal depression and anxiety which means sufferers find it hard to talk about it publicly. Many think it's because we don't love our babies or because we're not happy with our new lives as mums. That couldn't be further from the truth. It's a disease, a chemical imbalance and something that is beyond our control.
Siobhan with her daughter Aoife. Image supplied. 
Thankfully, many organisations, bloggers and support groups out there are slowly but surely lifting the dark cloud surrounding the topic and are being outspoken in their support of mothers who are suffering.
However, what about dads?
Sure, new dads can be anxious or stressed. That comes with the territory, right? Yes, but it came as a bit of a surprise to me to learn that not only can new fathers experience postnatal depression as many as one in 10 dads are affected.
In 2012, the total number of Australians with perinatal depression was estimated to be 96,156, including 71,177 new mothers and 24,979 new fathers.
While the rate of depression for dads is obviously less than that for mums, it still does exist. So why don't we hear about it?
Because men don't like to talk about how they're feeling. I don't know about you but I struggle to get my husband to go to the GP for anything, let alone to a psychologist or similar to chat about how he's feeling. In a Beyond Blue survey around 40 per cent of fathers said they didn't seek help even when stressed.
Also, not much data is available on the extent of paternal perinatal depression. It just hasn't been researched as much as postnatal depression.
Some of the factors behind paternal PND are the same as those for maternal PND. However, there are some unique to dads, such as a change in family dynamics, feeling excluded from the parenting role, having unrealistic expectations about sex post partum, feeling like they're not getting as much attention (and therefore resenting the baby), worries about extra responsibilities and the financial burden and more.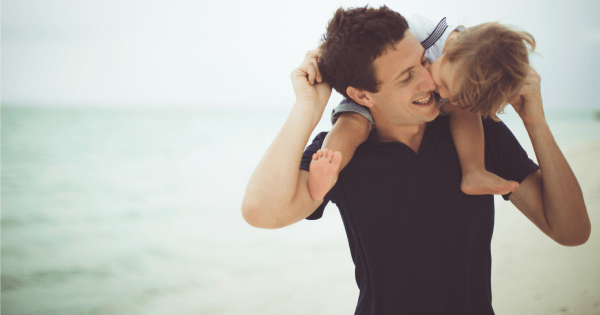 Dads can sometimes feel excluded from parenting. Image via iStock. 
It made me wonder - if I'm experiencing postnatal depression and anxiety, what are my husband's chances of experiencing either? As I researched I discovered that yes, there is a correlation - some men do experience PND in conjunction with their partner's depression. But paternal postnatal depression can also occur independent of how the mum is feeling.
We know Aussie blokes love to be manly and when it comes to these conditions a lot of them try to tough it out on their own. That's definitely not the way to go and can only lead to them feeling even worse.
Organisations such as Perinatal Anxiety and Depression Australia (PANDA), a national service for women and men affected by antenatal depression, postnatal depression or postnatal psychosis and Beyond Blue, which provides information and support to help Australians achieve their best possible mental health, are just a phone call or Google search away.
The PANDA Helpline is available nationally Monday-Friday, 10 am-5 pm (AEST) on 1300 726 306. They also have a site dedicated specifically to dads.
And don't forget your local GP or healthcare provider.