Day One of the 2018 Commonwealth Games on the Gold Coast was a big day for Aussies: we took home a total of 15 medals, five of them in the highly coveted metallic shade of gold.
But despite two world records – one from the men's 4km pursuit team, and the other from the women's 4x100m freestyle relay team – there was one Aussie who unequivocally stole the show and won over the viewers' hearts.
And he wasn't even a competitor.
Steve Titmus – a former Tasmanian cricketer and former Seven News presenter – was mic'd up and had cameras pointed at him while his daughter, 17-year-old Brisbane schoolgirl Ariarne Titmus raced for her life in the women's 200m freestyle final last night.
How good is this!? Steve Titmus is mic'd up watching his daughter win silver at #GC2018. What do you think his heart rate hit in that last 10m? ????

FYI Steve used to be a 7News presenter in Tasmania! #7CommGames pic.twitter.com/40h0UgKN5q

— 7CommGames (@7CommGames) April 5, 2018
Ariarne (who is still in year 12) fell just 0.04 short of the gold medal, which was snatched from her by fellow teen, Taylor Ruck from Canada.
But, although Ariarne smashed her personal best and is said to be one to watch on the Australian swim team, it was Steve's passionate performance while cheering his daughter on that has made him a national hero.
"Go! Turn! Faster!" Steve screamed, as he leapt from his seat.
"Push off that wall! Push! F*** yes, good turn! Go! Keep going! Faster, faster, go, go!"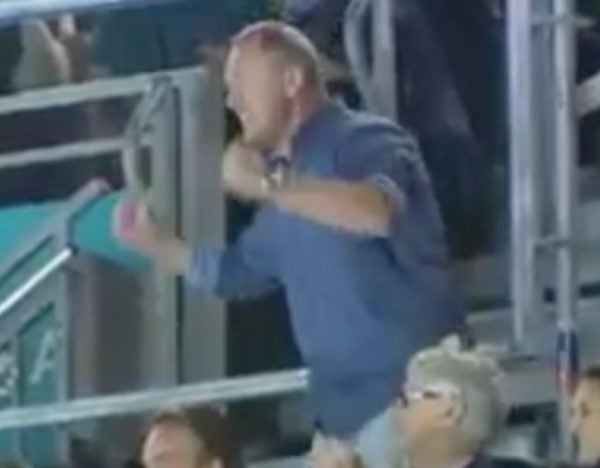 He leapt with excitement as it appeared Ariarne had won the race - but his hands fell as the results were projected on the big screen.
"Oh, wow!" he said, turning to his family in excitement, rubbing his head.
"Oh, oh wow."
Naturally, Steve's enthusiastic 'performance' made him an Internet sensation:
Steve Titmus is a national treasure. #GC2018

— Bryce Parker (@bryce_parker26) April 5, 2018
The footage of Titmus' old man is the best thing I've seen today.

— Michael Cotton (@michaelrcotton) April 5, 2018
My framed Steve Titmus poster has risen in value after this. https://t.co/8nlbdft3jw

— Alex Johnston (@swegen31) April 5, 2018
That was fantastic television watching my old boss Steve Titmus cheering on his daughter Ariarne to her silver medal! Great stuff. Give the man a Logie!

— Brent Costelloe (@brentcostelloe) April 5, 2018
What a total legend is Mr Titmus, go you good Dad #GC2018Swimming

— kelly fuller (@kelfuller) April 5, 2018
@GC2018 ok Steve titmus get the best dad of the day award he was awesome

— melwainwright (@melwainwright) April 5, 2018
That footage of Titmus' dad riding her home in that last 50m will be played for years to come. GOLD. Well Silver, but GOLD. Tell me it doesn't mean anything. #GC2018 #GC2018Swimming

— Andrew Bryan (@AndrewBryan321) April 5, 2018
Ariarne and her family recently moved from Tasmania's Launceston to Brisbane to follow the 17-year-old's swim coach, Peter Gartrell - a decision that ultimately lead to her selection in the Commonwealth Games squad.
Mum, Robyn, and younger sister, Mia, made the move with Ariarne initially, with Steve following the family six months later after selling their 16 acre property, The Courier-Mail reports.
"I'm lucky to have parents that would do anything for me," she told The Courier-Mail.
"A lot of other parents wouldn't pack up their whole lives and leave their jobs to move to Brisbane.
"But they wanted to do whatever they could to help me achieve my dreams."
All eyes will be on Ariarne (an no doube Steve) when the 17-year-old competes in the 400m and 800m freestyle events, as well as the 4x200m freestyle relay later in the competition.