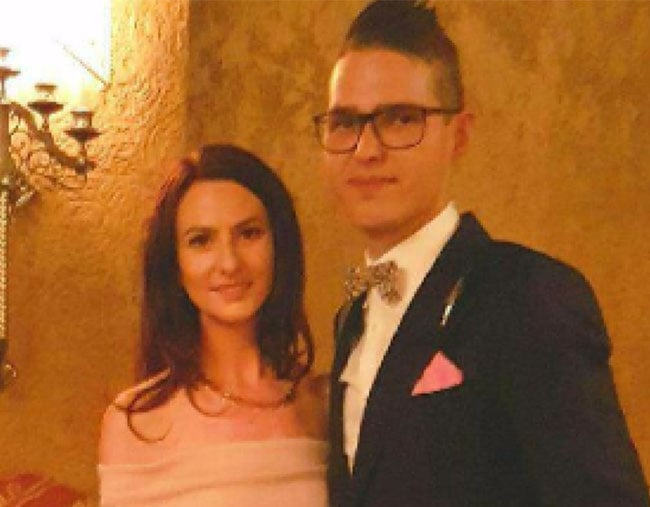 1. "She wasn't moving at all". The moment Ben and his girlfriend were struck by lightning while locked in a loving embrace.
November 24, 2017 was a stormy, Friday night and Melbourne couple 25-year-old Lauren Brownlee and Ben Hollow, 23, had driven to a lookout in the city's north-east to take photographs of the oncoming storm.
Standing between a tree and their car, with Ben holding an umbrella, the couple were locked in a "romantic embrace" when they were struck by lightning.
Watch: Ben tells A Current Affair about the moment he and his girlfriend Lauren were struck by lightning.
For the first time, Ben has spoken about the moment he regained consciousness and realised he had lost the love of his life.
"I began to look around, Lauren was half an arm length away, right beside me," he told A Current Affair.
"She wasn't moving at all."
Ben managed to drag himself into the road, flagging an oncoming car for help. Brandon Cleine told Seven News he rushed to the couple's aid, and began CPR on Lauren, who was already in cardiac arrest.
"I was just hoping that she stayed alive… And I was just screaming at the lady on the phone like 'Please just get emergency services here as quick as possible. These guys are in desperate need'," he said.
But doctors were unable to save Lauren, and Ben has revealed the final words he said to the woman he believed he would spend the rest of his life with.
"I just told her I was sorry," he told A Current Affair.
"Sorry I couldn't do more. And that I loved her.
"I've lost the single most important person in my life. Not only that, I've lost my best friend."
Ben now faces the possibility of having to spend years in a wheelchair, after the lightning strike left him with significant physical and neurological damage.
A MyCause campaign set up to help Ben and his family with their ongoing medical expenses reveals he has already had three surgeries on his legs and will have to undergo at least two years of physiotherapy and rehabilitation to learn how to walk again.
"His physical condition is so unique due to his injuries and it is impossible to predict what his working future will be," the page reads.
"Life has certainly dealt Ben a very unfair hand at such a young age having cut short his relationship with the woman he was planning to have children and grow old with."
You can donate to Ben's cause here.
2. Two world records, five gold medals and the loss of an Aussie champ: everything that happened on day one of the 2018 Commonwealth Games.
An opening day at the Gold Coast Commonwealth Games which started on the worst possible note for Australia with Sally Pearson succumbing to injury has ended on a dual-world record high, AAP reports.
The men's 4km pursuit team of Leigh Howard, Kelland O'Brien, Alex Porter and Sam Welsford got the ball rolling at the Anna Meares Velodrome, thumping arch-rivals England to win in a world record time of three minutes 49.804 seconds.
That effort was matched later in the night by the star-studded line-up of Shayna Jack, Bronte Campbell, Emma McKeon and Cate Campbell who shaved six-tenths of a second off the old mark in the women's 4x100m freestyle.
Australia won a total of five golds - all in swimming and cycling - and 15 medals overall on Thursday to claim second spot on the medals table behind England (six golds, three silvers and three bronzes).
Howard paid tribute to new Cycling Australia high performance boss Simon Jones after the men's team pursuit squad reclaimed bragging rights from England.
"There's definitely been some big changes since he's come on board and we've gone faster, it's as simple as that," Howard said.
The other cycling golds for Australia were delivered in the corresponding women's race and the women's team sprint.
McKeon's audacious bid for six swimming titles came unstuck early on when she could manage no better than third behind Canadian teenager Tyler Ruck and Brisbane schoolgirl Ariarne Titmus in the 200m freestyle.
But McKeon bounced back strongly in the final event of the night, playing a key role in the 4x100m freestyle relay triumph - an event where Australia is unbeaten at the Games dating all the way back to 1994.
Olympic champ Mack Horton claimed the host nation's first gold medal of the 2018 Games with a come-from-behind victory in the men's 400m freestyle.
For many years the distance event was a virtual lock for Australia at Commonwealth level.
But that had changed in modern times, with Horton's victory the first since Ian Thorpe at Manchester in 2002.
"I probably feel more emotion winning here than in Rio because the whole crowd is cheering - that didn't happen so much in Rio," said Horton, who won in 3:43.76 ahead of countryman Jack O'Loughlin.
"Rio is cool. But a home crowd is always going to win."
Jake Birtwhistle won Australia's first medal of the Games - a silver behind South African Henri Schoeman in the men's triathlon.
But the opening day of competition at the 21st edition of the Games was also very much about someone who won't be competing at all.
#BREAKING: Sally Pearson is expected to announce shortly that she will not be competing in the Commonwealth Games because of an Achilles injury. #9Today pic.twitter.com/NPXf2YCJ83

— The Today Show (@TheTodayShow) April 4, 2018
The 31-year-old Pearson - whose glittering CV includes back-to-back golds in the 100m hurdles at the 2010 and 2014 Games - pulled out of her pet event and the 4x100m relay after her troublesome Achilles flared at training two days ago.
"This has been an ongoing issue for a couple of years now and it is just unfortunate the timing was now," said Pearson, who has long been the public face of her home-town Games.
"I wanted to be able to go to the opening ceremony and enjoy myself, I had a big role to play and that is why I left it until today to announce it.
"I left no stone unturned to get out here and race for Australia."
3. The daughter of former Russian spy has made her first public statement after they were both 'poisoned' in the UK.
Yulia Skripal has made her first public comment since being poisoned in Britain last month along with her ex-Russian agent father Sergei, saying the "entire episode is somewhat disorientating".
The Skripals were found slumped on a bench in the southern English city of Salisbury on March 4 in a nerve agent attack that the British government has blamed on Russia, with what it says was a military-grade Novichok nerve agent.
"I woke up over a week ago now and am glad to say my strength is growing daily. I am grateful for the interest in me and for the many messages of goodwill that I have received," Yulia Skripal, 33, said in a statement issued by London police on Thursday.
"I am sure you appreciate that the entire episode is somewhat disorientating, and I hope that you'll respect my privacy and that of my family during the period of my convalescence."
Russia's ambassador to Britain Alexander Yakovenko said he was happy to hear that Yulia was recovering.
Russia denies any involvement but the crisis has led to the worst diplomatic crisis between Russia and Western nations since the Cold War.
Yakovenko was part-way through a news conference at his official residence in London when Yulia Skripal's statement was issued.
Asked about the statement by a reporter, Yakovenko said: "I am really happy and I hope that Sergei Skripal will also recover. I am quite sure that one day Yulia will come back to Moscow."
Yulia said she wanted to thank the hospital staff treating her and the people who came to her help when "when my father and I were incapacitated".
The attack left the Skripals in critical condition but on March 29, the hospital where they are being treated said Yulia was getting better.
Hospital bosses said her father was still in a critical but stable condition in an intensive care unit.
4. A seven-year-old boy accidentally started a fire that destroyed his family's Perth home.
While the rest of his family were sleeping in their Calista home, in the southern suburbs of Perth, seven-year-old Troy was playing with a lighter he was never meant to find.
According to Seven News, Troy, who lives with autism, was fiddling with the lighter on his bed at around 2:30am when the mattress caught fire.
The family managed to escape the house safely but have lost most of their possessions. A charred teddy bear is one of the only toys Troy and his five-year-old brother have still have.
Mum Kylie Weinbrecht has one simple message to parents after the tragedy.
"If you've got children, don't have lighters," she told Seven News.
"Just don't have lighters or matches."
It's believed the family are dealing with $200,000 worth of damage to their home.
5. One in 50 Facebook users have had their private data accessed; an investigation is beginning in Australia.
Australia's privacy commissioner will delve into Facebook after the US social media giant revealed up to one in 50 local users may have had their personal information accessed by Cambridge Analytica.
AAP reports a formal investigation will determine whether the $580-billion behemoth breached the Australian privacy act.
Facebook has admitted 311,127 Australian users are among the 87 million users worldwide whose data could have been "improperly" shared with the British political consultancy agency.
Acting Information and Privacy Commissioner Angelene Falk said on Thursday all organisations covered by the Privacy Act have obligations regarding the personal information they hold.
"This includes taking reasonable steps to ensure that personal information is held securely, and ensuring that customers are adequately notified about the collection and handling of their personal information," she said.
Belinda Barnet, a data analytics expert at Swinburne University, says profile data is just the tip of the iceberg with companies collecting data on every click made on their websites.
Users can't adjust how that data is shown to third parties, she said.
"All the data collected while you interact with the platform should be transparent, that should be available to you," Dr Barnet said.
"I'd like to see transparency about which third-party organisations including advertisers have access to your profile data, your data points and the inferences drawn from those data points.
"If things keep happening, governments are going to have to regulate to make (these changes happen)."
LISTEN: Mamamia Out Loud explains what the heck is going on with Facebook right now. Post continues after audio.
This week, Facebook noted that, up until Thursday, some of the company's software tools had allowed apps to scrape data from private events and private groups.
Facebook also restricted the amount of call and SMS data uploaded to its servers from the phones of those using Messenger and Facebook Lite users on Android.
"I think we need to take a broader view of our responsibility," Facebook CEO Mark Zuckerberg said.
"We're not just building tools, but we need to take full responsibility for the outcome and how people use those tools as well."
Americans made up the majority of the 87 million accounts identified by Facebook, while the UK, the Philippines and Indonesia each had more than one million accounts affected.
Australia, which has 15 million monthly active users, had the tenth-most accounts caught up in the scandal.
6. Eat your greens, ladies: Research shows eating vegetables is particularly beneficial to the hearts of elderly women.
Research has shown eating broccoli, cauliflower, cabbage and brussels sprouts to be particularly beneficial for the hearts of elderly women.
A University of Western Australia study of more than 950 women aged 70 and older found those who ate more vegetables had thinner artery walls.
A thickening of the artery walls, known as atherosclerosis, is an underlying cause of cardiovascular disease.
Published in the Journal of the American Heart Association, the study showed cruciferous vegetables such as broccoli proved the most beneficial.
"This is one of only a few studies that have explored the potential impact of different types of vegetables on measures of subclinical atherosclerosis, the underlying cause of cardiovascular disease," said Lauren Blekkenhorst, study lead author and Ph.D. candidate at the University of Western Australia in Crawley.
For the study, researchers distributed food frequency questionnaires to participants. The women noted their vegetable intake in a range from 'never eating vegetables' to 'three or more times per day'.
Vegetable types included cruciferous, allium (onions, garlic, leeks and shallots), yellow/orange/red, leafy green and legumes.
Sonograms were used to measure carotid artery wall thickness and severity of plaque build-up in the carotid artery.
Researchers observed a 0.05 millimetre lower carotid artery wall thickness between high and low intakes of total vegetables.
"That is likely significant, because a 0.1 millimetre decrease in carotid wall thickness is associated with a 10 per cent to 18 per cent decrease in risk of stroke and heart attack," said Ms Blekkenhorst.
In addition, each increase of 10 grams per day in cruciferous vegetable intake was associated with 0.8 per cent lower carotid artery wall thickness, on average.
Other vegetable types did not show the same association.
"After adjusting for lifestyle, cardiovascular disease risk factors (including medication use) as well as other vegetable types and dietary factors, our results continued to show a protective association between cruciferous vegetables and carotid artery wall thickness," Ms Blekkenhorst said.
However, this was only an observational study and a causal relationship cannot be established, she noted.
"Still, dietary guidelines should highlight the importance of increasing consumption of cruciferous vegetables for protection from vascular disease."