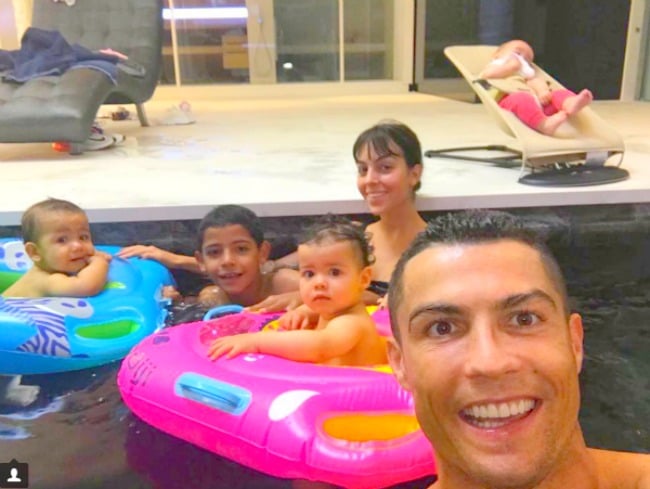 Most people know the name Cristiano Ronaldo – even if they don't follow soccer. He's one of the world's most bankable athletes, earning millions of dollars in endorsements each year. He remains, quite literally, at the top of his game – and, according to reports, he has the attitude to match.
So it's entirely unsurprising that Real Madrid's most successful player is often described as arrogant, and has long had the reputation of a bit of a fun-loving playboy.
But, in contrast to that image, Ronaldo is also a loving father of four. His 131 million followers on Instagram are regularly privvy to the athlete's family life – even if they aren't given the intimate details about the family's structure.
And it is an intriguing structure, because Ronaldo has not approached family, or fatherhood, in the traditional way, meaning that he's hasn't followed the typical interpretation of the order of things; marriage, partnership, and then child. With the World Cup in full swing, and his name in daily headlines, now's a perfect time to get to know the Portuguese 33-year-old father of four a little better.
Ronaldo's oldest son, Cristiano Ronaldo Jr, seven, lives with the Real Madrid striker and grandmother, Dolores (Ronaldo's mother), in Madrid. Cristiano Jr was born on June 17, 2010 in the United States, and has resided full-time with his father ever since.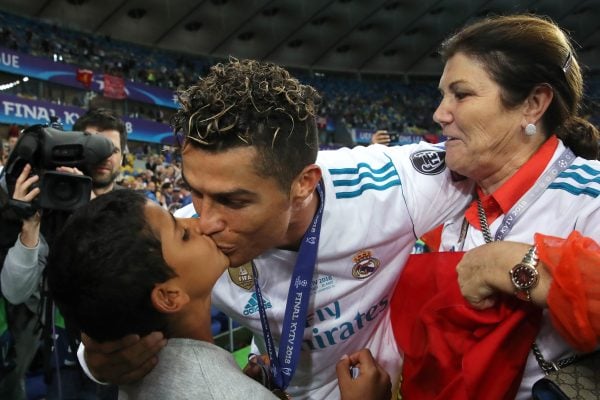 The identity of Cristiano Junior's mother is unknown - which, of course, is the pair's prerogative. But interestingly, reports have always circulated, implying that the mother was paid £10 million for her silence and to give full custody to Ronaldo.
Ronaldo's second and third borns, twins Eva Maria and Meteo, also arrived in equally private circumstances. The soccer star announced in June 2017 that he had fathered twins via a surrogate mother, in the United States. It was an announcement that made headlines because at the time, he was dating model Irina Shayk — who was definitely not the mother.
Ronaldo's fourth child, a daughter named Alana, arrived in November 2017. For the first time, the identity of the mother of one of his children was public knowledge. Ronaldo confirmed in an interview on July 18, 2017, that he and Spanish girlfriend Georgina Rodriguez were expecting their first baby together.
So what has the Real Madrid Caption himself had to say about the mystery that surrounds his children? In an infamous 2015 interview with chat show host Jonathan Ross, he said: "People speculate I was with this girl or another, or there was a surrogate mother. I have never told anyone and never will.
"When Cristiano [Junior] is going to grow up, I am always going to say the truth to him because he deserves it, because he is my son, but I am not going to say because people want me to say."
To his absolute credit, Ronaldo is unapologetic for his refusal to explain himself. But in an interview with Hello magazine, he proved more than happy to explain how amazing he believed fatherhood to be:
"Becoming a parent and raising my family is honestly the greatest privilege I've had. I'm enjoying every second of it. It's taught me things about love I never knew existed. It has softened me and given me new perspective on what is really important in my life."
That importance is reflected in Ronaldo's Instagram, where it's clear to see that he feels his children are an integral part of his identity.
In further evidence that one of the world's greatest sportspeople loves children, footage emerged last week of Ronaldo stopping a bus so that a small fan could meet his hero, and the video is one of the most heart-warming things to see:
A young fan thought he'd missed the chance to meet his hero as Portugal departed for the World Cup.

Cristiano stepped off the bus and made sure his dream came true. pic.twitter.com/r3qERFy8Vz

— ESPN FC (@ESPNFC) June 11, 2018
It's clear that, no matter whatever his personal journey has been to have children, Ronaldo's clan is a real modern family.