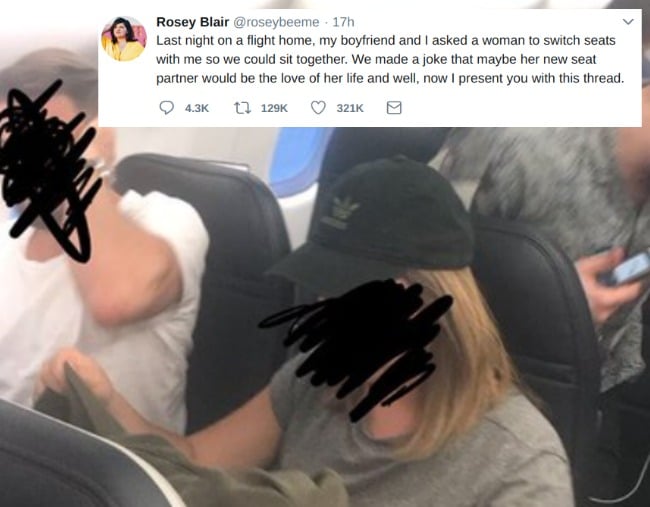 There's a classic narrative in popular culture that it's possible to board a plane, sit next to a person by chance, and spend the next few hours falling madly in love.
It's always happened to a friend of a friend, who seems a bit… eccentric. It happens to people, allegedly, and we're meant to buy into the idea it's a truly serendipitous and magical way to meet someone.
I've never believed, however, that this is actually a thing.
Last time I boarded a long haul flight, I was seated next to an elderly man who interrupted me every five minutes to ask what I was watching. Another time, I sat beside a woman who definitely had an accident (in her pants) mid-way through the flight, and more than once, I've found myself next to a person who laughs hysterically at not-particularly-funny movies the entire way to our destination.
Which is fine.
It's just that I definitely didn't fall in love with any of them. The fact is, no one falls in love on planes. It's a lie.
At least, that's what I thought until a woman named Rosey Blair documented her experience on a flight on Tuesday.
You see, Rosey boarded a plane and realised she and her partner weren't seated next to each other. She asked the woman beside her if she would mind swapping, and made an off-handed joke that maybe she'd find the love of her life in her new seat.
Then. This. Happened:
Last night on a flight home, my boyfriend and I asked a woman to switch seats with me so we could sit together. We made a joke that maybe her new seat partner would be the love of her life and well, now I present you with this thread.

— Rosey Blair (@roseybeeme) July 3, 2018