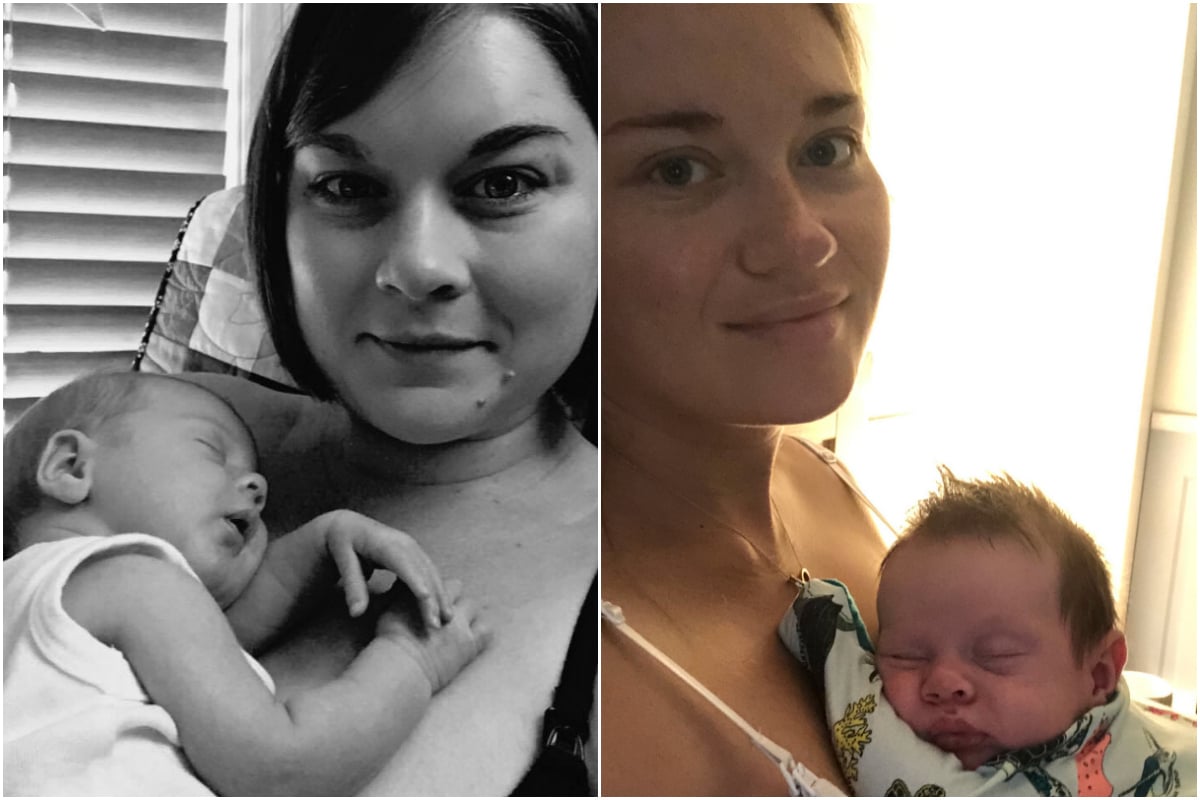 For women fortunate enough to be in a position to choose between giving birth in a public hospital or private hospital, the decision can be a difficult one. For some, it may come down to their location, or complex care needs. For others, though, it's increasingly becoming a matter of finances.
Despite paying hefty premiums, many Australian mothers who chose to lean on their private health insurance for perinatal care still end up facing substantial bills. Often totalling thousands of dollars.
Brisbane teacher, Amy Pavez, was among them. The birth of her first child 18 months ago saw her face out-of-pocket costs of roughly $4,500.
LISTEN: Holly Wainwright and Andrew Daddo dive deep on what it's really going to cost you to have a baby, from hospital costs to sparkly strollers.

Speaking to Mamamia, Amy said her decision to go with the private system wasn't one taken lightly.
"Due to our financial situation at the time — me as a stay-at-home mum, and my husband as a part-time worker and student — we were considering going public," she said.
"[But we] chose private for a few reasons. One, I didn't want to feel forced out of hospital [after birth] if I went public, which is something I had heard from doctors… Also, my G.P. suggested that, based on how I'd spoken with her over the year, she thought I'd prefer more specific care where I could get to know one doctor.
"And we had insurance. So we decided that the benefit was worth the cost."
The cost of giving birth: private hospitals vs public hospitals.
Emily Callander, Associate Professor of Health Economics at Griffith University, recently conducted research that shows just how much more private hospital patients, like Amy, ending up forking out for childbirth, from conception right through to 12 months postpartum.
"There's huge variation [in out-of-pocket fees], but the average is $3,000," she told Mamamia. "Compare that to women in the public system who paid around $500 on average."
According to Assoc. Prof. Callander's soon-to-be-published research, fees are significantly higher for private patients at every stage of natal care. At pregnancy, for example, they were 500 per cent higher. At the time of birth, 1200 per cent.
But even among private patients, out-of-pocket costs can vary hugely. That largely comes down to fact that private providers are free to set their own fees.
"There's no regulation as to the amount that private providers can charge, because it's a private business," Assoc. Prof. Callander said. "By definition, they're seeking to make a profit, so fees are generally charged at an amount that they believe women are willing or able to pay."