A woman who was left suffering depression and unable to work after a "nightmare" haircut has been awarded more than $14,000 compensation.
Donna Smith went into the Manchester salon with long hair and high hopes for a light brown, layered look. Seven hours later she walked out with a cropped cut, matted and bleached so severely that she had to shave it off and wear a wig.
"It is every woman's worst nightmare," Donna said.
Listen: This Glorious Mess host Holly Wainwright had a different kind of hair horror story involving kids and lice. Post continues… 

The British air hostess said the ordeal left her depressed, unable to work and taking anti-depressants to cope, The Sun reports. The 37-year-old told The Sun that she had chosen to treat herself with a $243 (£150) haircut and colour, but it all went wrong about the dye was applied.
"I sat flicking through magazines for what seemed like a long time – it was actually 90 minutes – before she took me to the sink at the back of the salon to have it washed off," Donna recalled.
"I heard her with a pair of scissors and I remember thinking 'what's she doing?' It turned out she was cutting away my melted hair.
"The bottom of my neck started to sting a little and that's when I started thinking 'Something isn't right here."
Despite the hair stylist's assurances that she would fix it as she tried to keep the mirror from her, Donna was left with a haircut that made her exclaim, "Where the f*** had my hair gone?"
"When I finally saw it, my hair was a melted, matted mess," the mum-of-two said.
When Donna washed her hair at home it started to fall off in chunks and she was forced to make the "devastating" decision to shave it off, buying a $1600 (£1000) wig to cover it.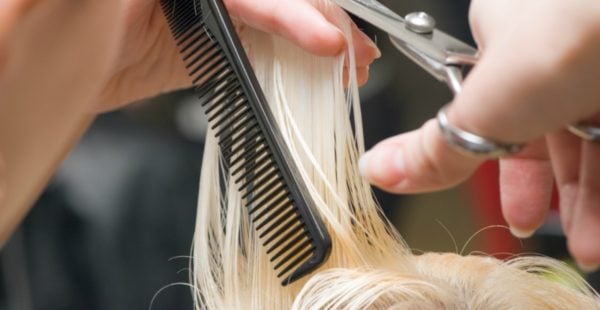 In the days and weeks that followed, Donna became a "wreck" and was granted time off work to recover.
"People were saying that I'd had a bad haircut but it wasn't just that. My hair had been completely destroyed," she said.
"I was a wreck. I couldn't stop crying."
She told The Sun that it was a requirement of her job as a cabin crew manager for a British airline that she look "immaculate".
"In my job, appearance is everything. I have to look pristine at all times."
"Everyone knew me as having long hair and when I went in the next day for an assessment, people were like 'Oh my God, you've cut all your hair off."
"I just burst into tears."
Donna decided to take action against the hairdressers after her experience at Ed's Hair Salon in November 2015. The hairstylist was fired and Donna was awarded $14,780 (£9,100) from the salon. However, she said it "wasn't about the money at all".
"I would have much rather had my lovely hair and for it never to have happened," she said.
"I just wanted lessons to be learned. It robbed me of six months of my life."