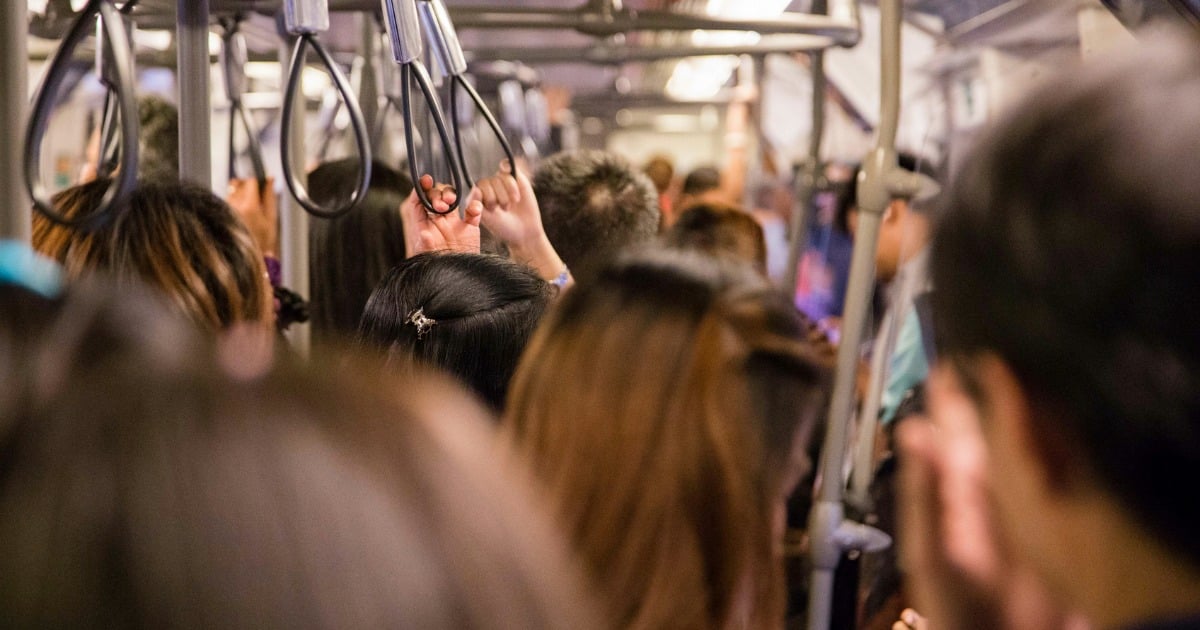 Any woman knows all too well that even during the mundane act of commuting to work you can find yourself dodging unwanted sexual attention.
Over in New York City, the police department recently announced that sexual offences on the subway had shot up more than 50 per cent over the last year.
Women share their experiences of sexual violence on Twitter. Post continues after video…
In response to the alarming figure, the Huffington Post coined the hashtag #CommutingWhileFemale, encouraging women to speak out about their experiences.
The result is a disturbing glimpse into just how uncomfortable and dangerous a woman's daily commute can be.
From the intimidating…
#commutingwhilefemale a group of men followed me to my next bus stop and just stared at me. I still don't know what they wanted. — atom (@damnitdisney) July 2, 2016
A man approached me on the train. Would not leave me alone so I squished my way further into the packed train. #commutingwhilefemale — Lauren Culp (@Boring_Lauren) June 28, 2016
To the predatory.
#commutingwhilefemale Being followed across two changes I made to get away from a man who groped me. Same train. Same carriage. Every time.

— Laura (@faunstar) July 3, 2016
A man repeatedly ran a hand up my leg while on packed Underground train in London. I was 14 years old. @HuffPostWomen #commutingwhilefemale — Holly Whitman (@hollykwhitman) June 22, 2016
#commutingwhilefemale On a bus home at 16. I felt something on my waist. A woman later told me a man was sitting behind girls touching them — Emma Uwejoma (@emmauwejoma) June 23, 2016
Being told you have "sexy legs" and then being followed all the way to work, wore pants every time after that day. #commutingwhilefemale — Emily Kollaritsch (@ekollaritsch) July 5, 2016
From the downright perverted…
@HuffPostWomen a man once offered me his seat only to stand directly over me and try to look down my blouse #commutingwhilefemale — Jill C (@jacjr41) June 22, 2016
@HuffPostWomen Walking through the metro parking lot, man following me in his car while jerking off. Had to run away. #commutingwhilefemale — Nicole Littmann (@threecharms) June 24, 2016
To the verbally aggressive…
#commutingwhilefemale man wouldn't stop asking me where my "beautiful ass" was going. Couldn't run away since we were on a crowded escalator — Sara (@SaraPalczynski) June 24, 2016
Man stops on his way to get off the subway, stares at me, says "WOW," + stays on the train staring for 2 extra stops. #commutingwhilefemale — erica (@ericaflorencee) June 24, 2016
A man once came up to me on the metro, smelled my hair, and told me I "smell like dessert" #commutingwhilefemale — Mackenzie Rae (@coffeeshopjihad) June 23, 2016
And the violent.
I had a man on trimet ask to use my phone. I said no, he called me C word, spat on me, said he'd shove his head in me.#commutingwhilefemale

— Kayleesi (@KayleesiTweets) June 23, 2016
There are the men who misread signals.
@HuffPostWomen a random guy was exiting the train, I said 'goodbye' to be polite, after which he tried to kiss me #commutingwhilefemale — Annabel P. Jacobs (@Annabel_PJ) June 22, 2016
No creepy dude, I'm not giving you the hi sign, I'm just watching to see if the train's coming. #commutingwhilefemale

— sandy scragg (@sscragg) August 5, 2015
And then there are the measures women resort to just so they feel an element of safety.
@HuffPostWomen I traveled with a safety pin around my finger to ensure a safe distance during rush hours in buses. #commutingwhilefemale — BlogwatiG (@BlogwatiG) June 24, 2016
#commutingwhilefemale I made it a point to have at least a pocket knife, even a knock off Swiss army https://t.co/EKb6rtreH3

— atom (@damnitdisney) July 2, 2016
And that sad realisation that you've accepted the behaviour as normal.
Thought I had nothing to contribute to #commutingwhilefemale but then realized I've normalized the creepiest of male gazes. — Lianna Pisani (@liannapisani) June 23, 2016
But then recognising that, actually, calling out your aggressor is an important act of defiance.
It's often an uncomfortable stare we accept & pretend not 2 notice. Acknowledging it in the moment is pretty powerful #commutingwhilefemale — Justine D'Addio (@_thenewingenue) June 24, 2016
Because what is clear is that if you own a vagina and you travel on public transport, you will at some point be ogled at, catcalled or groped. And that is just not acceptable.