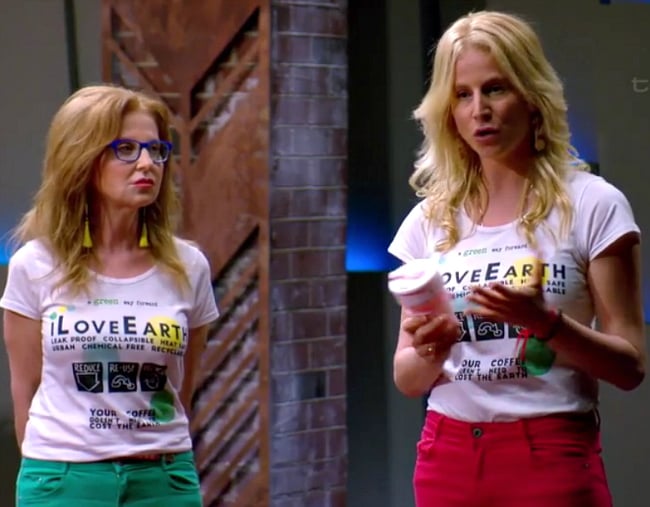 A collapsible, reusable coffee cup; portable, leak-proof, environmentally friendly, made of chemical-free food-grade, medical-grade and heat-steady silicone.
It sounds like a good idea, and it is. But as the product's creators, Irina Zikner and Lilly Stesin, discovered on Tuesday night's episode of Shark Tank, it's just not an original one.
The mother-daughter team went on the program seeking $110,000 for 30 per cent equity in their company, I Love Earth, along with the sharks' "expertise…mentorship…hearts…passion" to bring their eco-friendly, waste-reducing products to the globe.
"We really want to change the world. You see, we're not doing this just for ourselves. We're not doing this for our family. We're doing this for you and your kids and your grandkids, and future generations, and all of Australia, and all of the globe, hopefully. We really need to make a change in waste pollution in Australia. You see, we're not just a brand either," Lilly said. "We're a movement. So please, please help us and invest."
Once Shark Steve Baxter finished rolling his eyes (turns out the billionaire tech investor doesn't "like being preached to" about his choices of consumer goods), he queried the pair's claim that I Love Earth Cups have only one competitor worldwide.
"So if I were to Google it, I wouldn't find like about the first page full of competitors?" Baxter asked.
"No, not a brand," Lilly replied. "Yeah, not, not, not, not a brand of it, no."
So naturally, Steve whipped out his phone.
"They're everywhere. 'Shop for a collapsible coffee cup.' 'Silicone coffee cup,' 'collapsible, portable,' 'collapsible'," he read, scrolling down his screen. "When you're talking to investors, don't have them Google it, find the competitor, and then wonder what else you've told us that's not correct. Because that's the problem you've now got."
No prizes for guessing what happened next.
Yep, Steve was out.
Andrew always testing the quality of potential investments… #SharkTankAU pic.twitter.com/jq0ZgHtDxK

— #SharkTankAU (@sharktankau) July 17, 2018