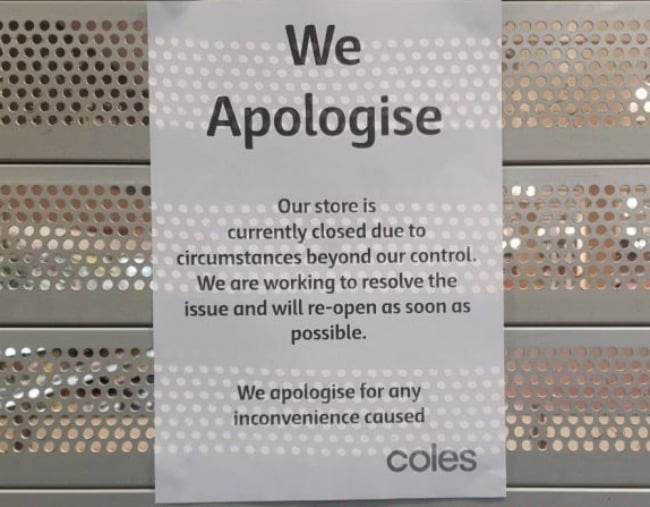 A technical issue affecting cash registers has reportedly forced several Coles supermarkets to close across Australia.
A number of stores on Sunday morning posted notices on their doors about the outage, including in Sydney, Melbourne and the Gold Coast, according to posts on social media.
Coles having IT issues. #lanecove and foreestville closed #coles #news @Coles pic.twitter.com/JYYZc5hTb0

— In the Cove (@IntheCoveITC) August 18, 2018
Thought I'd be organised and get my shopping done early… but not to be. Nationwide computer problem for #Coles apparently @abcbrisbane pic.twitter.com/j6YkqueNLl

— Anne O'Keeffe (@Anne_OKeeffe) August 18, 2018
Finally remembered to bring my reusable bags to go shopping and the registers are down #Coles pic.twitter.com/CXLuMIOeO4

— GippsNews (@GippsNews) August 18, 2018
Down, down, our IT is down #Coles

— Village Cynic (@kelskye) August 18, 2018
The reactions of people during a @Coles register meltdown shows real humanity. Panic, calm, tears and some guy watching Brooklyn 99 on Netflix. Fantastic. #coles

— Dan Wilkins ???? (@thewilkoshow) August 18, 2018
A supermarket shuts nationwide and it's like the world is ending. How sad have we all become? #Coles

— CraftBeer PT (@Craftbeerpt) August 18, 2018
Aussies are SO spoilt & dramatic. Just went to coles – saw it was closed and witnessed three different people carry on like clowns. Keep things in perspective people! Life goes on @coles #coles pic.twitter.com/RkMQpyHNE0

— yellow bird (@zzippidydoodaa) August 18, 2018
Great work by staff at @coles Gungahlin handing out free doughnuts to customers affected by outage. The extra miniature was also appreciated.

— F.Rectitude (@FiscalRectitude) August 18, 2018
Hey @Coles…. pic.twitter.com/CmaF37AOjL

— Waxercat (@waxercat) August 18, 2018
Just after 10am, a spokeswoman for Coles released a statement confirming its supermarkets were now open.
"Earlier this morning we had some minor IT problems in some of our supermarkets which were out of our team members' control.
"We apologise for any inconvenience our customers experienced earlier this morning."