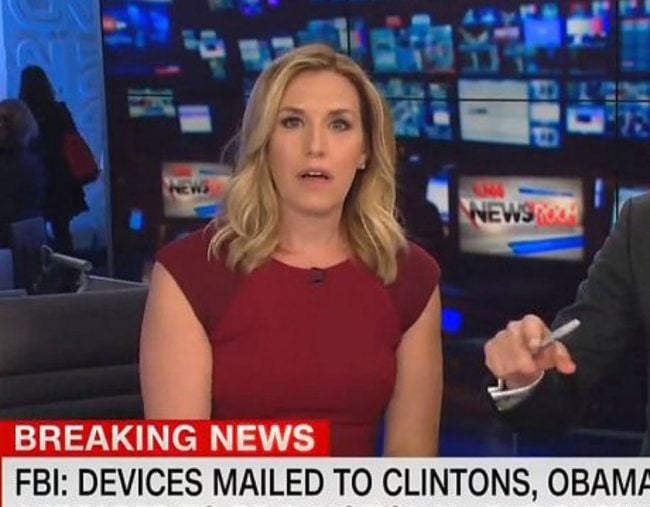 A bomb threat has forced CNN news anchors Poppy Harlow and Jim Sciutto to evacuate their building live on air.
Crude pipe bombs targeting Hillary Clinton and former president Barack Obama had been intercepted this week. The pair were delivering this news around 10am Wednednesday local time (1am Thursday Australian east coast time) when they heard an alarm go off in their building and learned they themselves may be in danger.
The newsreaders looked wide-eyed, but tried to push on with their broadcast before they were eventually forced to cut it short.
"There is a fire alarm here … we'll be right back," Sciutto said.
Watch the moment the CNN team are evacuated:
According to CNN, the building was forced to evacuate after authorities discovered a package containing a bomb. It did not detonate.
It comes two weeks before nationwide elections that could reshape US Congress and serve as a referendum on the first two years of President Donald Trump's presidency.
The devices, which officials said shared a similar design, were aimed at prominent Democrats and a cable news network often criticised by political conservatives. A similar device was found Monday at the New York compound of liberal billionaire George Soros, a major contributor to Democratic causes.
The bombs overtook other campaign news in an already-tense political season, which has included pitched fights over immigration, the Supreme Court and sexual violence against women.
The White House quickly condemned the attacks aimed at Democrats and perceived foes of the administration.
"Acts or threats of political violence have no place in the United States," Trump said.